.24 NOSLER
Handloader|June - July 2020
WILDCAT CARTRIDGES
Like the .22 Nosler, the .24 Nosler was designed to fit into the magazine of the AR-15 rifle. Both were given a maximum overall cartridge length of 2.260 inches, same as for the .223 Remington/5.56x45 NATO. The two Nosler cartridges combine the rim diameter of the .223 Remington with the body diameter of the 6.8mm SPC. Converting an AR-15 .223 Remington for either cartridge is done by switching uppers and inserting a 6.8 SPC magazine.
While Nosler has been offering .24 Nosler unprimed cases since 2018, there is no immediate plan to load the ammunition. The Model 48 Liberty used in this report is one of a few rifles built for a Utah pronghorn antelope hunt during autumn of 2017. That's when I became aware of the cartridge. The 24-inch barrel of my rifle has a 1:8 twist, and making it a standard-production item is not on the agenda at this time. The chambering is available in the Nosler Custom Handgun, which is built around a single-shot version of the short Model 48 action. The .24 Nosler is a high-expansionratio cartridge, and velocity in its 16-inch barrel averages only about 200 fps slower than in my rifle. I have that handgun in 6.5 Creedmoor and it consistently shoots five bullets inside .5 MOA with good handloads. Precision handloading pushes it close to .25 MOA.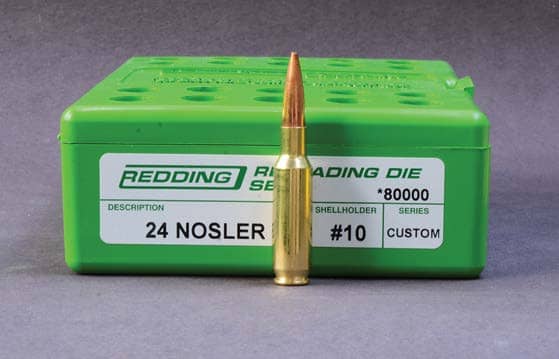 The .22 Nosler came first so one might logically think its case was simply necked up for .243-inch bullets to create the .24 Nosler. The intent was to design an accuracy cartridge capable of handling the extremely long Nosler 105-grain and 107-grain match bullets, and if it had been designed for a boltaction rifle with enough magazine length to handle a cartridge that long, a necked-up .22 Nosler case would have been the route to take. But had the .22 Nosler case in its original form been used, a maximum overall cartridge length compatible with the AR-15 magazine would have positioned the mouth of the case far out over the ogives of the long Nosler bullets. Shortening the .22 Nosler case to 1.600 inches put the entire neck in contact with their full-diameter shanks.
You can read up to 3 premium stories before you subscribe to Magzter GOLD
Log in, if you are already a subscriber
Get unlimited access to thousands of curated premium stories and 5,000+ magazines
READ THE ENTIRE ISSUE
June - July 2020