Stabs In The Dark: Gigging For Suckers In The Ozarks
Field & Stream
|
November 2015
Every fall, a centuries-old tradition takes place on Ozark streamsgigging for suckers at night. The author tagged along with a few locals who have perfected this deceptively challenging skill. They also throw a hell of a bonfire party.
The river is on fire, lit with 4,000 watts of spotlight bolted to the bow. I watch the men on the front deck, a pair of silhouettes against a river that glows green, blue, and yellow, like a witch's cauldron.
Each figure holds the long shaft of a wicked gig, the barbed tines fat as cigars. The man on the right suddenly tenses, shifts forward, and slides the tip of the 14-foot-long pole into the water. The boat shifts in pursuit, the gigger on the bow deck tracking his target. Then, without warning, he jabs the gig down, into the green light. It's a miss. He pulls the gig up, makes a second jab, then a third. I watch, spellbound. My turn is coming.
"That fish has him dancing," says Brad Reed, who's sitting beside me, manning the outboard tiller. Reed is an anvil of a man who farms beans and corn and handles cattle with hands that could crush river rocks. His buddy John Helling is too focused to respond. On the fourth jab, Helling pulls the gig from the water, and turns toward us. A 3-pound sucker droops from the gig tines like a sopping wet mustache.
"That's a good one," Reed says. Helling scrapes the fish against a welded plate bolted to the bow deck for just this purpose. Freed from the tines, the fish drops into a galvanized washtub, and Helling turns back to the river.
After two hours of watching, spearing these fish doesn't look so difficult. I've gigged plenty of frogs, and I can spot the suckers even from the back of the boat. The lights wash a huge 50-foot half-circle of the river like a stadium, and suckers, bass, and catfish dart back and forth in the glare. I'm itching to give it a try, but Reed warned that he doesn't put beginners on deck too early. "They'll stir the fish up and don't kill a thing," he said. "We've got to get fish to eat before the newbies get going."
Which shouldn't be a problem. Helling and his gigging partner Glenn Braun are on fire. They must have 30 fish in the tub when Reed leans over. His hoodie shadows his face, and his voice is as gravelly as a prop grinding sand: "You ready to try, Ed?"
FOOD FOR THOUGHT
For 200 years, sucker gigging has been a beloved tradition in this neck of the Missouri Ozarks. Navigating johnboats rigged with bright lights and wielding heavy custom-made gigs, locals throng to the riverbanks on fall and winter nights. As the giggers chase golden redhorse suckers, northern hog suckers, and white suckers through the shallows, shore parties break out over bonfires and deep fryers crackling with fish and potatoes. There's music. There's beer. There's enough Carhartt to carpet the planet.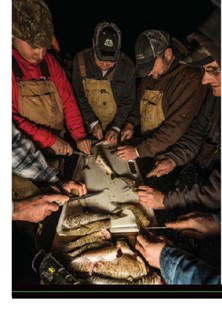 The sucker-gigging season runs from mid September through January, but the best fish sticking cranks up after autumn's leaves are flushed downstream and cold, dry weather drops the water levels. That's when I arrived at the Meramec River, a spring-fed beauty that flows under limestone bluffs an hour west of St. Louis. The very name of the river harkens to an old Algonquian Indian phrase meaning "river of ugly fishes." The moniker is spot-on.
My plan was to hook up with a crowd of local giggers for a few dark Ozark days, sleeping off a full belly of fried suckers late each morning before hauling the boats to new water each night. I failed to figure in the freak weather that would sweep across Missouri just as I arrived. Our first night was a bust. Temperatures dropped 50 degrees in one day, and freezing rain iced the boat ramps on the Meramec and Bourbeuse Rivers. It was a complete shutout—so Reed, Helling, Braun, and I joined my buddy Justin Leesmann, his dad, Bob, and a few of their friends for the next best thing: We beelined to Reed's farm shed along the Bourbeuse to cook fish, drink beer, and talk about sucker gigging.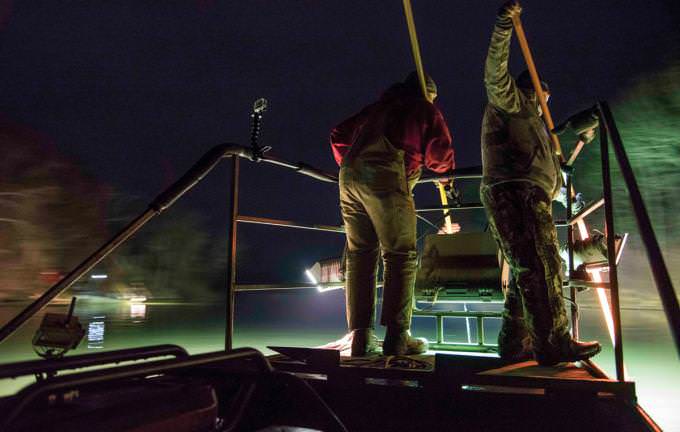 You can read up to 3 premium stories before you subscribe to Magzter GOLD
Log in, if you are already a subscriber
Get unlimited access to thousands of curated premium stories, newspapers and 5,000+ magazines
READ THE ENTIRE ISSUE
November 2015