Simone Biles The Most Dominant Athlete Of 2018
ESPN The Magazine|December 2018/January 2019
This was the year the greatest gymnast of all time showed that not a damn thing will ever stand in her way. The Undefeated's Danyel Smith chronicles Biles' journey to unparalleled dominance.
WHAT MAKES ESPN+ THE ULTIMATE HOLIDAY GIFT?
Mostly the thousands of live sporting events, video on demand, original content, premium editorial, tools, and analytics, for only $4.99 a month. But it's also that feeling of getting to relive the feeling of opening your presents over and over again, because ESPN+ truly is the gift that keeps on giving. When the holidays are over, and everyone else has returned to their drab, lifeless existences until the next holiday season, the shine already worn off their fancy presents and new toys, you'll have a brand new gift waiting for you every day, like infinite Hanukkah, each time you open up ESPN+, because live sports are never the same thing twice, and you just unwrapped thousands of live sports: college basketball, college football, NHL, MLB, UFC,Team USA basketball, international soccer, rugby, cricket, boxing, auto racing, and more. Can't even fit all those sports in one line,much less one box.
You might as well slap a ribbon and bow on your TV, phone, laptop, tablet, Apple TV, Roku, Chromecast, Xbox, PlayStation,and whatever fancy new device is all the rage this holiday season, and squeal with delight every time you turn it on, because sports is just what you always wanted, and you're giving yourself that gift again 24 hours a day, since sports don't stop, and even when they do kind of stop, like at odd hours of the night, when you're supposed to be asleep, so Santa can come, but instead you're reading ESPN The Mag with a flashlight under the covers, and wish you could watch sports, even then there'd still be an entire library of sports video on demand, like the Quest for the Stanley Cup,to distract you from that sinking feeling that Santa might just be mom, and your entire world is an illusion built upon a lie…or you could watch original content, like Always Late with Katie Nolan.
Nothing like a good joke from Katie Nolan to shake off your existential dread.So, if the holidays have got you down, remember that the true path to joy is through giving, and grow your sports heart three sizes or so by gifting yourself or someone else the deepest archive of video on demand and original content in existence, with ESPN+.Gonna pause for a moment and get real with you, because this is a serious problem: When did we start using "gift" as a verb?Like, you just read it in that sentence up there and probably thought nothing of it, because it's so commonplace and hip in the vernacular,but guys, we already had a verb for that. You "give" a "gift." We're "gifting" gifts? Do you "goal" a goal? No, that's redundant. It needs to stop.So give the gift of exclusive sports content, because experiences are so much more valuable than things, and the experiences waiting in ESPN+ are invaluable: NBA Year One, Duke: Earn Everything, LeBron James' More Than an Athlete, Detail (with Kobe Bryant and Peyton Manning) (hold up, LeBron, Kobe, and Peyton?) (way better than the Jelly of the Month club). Put original shows like In the Crease and In This Corner in someone's stocking, by signing up for ESPN+.
It's a streaming service, so you can't really physically put it in a stocking, but it's priced roughly the same as a stocking stuffer, $4.99 a month, which is probably even less than you'd spend on an ugly sweater at a thrift shop, for just one silly ugly sweater party you barely want to go to, when you could instead get sports like SANZAAR Rugby, Top Rank Boxing, or the NHL, where they also wear sweaters, sweaters which are more expensive than a month of ESPN+,by far. Bottom line: avoid sweaters in general this holiday season, and parties as well, and instead catch up with sports documentaries,because the entire library of 30-for-30s is in here, and there are way more than 30 of them. Don't even ask how many 30-for-30s there are because I don't KNOW, Margo. There may not be a finite number. It might be bottomless, like opening a present and discovering the box does not end,and you can just crawl right in and curl up with the sports docs, immersed in another world entirely, like a child whose parents have gone on vacation, leaving you alone to defend the home against burglars, but you won't even notice anyone break in because you're so immersed in3 0 for 30: Seau that you didn't hear anything and never left the bottomless box of sports, so nobody had to get hurt or booby-trapped, and if some things are missing when mom and dad return, well, perhaps it's for the best and they'll actually learn a lesson, because those things are just things, and you had an experience, and everyone will be grateful to ESPN+ for keeping you safe and entertained. Greatest gift ever.
So, if your forgetful mom or inattentive dad or rude older brother also like sports, and you have about $5 a month to spend, you could give the gift that will keep the whole family together after the house is burgled. On second thought, though, don't give it to your rude older brother.There's too much MMA and boxing, and he'll become too powerful if he can stream The Boxing Beat and Ariel & The Bad Guy and Top Rank fights and UFC matches…this is a bad idea. Just give it to dad instead. And if he's already a subscriber, well then, bye buddy, hope you find your dad,so you two can share the holiday experience of sports together, and pick another deserving family member's stocking to metaphorically stuff with the greatest $5 gift you could possibly find, which is an experience and not a thing, a streaming service, with more sports than any stocking ever could fit, and the power to bring families together at the holidays, and you know what, it's only $4.99 a month, not even $5, so you can keep the change ya filthy animal.
Daylight goes by fast in Doha. Jet lag clings, but not to the elite gymnasts who land days ahead and resist luscious naps. It's October warm in the blockaded country of Qatar, and Simone Biles is somewhere in a state-of-the-art all-women's wing of a hospital taking Aleve for a kidney stone. None of the usually prescribed pain meds will do, because this is the eve of the 2018 World Gymnastics Championships, and in a dozen hours Biles must once again reimagine principles of energetics, biomechanics, physics and physiology. And—hard mass of minerals passing through an organ or not—she must do it with a smile, and wave.
The worlds, outside of the Olympics, is the premier event in the sport of gymnastics. Qatar's young emir, Sheikh Tamim bin Hamad Al Thani (who owns the Paris Saint-Germain soccer club and is bringing the World Cup to his country in 2022), believes the event will swell Qatar's role on the global stage. Within the 10-square-mile footprint of Doha's Aspire Zone are athletic facilities and a mall called Villaggio, designed in the spirit of Las Vegas' Bellagio Hotel & Casino. Brilliant but non-qualifying gymnasts mill about with drawstring backpacks hanging low. Biles is back, is the vibe, and like a tiny country that has seemingly infinite amounts of what the rest of a world requires to survive, truly, there's no way around her.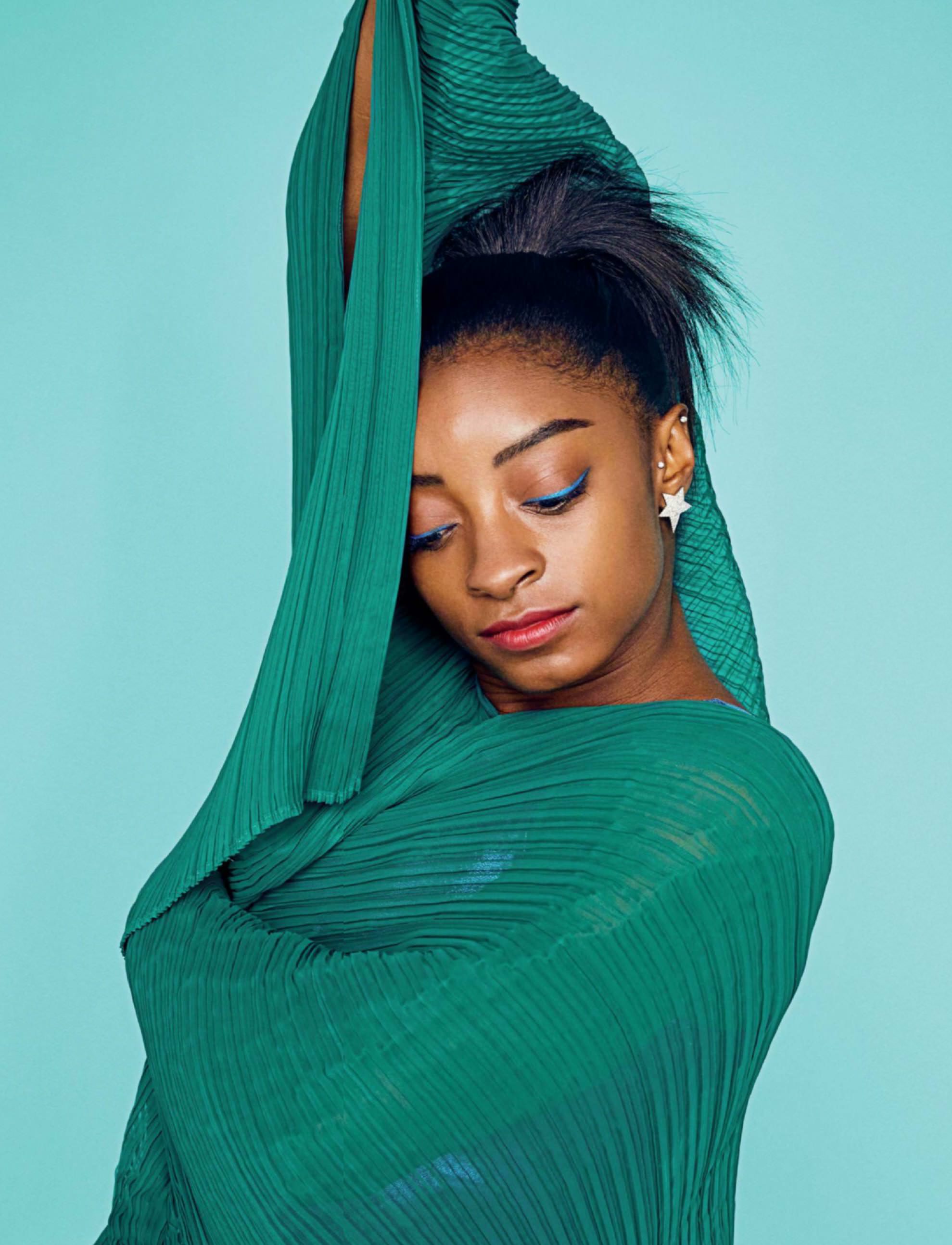 The only thing greater than the legendary, genius, paradigm-shifting athletic status of Simone Biles is the degree to which so many don't know or can't understand what it is that she actually does. Even if you've seen Biles doing a split leap on a box of Special K, you likely don't know the depth of her determination to dominate. Some of it is that Biles competes in an odd, ancient Greek sport based in "disciplined exercise" that conquering Romans militarized and people now barely pay attention to outside of Summer Olympic years. More of it is that it's the American female gymnasts who excel. They also do the emotional work of heart-capturing and along with the WNBA suffer from a lack of the kind of sustained pop cultural uplift required for immortality. Plus— and this part comes with fireworks and a loud-ass girl band playing "Flawless"—accolades get blown off of black women like it makes wishes come true.
But Simone Arianne Biles is no dandelion. Not today. And in Qatar, far from her Texas homeland, it's time for Biles—this former foster kid, this girl who looked 6 when she was 11, this athlete who at 4-foot- 8 and 21 years old rules as breezily as Lisa Leslie—to break laws universal and customary, to hoist her sport up on her shoulders and fly. Defy gravity.
Later, Biles says "Yeah" when asked if she's ever afraid of falling. Yeah.
What makes you continue?
"I just cling on," she says plain as rice, "for dear life." What? No?
"Yes," Biles says with a shrug. Then a slow blink.
Yes.
You can read up to 3 premium stories before you subscribe to Magzter GOLD
Log in, if you are already a subscriber
Get unlimited access to thousands of curated premium stories and 5,000+ magazines
READ THE ENTIRE ISSUE
December 2018/January 2019