You're Fired
Cigar Aficionado
|
January / February 2017
Arnold Schwarzenegger is set to replace Donald Trump on NBC's hit show "The New Celebrity Apprentice".
Arnold Schwarzenegger, a cigar clamped between his jaws like a punctuation mark for his broad smile, climbs aboard a tank on a warm November afternoon. This is no movie prop, and it's not just any tank. The 46 tons of moving metal belongs to Schwarzenegger himself, the larger than-life success story who has been everything from Conan the Barbarian to the Terminator, Governor of California to cigar-chomping icon. • Spend any time with Schwarzenegger and you quickly get the impression that this is his world. We're all just along for the ride. • "It drives as well today as it did when I was 18," he says. In his black, short-sleeved polo and black leather pants, he has a formidably muscular presence—not quite the perfection when he was dubbed "the Austrian Oak" as a young bodybuilder, but still extremely solid, his eyes glimmering with mischief beneath a head of preternaturally brown hair, his handshake firm but not aggressive.
He lowers his six-foot-frame through a hatch into the driver seat of the intimidating mass of metal. It's an M47 Patton, named after the bombastic and brilliant American general of World War II, and it's very likely the actual tank Schwarzenegger drove when he joined the Austrian army as an 18-year-old.
"From my youngest days, I wanted to drive tanks," Schwarzenegger says, "but when I got in the army, they told me, 'You're too tall.' My father had connections and so I got to go to tank-driving school." He presses forward, taking the beast on a rumbling spin around the property.
This is a man who gets what he wants, whether it's unmatchable fame, hundreds of millions in net worth or a vehicle that can crush SUVs for breakfast. When he heard in 1991 that the Austrian military was planning to retire an old group of tanks it had received from the United States in the 1950's, Schwarzenegger began making inquiries. He located what he says is the very machine he had driven back in his youth, the number 331 still painted on its steel hull. As chairman of the President's Council on Physical Fitness and Sports under President George H.W. Bush, he was able to pull a few strings via the Pentagon to buy the tank—its cannon disarmed, but its engine very much intact—and have it shipped to the United States, where it eventually made its way to Melody Ranch Motion Picture Studio in Santa Clarita in the San Fernando Valley.
He drives the behemoth as often as he can, sometimes crushing things for charity, but even at the age of 69 there just isn't that much free time. Like the Terminator, Schwarzenegger never seems to quit, and his schedule would flatten a younger man. He's been filming a movie (scheduled to hit theaters later this year) with Jackie Chan in China and he travels regularly on behalf of the USC Schwarzenegger Institute for State and Global Policy, addressing concerns about climate change and air pollution. "I make movies and commercials, I give speeches for my institute on the environment," he says. He's hands-on with After-School All-Stars, a program designed to channel at-risk youth into productive afterschool activities.
And now he has a new TV show.
Schwarzenegger is making his fi rst foray into reality television, taking command as the mentor seeking a mentee in "The New Celebrity Apprentice." He is stepping into the shoes of the show's longtime host, President-elect Donald Trump, who uncorked the catchphrase "You're Fired" on a regular basis. Trump's tenure as host ended in 2015, right around the time he announced his presidential campaign, but he remains an executive producer of the show, as well as one of its owners.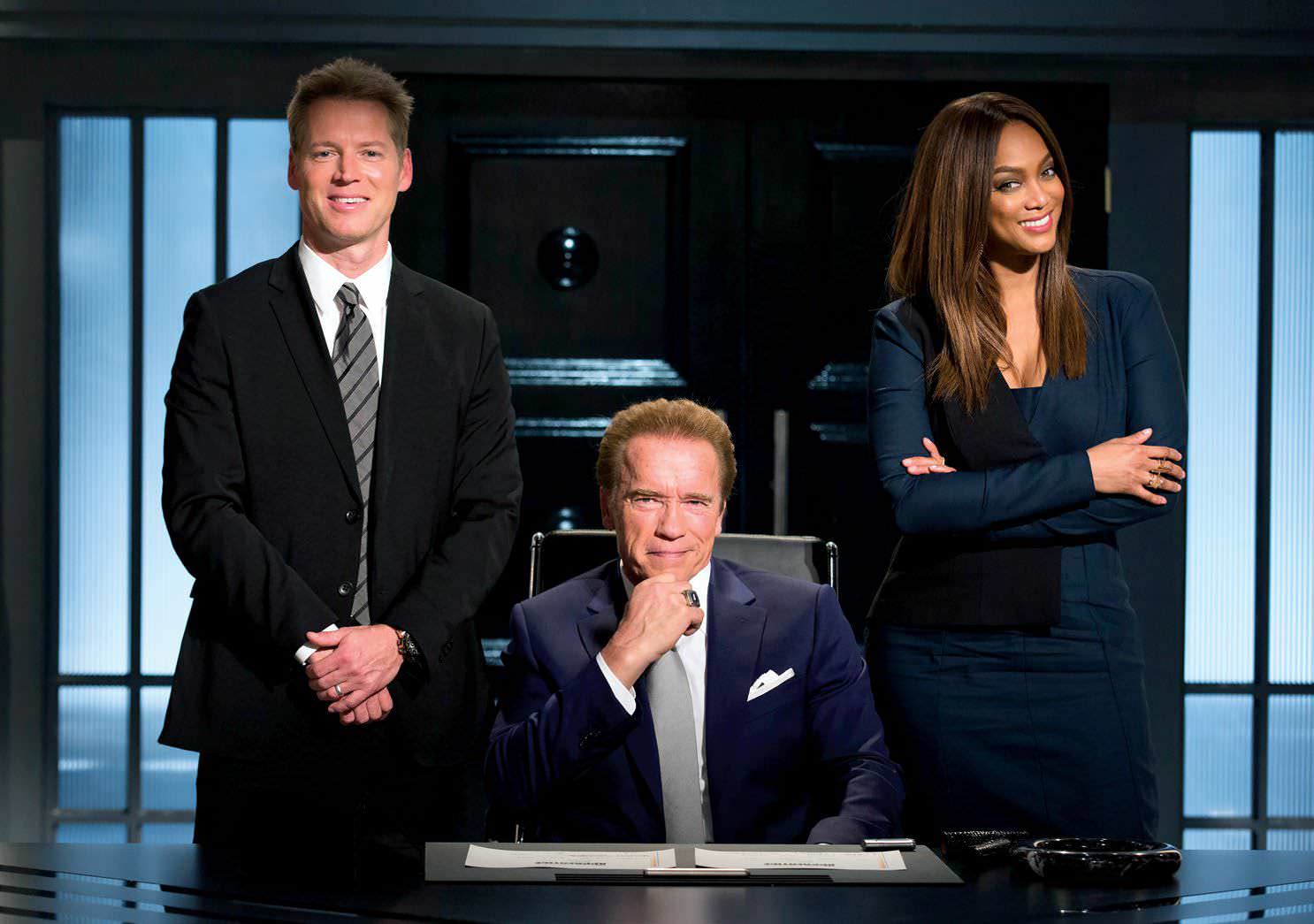 The new show debuts on NBC January 2, though taping was done over the course of a month in early 2016. Schwarzenegger is impatient about the lag time: "You shoot something and it comes out a year later— but you wish it would come out right away," he says.
"I did the show for two reasons," he says. "I loved watching it. It was a great show that always sucked me in. I thought Trump did a great job with it. When I heard he'd been discontinued, I thought, 'There's an interesting show I could host.'
"I had never done a reality show and I thought it would be interesting to try. As an actor, you train yourself in the other direction. To do a show like this, there are totally different skills you have to develop, though I'm naturally fast on my feet."
This new boss had been a business success even before he made a fortune in movies. "Most people don't know that Arnold was a millionaire before he was cast in Conan the Barbarian," says Mark Burnett, executive producer and creator of "The Apprentice." "Arnold had massive success not only in real estate but also in professional sports, acting and politics. He shares a great deal of his experience from all of them on the show."
The new season pairs Schwarzenegger with his nephew Patrick Knapp Schwarzenegger and super model Tyra Banks, and a host of competitors, from retired athletes such as Laila Ali, Eric Dickerson and Ricky Williams, rockers like Vince Neil and Boy George and TV personalities.
"Everyone was, in one way or another, surprising," Schwarzenegger says. "It depended on what the challenge was, which people would emerge with an interesting talent or connection. When you see a UFC fighter [Chael Sonnen], who is used to fighting and beating up on everybody, and he's very articulate and sensitive in the way he approaches a certain subject, it surprises you. It gives you a chance to look inside these famous people."
Misleading preconception is a two-way street. "I thought he'd be a jerk, even though I'd never met him," says contestant Lisa Leslie, a three time WNBA MVP. "But at the end, we all went to his home for a barbecue and he was gracious and humble, kind and respectful. He did say that, during the show, he turns it on when he needs to. But I found him to be a very compassionate man."
"Arnold encourages contestants to take 'big swings,' " says Burnett. "He looks at things like energy, positivity, passion and hard work in making his decisions. And he loves people. He was a great leader on the set, and the cast and crew absolutely loved him…He spent literally hundreds of hours preparing for this shoot. He really wanted to understand what makes this series work, and made sure that he was prepared. His passion for whatever he does is infectious; it really comes across on television."
You can read up to 3 premium stories before you subscribe to Magzter GOLD
Log in, if you are already a subscriber
Get unlimited access to thousands of curated premium stories, newspapers and 5,000+ magazines
READ THE ENTIRE ISSUE
January / February 2017