Behind The Cuban Mystique
Cigar Aficionado
|
March / April 2017
An extensive infrastructure of scientists, growers, rollers and tasters oversees tobacco from fields to consumers' hands
Cuban cigars evoke vivid images. Upon lighting a Partagás Lusitania, a Montecristo No. 2, a Cohiba Esplendido or something more obscure, one might imagine waving fields of green tobacco, hear the click-clack of chavetas in a rolling factory or have visions of a Havana nightclub. Few, however, will think of a panel of specially chosen tasters evaluating and discussing cigars in a conference room.
That decidedly unromantic picture is nevertheless a vital part of the process that leads to the creation of new Cuban cigar expressions and ensures continuity of flavor in your favorite brands. Behind the legendary cigars of the Caribbean's largest island is Habanos S.A., the monopoly that oversees the process from seed to store shelf.
"We sit around the room, all 25 to 30 of us, talking and discussing whether or not the cigar is producing the tastes that we have been asked to create by Habanos," says Amaury Borges, trying to explain how new brands are created in Cuba. "It's a very interesting process because everyone is used to smoking particular cigars, often from the factories where they work," he adds, "but when we are together we have to use criteria established for all Cuban cigars."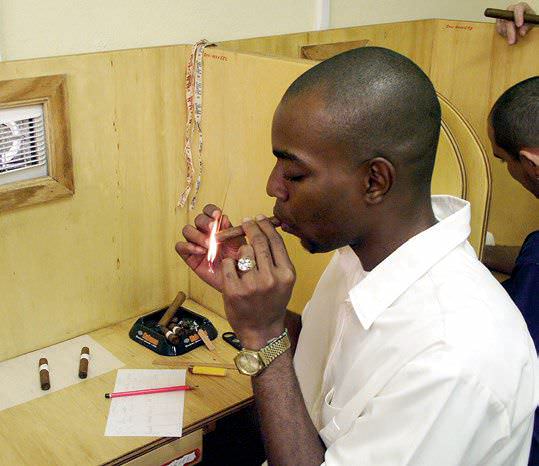 Borges, one of Cuba's leading tobacco scientists at the Instituto de Investigaciones del Tabaco (Tobacco Research Institute), explains that the institute has detailed records, with some information dating back to before the Cuban revolution, of the physical and chemical composition of tobacco grown on every principal farm in Cuba. "We know the sensory qualities of tobacco grown in every specific location in the country," he says.
As a result, when the marketing department at Habanos comes up with a proposed brand, and outlines the tastes and flavors they want in the cigar, the institute has a good idea of where they need to go to find tobacco for that type of cigar profile. Next comes a rigorous and long process of testing different blends, tasting them, making sure the blend is right for each vitola, or size, being created for the new brand. Then, for the final test, the best rollers in the factory where it will be produced are chosen to create a test batch for the panel.
But Borges' and the institute's role in the creation of Cuba's famous cigar brands goes beyond knowing where the best tobacco is grown in the country and testing cigars. They are part of a large apparatus that determines everything from the seeds authorized for each tobacco growing season, to taking part in the taste tests for the final product, including the top export brands. The process carefully determines if exacting standards are being maintained for "tabaco negro" or the black tobacco that serves as the foundation for Cuban cigars.
You can read up to 3 premium stories before you subscribe to Magzter GOLD
Log in, if you are already a subscriber
Get unlimited access to thousands of curated premium stories, newspapers and 5,000+ magazines
READ THE ENTIRE ISSUE
March / April 2017