Extreme Attraction
What draws us to the planet's outer edges? On a trek from the Lower 48's lowest point to its highest, MARK JENKINS looks for answers.
Even the coyotes are desperate in Death Valley. Descending into Badwater Basin, we see four of them limping across a stretch of burning sand called the Devil's Cornfield. They're emaciated, ghostlike creatures—ribs poking out of their thin coats, eyes blank, tongues drooping. The temperature is a suffocating 106°F. If coyotes can barely survive in this place, clearly humans don't belong.
Which is exactly why my wife Sue and I are here. Death Valley ranks near the top of the planet's most inhospitable environments. At 282 feet below sea level, it's the lowest, driest, hottest place in the United States. The highest temperature ever recorded on Earth, 134°F, was registered in Death Valley in 1913.
Heat isn't the only hazard. Hiking away from Badwater, we enter a stark, lunar landscape. The soil has fractured into hexagonal plates of white salt the size of car hoods. It resembles pack ice; where the plates' edges meet, jagged, foot-high ridges jut up like saw blades. A slip would mean stitches. And yet, the terrain is oddly uplifting. Extreme environments bring clarity to the essentials of life: air, water, shelter, food. Temperate environs attenuate the truth. They lull you into laziness. But wherever it's unbearably hot or cold, high or dry, wet or windy, complacency is not an option. You must respect your surroundings and adapt to the conditions or you'll wind up burned, frozen, or blown away.
Sue is so amped I can hardly keep up with her. I tramp steadily across the disks of salt, some of which quiver like sheet metal. When my boots break through the thin crust, the salt tinkles like broken glass. The austerity of the landscape is overwhelming; I've never experienced anything quite so alien. Most of the world has forests and fields and signs of life. Not here. Even the planet's highest mountains have snow, which means water, and life. Yaks and wolves lick snow and humans melt it. But here there is no water.
Shortys Well, our destination today, is just a dry hole in the sand named after a swindling prospector. We reach it after three hours of hiking.
"Treacherous, wasn't it?" Sue says excitedly when I catch up with her after nightfall by spotting the beam of her headlamp. "I just wanted to get through those plates before dark." We have hiked all over the world together for more than three decades, and the truth is she has always been faster than me.
We eat in the moonless dark, but it's still over a hundred degrees, too hot to sleep. We expected this. We just lie naked on top of our bags, silent and sweating.
A big part of getting along in extreme environments is expecting things to get tough, and then accepting it when they do. But that doesn't mean we won't be tested. At dawn, as we're packing up after a sleepless night, a swarm of tiny bees attacks us. Our sweat is the only source of moisture for miles and they begin stinging us on our necks and backs and in our armpits. We swiftly dump everything into our packs and take off, slapping ourselves, alternately cursing and laughing.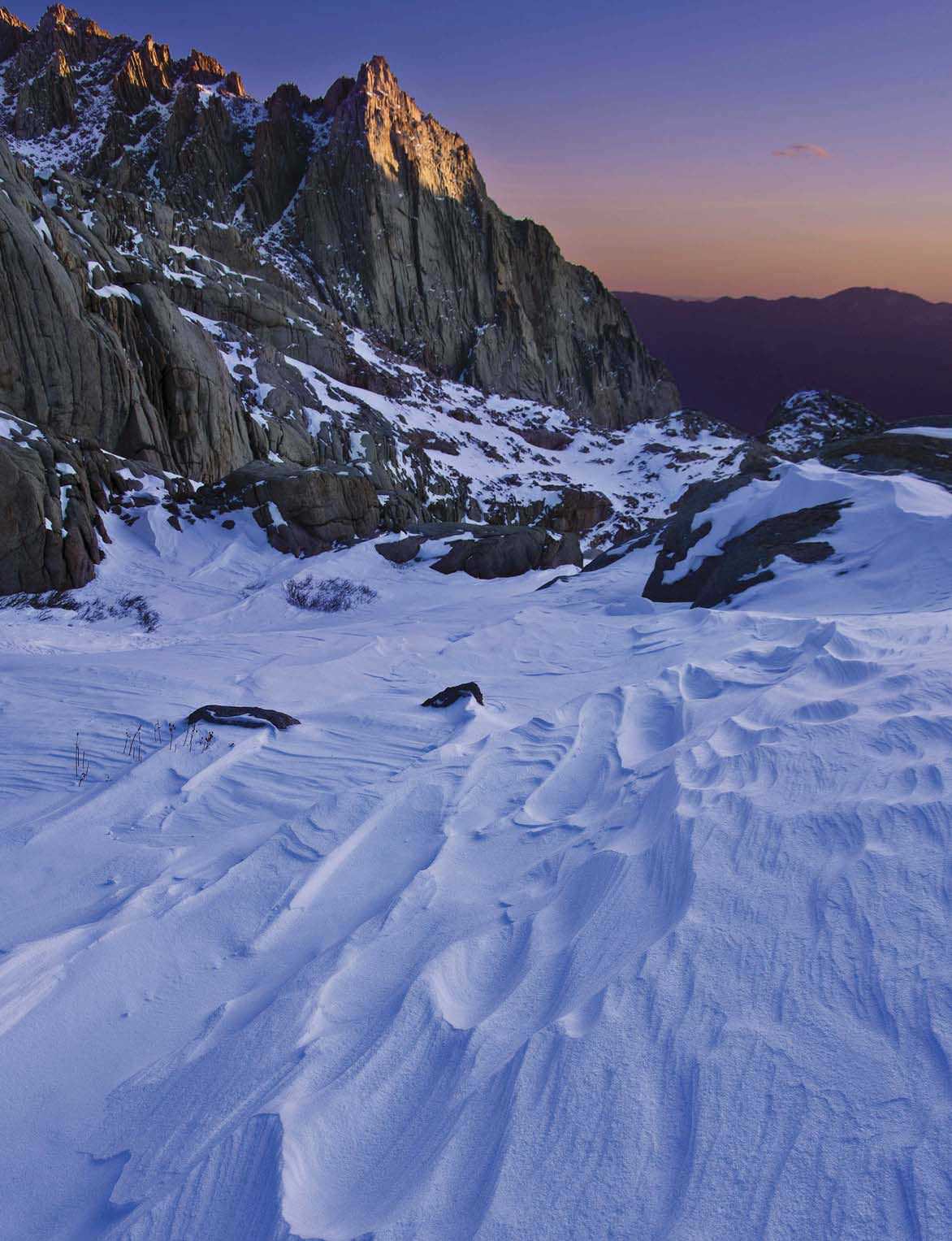 REMARKABLY, DEATH VALLEY'S geographical antipode, 14,505-foot Mt. Whitney, is less than 100 miles northwest as the crow flies. It snows on Whitney every month of the year and the lowest recorded temperature is -13°F. Neither Sue nor I have climbed it.
The proximity of Death Valley and Mt. Whitney has intrigued me for years—the Lower 48's lowest point practically adjacent to its highest. It's a distance that could be covered on foot, although not easily: One would have to patch together a mostly off-trail route up and down bone-dry arroyos, around endless sand dunes, and over snowy passes. All in all, it would entail roughly 150 miles and 30,000 feet of elevation gain across three deserts and three mountain ranges.
I've been attracted to extreme terrain since I was a kid, but this journey was an unlikely obsession. I generally dislike heat. I am a mountaineer; I prefer cold alpine air. And I get no joy out of carrying a heavy pack, either. I've had three hernia operations from humping huge loads on long expeditions, so I only schlep monster packs out of necessity, and that's usually because I need ropes and gear, not gallons of water. And yet, for some reason, I was drawn to the extremity of this endeavor—the searing heat, the bitter cold, the Everest's worth of vertical. I didn't spend a lot of time trying to understand my own motivation. Sometimes, at least for me, it's necessary to do the thing to figure out why you're doing it.
Naturally, I needed the right partner. Someone who was capable of not simply suffering, but finding personal gratification in the struggle. Someone who was capable of covering long distances on foot with physical ease and mental equanimity. Someone who could tolerate a know-it-all adventurer with poorly understood motivation. Luckily, I married just such a person. Sue Ibarra: mother, mountaineer, marathoner. Sue and I have climbed Aconcagua and Kilimanjaro and Orizaba together, bicycled across large swaths of Europe and Asia, backpacked in Tibet and Tanzania and Bolivia.
We guessed the 150-mile journey would take 10 days. The best season to do a Lowest-to-Highest (L2H) hike, we quickly determined, is late fall. In the winter and spring, the High Sierra is buried in snow, and in summer Death Valley is deadly. We would need to cache water and food along our route. We'd need umbrellas for the murderous desert sun and puffy down jackets for the high-altitude cold.
At 6 p.m. on October 2, Sue and I stepped out of the car at Badwater. We ignored the heat-dazed coyotes and quizzical tourists and set off across the desert toward Shortys Well.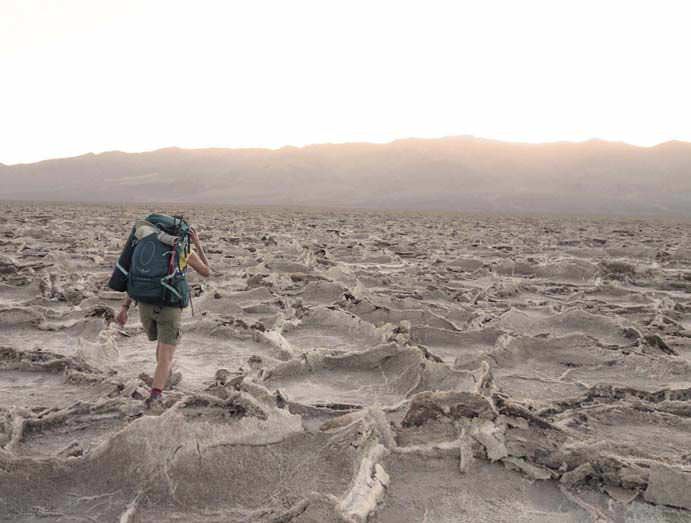 HUMANS HAVE COME and gone in Death Valley for 10,000 years. The Timbisha Shoshone, who are believed to have lived here 1,000 years ago, moved with the seasons. They subsisted on pinyon pine nuts and screwbeans from mesquite trees, hunting bighorn sheep and antelope with bows and arrows, and conducting community drives of the long-legged black-tailed hare.
This traditional way of life vanished after the 1849 California gold rush. Twenty-six wagons and a hundred white people found themselves stranded in Death Valley that first winter. When they finally escaped, after one of the party died, one 49er is reputed to have said, "Goodbye, Death Valley."
Anyone who crosses the barren expanse on foot can be forgiven for expressing the same sentiment. And people do cross it.
You can read up to 3 premium stories before you subscribe to Magzter GOLD
Log in, if you are already a subscriber
Get unlimited access to thousands of curated premium stories, newspapers and 5,000+ magazines
READ THE ENTIRE ISSUE
August 2017