Camel Catastrophe!
go! - South Africa
|
October 2017
Not all camels dream of carrying tourists over the dunes of the Sahara. Some are perfectly happy to run away from their riders along the West Coast, says Werner Winterboer.
The petrol attendants look sceptical.
"Camels come from Egypt, right?"
"No man, you're thinking of pyramids!"
They're discussing the strange cargo on my trailer: two camels, one called Pilot and one called General, which I picked up from a man called Karel Kameel in Krugersdorp yesterday. My plan? To ride said camels along the beach from Strandfontein to Elands Bay on the West Coast.
But first I have to get Pilot and General to my parents' holiday house in Still Bay in the southern Cape, where my travel partner Mike van der Spuy and I will hone our camel riding skills. (Technically, our dromedary riding skills, because that's what a camel with one hump is called.)
We arrive in Still Bay later that afternoon. "Just dodge their legs and teeth and you'll be fine," I tell Mike.
I try to unload General first, but he barely has one foot on the ramp when it gives way and he tumbles out of the trailer. I act as if this is perfectly normal. Pilot steps out like he takes a trip to the beach every day. The camels start to graze on the plants in my dad's garden, causing passing motorists to slam on the brakes. It's not every day you see a camel in Still Bay!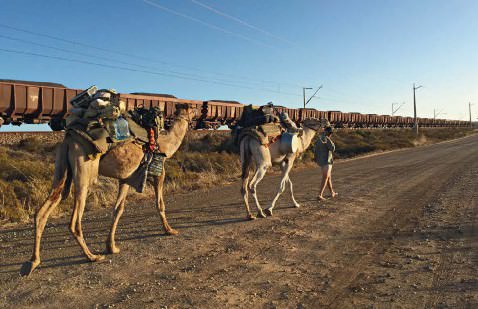 When I picked up the camels yesterday, I chatted to Thabong Redebe, a camel handler, about basic camel obedience. He told me to use the command "koes!" to get the camels to kneel.
"Koes, koes, koes!" I shout. Pilot kneels down, but General doesn't seem to take orders from anyone. I call Thabong and put him on speakerphone, but even the trusted handler's voice won't make General budge.
Time for plan C, which is to raise a horse riding crop. This is Thabong's advice and it works. General bends the knee. The idea of being struck is obviously enough.
We saddle up the camels and I climb onto Pilot's back, only to come thudding back to earth, flat on my back with a view of the clouds. Mike is also on the ground… howling with laughter. It takes us a few more attempts to get into the saddle and actually stay there.
I shout "go!" and touch my heels to Pilot's sides. He lopes away and I try to steer, but both camels head straight for the nearest tree with the lowest branches. Mike and I dive for the ground.
That's enough for one day. We'll be okay. There aren't many trees on the West Coast.
You can read up to 3 premium stories before you subscribe to Magzter GOLD
Log in, if you are already a subscriber
Get unlimited access to thousands of curated premium stories, newspapers and 5,000+ magazines
READ THE ENTIRE ISSUE
October 2017