Butterflies, Birdsong And The Big Five
go! - South Africa
|
October 2017
On the Mathikithi Wilderness Trail in the Kruger Park, a drumbeat announces meal times and a scops-owl is your alarm clock. Book your place and rediscover a time when humans lived much closer to nature.
One of the trails rangers, Philip Gumede, is outside my tent. "Time to wake up," he says gently. It's 5.30 am. He needn't have bothered because I've been awake for an hour or more already, shaken from sleep by the frog-like krrrup of a scopsowl and the raucous chattering of some vervet monkeys. A lion also roared in the darkness, way too close for comfort.
One by one the other hikers pop out of their tents and we all head to the "dining area" of the bush camp. After coffee and biscuits, the group gathers at the camp gate: Adri Visser, a physiotherapist from Somerset West; Gert and Estelle van Dyk, farmers in the Napier area; Anelenie and Albert Smit, pensioners from Pretoria; Charlotte and Richard Mayne from Ulster in Ireland; and me.
Yesterday afternoon, we all arrived at Satara to do the three-day Mathikithi Wilderness Hike (pronounced Mathikithi), the newest wilderness trail in the Kruger Park. Mathikithi replaces the old Metsi-Metsi Trail near Orpen Dam.
From Satara, a game-drive vehicle delivered us to a bush camp south of Satara, near the Nwanetsi River. We had barely driven a kilometre on the dirt road when Philip showed us an impala carcass dangling from a tree. Hooded vultures, lappet-faced vultures and even a rare white-headed vulture waited in the nearby trees, but the leopard responsible for the kill was nowhere to be seen.
Today I'll get to experience the bush as I've never done before – on foot. Ewout Verschoor, our second ranger, slings his rifle over his shoulder and opens the gate. Let's go.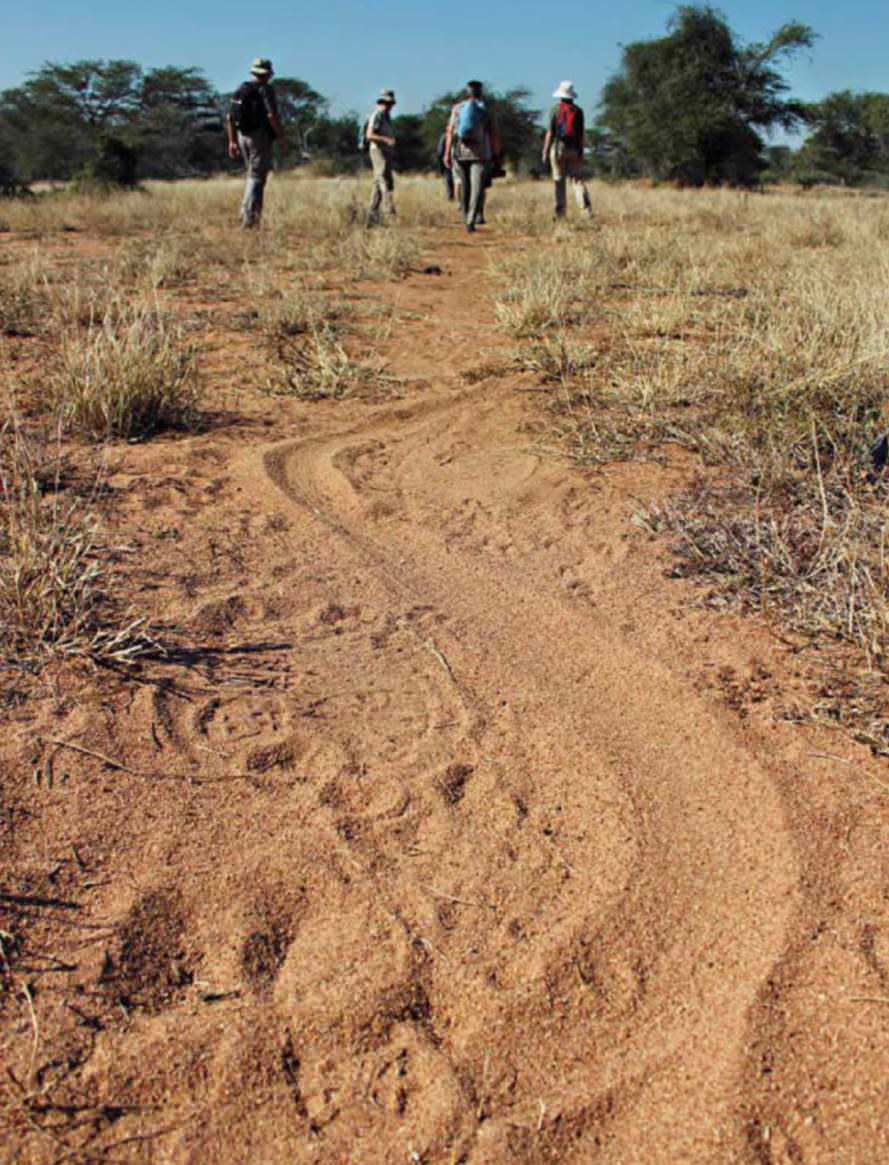 Bush school
The full moon is still high and the dawn sky is cotton candy pink. We're surrounded by bird song, as if every bird from the smallest grey penduline-tit to the biggest southern ground hornbill has something very important to say. I can hear a bearded woodpecker drumming its beak against bark somewhere, and also the bubbling call of a Burchell's coucal.
"That coucal sounds like someone pouring water from a bottle," whispers Anelenie behind me. We're walking in single file and we've been told to keep our voices low so as not to scare off the animals. They're used to vehicles, but not humans on foot.
"If we hear a lion roar, can you tell how close it is?" I whisper to Ewout.
"Impossible to determine," he whispers back. "It depends on the direction of the wind and which way the lion is facing. It could be 2 m away or 20 km away."
Hmm…
A green-winged pytilia flies by. A buffalo snorts. We follow the course of the mostly dry Nwanetsi River, under tall nyala, apple leaf and cluster fig trees. Eventually we stop at a wild fig tree that's slowly strangling a leadwood tree. Ewout is busy explaining this phenomenon when Philip whistles and points to a pearl-spotted owlet in another tree nearby. Suddenly two fork-tailed drongos arrive and launch an attack to scare it off.
You can read up to 3 premium stories before you subscribe to Magzter GOLD
Log in, if you are already a subscriber
Get unlimited access to thousands of curated premium stories, newspapers and 5,000+ magazines
READ THE ENTIRE ISSUE
October 2017