Bat Republic
go! - South Africa
|
October 2017
Kasanka National Park isn't as famous as some of Zambia's other parks. But visit at the right time of the year and you'll witness the biggest, battiest, most primordial wildlife spectacle in Africa.
You hear them before you see them, and once you've seen them it's impossible to tear your eyes away.
I'm standing on a wooden platform about 5 m off the ground. The rustling sound starts in a grove of swamp fig trees about 50 m away. They call this kind of grove a mushitu forest, and it's the perfect habitat for bats: enormous, straw-coloured fruit bats.
At first I can almost count them: Ten-strong groups combine into clouds of hundreds. The bats are getting more active as the day's tropical heat seeps away. Around us, the swamp breathes. A slight chill sets in.
Now the mushitu forest comes alive. The bats are swirling like a tornado gathering speed. The tornado picks up flotsam, flinging it aloft: dark, jagged shapes, each one a hungry bat. The rustling noise intensifies and merges with other sounds – thousands of flapping wings and chirpy bat sounds – until it becomes a frenetic storm of static; a continent's worth of radio stations all out of sync, slowly blurring into one almighty roar.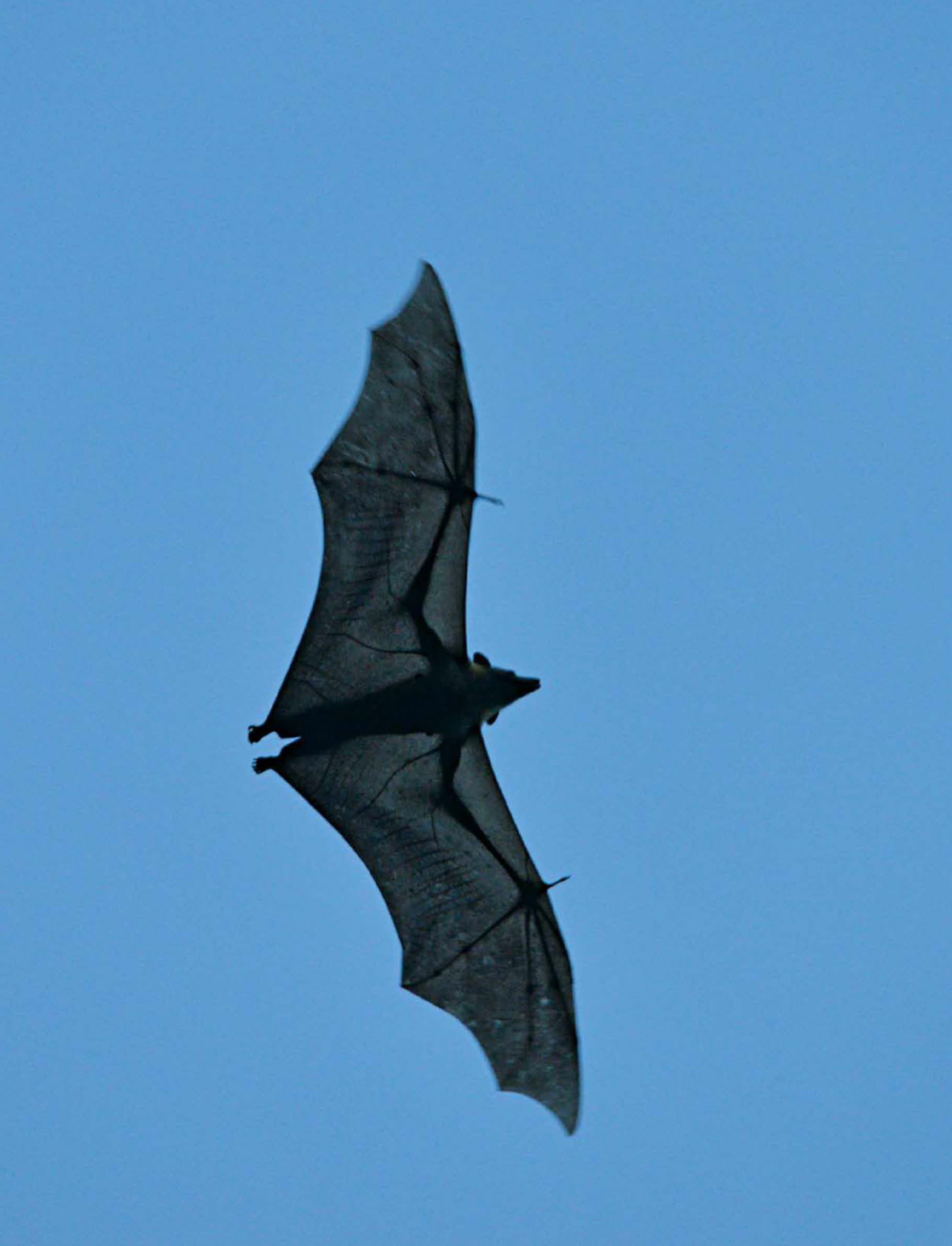 How to bat
The bats have gathered here for centuries. Every year in mid-October they arrive from their usual haunts elsewhere in tropical Africa – some from as far as Cameroon. They come for the feast of veld fruit available in Kasanka and they stay until mid-December. Visit Kasanka in January and you might not see a single bat.
How many bats congregate? It's hard to say. Researchers estimate between 5 and 15 million, which makes it the biggest mammal migration in the world. The wildebeest of the Serengeti have nothing on these guys. What does a colony of a million bats look like? Bring your binoculars and focus them on the horizon at sunset. See that grey bank of smog? All bats.
It's easy to see Kasanka's bats, provided you visit during the mid-October to mid-December window period. Tourists are split into small groups and guided to different viewing platforms next to the mushitu forest, where the bats spend their days napping. At sunset they leave their roosts and fly out to look for fruit.
You can read up to 3 premium stories before you subscribe to Magzter GOLD
Log in, if you are already a subscriber
Get unlimited access to thousands of curated premium stories, newspapers and 5,000+ magazines
READ THE ENTIRE ISSUE
October 2017