What's cooking?
What's On Dubai|What's On May 2020
We're in a golden age for cooking tutorials – search, and you shall find an answer. But not all of the videos and recipes you'll come across are created equally. Some of the dishes are too complicated, sometimes the camerawork is wonky, and sometimes you'll find a presenter who drones on like it's an antiquated food blog or cookbook of yesteryear. So you don't have to suffer any more wasted minutes, we've teamed up with legendary meat brand True Aussie and celebrated TV chef Tarek Ibrahim to share some of their favourite recipes. Bon appetit!
DATE NIGHT MEALS
Australian beef tenderloin with Greek yoghurt and blackberries
SERVES: 4 (OR ONE VERY HUNGRY COUPLE!) | PREP TIME: 15 MINUTES | COOK TIME: 15 MINUTES
Ingredients
2x300g Australian beef tenderloin
3 tbsp Sunflower oil
5 tbsp Unsalted butter
5 Thyme sprigs
5 Rosemary sprigs
4 cloves garlic, lightly crushed
Salt and pepper to taste
For Labneh
320g Greek yoghurt
1/2 tbsp Date syrup
1/2 tbsp Pomegranate molasses
For Blackberry sauce
250g Blackberries
2 tbsp Apple cider vinegar
1 tbsp Sugar
For Peanut Crumble
30g Peanuts, unsalted, roasted and finely chopped
40g Ginger, finely diced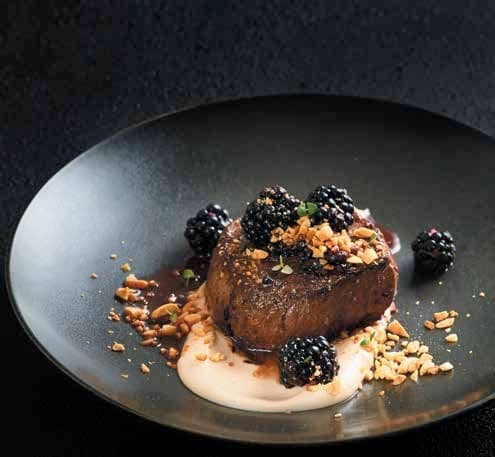 Method
01 To make the labneh, place the ingredients in a bowl with 1/8 teaspoon of salt. Whisk until smooth and set aside.
02 In a new bowl, add apple cider vinegar, sugar, and pepper. Stir to combine. Then add blackberries and mash together. Add thyme, rosemary and ginger and mix well.
03 In a pan, add sunflower oil and butter. Rub ginger and garlic cloves on the beef. Place beef in the pan and cook until nicely browned on all sides. Add salt as needed followed by a few sprigs of thyme and rosemary. Baste the beef 2 or 3 times while it cooks.
04 To serve, spread the labneh out in the middle of the plate and lay the beef tenderloin topped with blackberry sauce. Scatter a teaspoon of peanut crumble over the beef and serve immediately.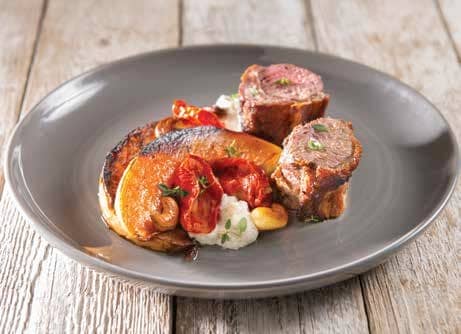 DATE NIGHT MEALS
Australian lamb loin with butternut squash and lime yoghurt
SERVES: 4 (OR ONE VERY HUNGRY COUPLE!) | PREP TIME: 20 MINUTES | COOK TIME: 60 MINUTES
Ingredients
1kg Australian lamb loin
1 Medium butternut squash, sliced
6 Large plum tomatoes, sliced and oven-roasted
1/2 cup Greek yoghurt
2 tbsp Sugar
3cm piece Ginger, grated
1 1/2 tsp Lemon juice
2 Garlic cloves
Olive oil
30 Cashew nuts
1/4 tsp Cardamom
Black pepper to taste
Salt to taste
Method
01 In a medium saucepan, roast cashew nuts. Set aside.
02 Next, heat olive oil. Place the lamb and cook both sides until browned. Remove from the stove and bake at 350 F (180 C) for 30 minutes.
03 Place the butternut squash on a parchment-lined baking sheet greased with olive oil. Sprinkle with 2 teaspoons of salt and a good grind of black pepper. Drizzle with the remaining tablespoon of oil, and roast for 30-40 minutes until golden brown. Set aside to cool.
You can read up to 3 premium stories before you subscribe to Magzter GOLD
Log in, if you are already a subscriber
Get unlimited access to thousands of curated premium stories and 5,000+ magazines
READ THE ENTIRE ISSUE
What's On May 2020