The Big Fan Theory
The early versions of comic conventions mainly attracted people who were looking to swoop up limited-edition comic and sci-fi merchandise. Today, they have become less about the products and more about an immersive, interactive experience, expanding to include the entire gamut of pop culture entertainment. Cosplayer Sana Saha Khan reveals the finer details of this upcoming art form while Comic Con India founder Jatin Varma breaks down the evolution of the fandom subculture in India.
As a young girl, Sana Saha Khan would collect Pokémon stickers and posters and hoard Marvel and DC comic books. Today, the 25-year-old graphic designer and cosplayer has taken her childhood passions a level up by leveraging her artistic skills to craft elaborate and detailed costumes of some of her favourite pop culture heroes. Scroll through her Instagram page, and you're immediately immersed in her fantastical universe, where she resides as her online avatar, violexi Cosplay. "in a general sense, cosplay is an art form where you dress up as…well, anyone or anything! That said, there are many aspects to it. For example, the whole process that goes into the creation — from arranging for the right pieces of clothing to building the props, deciding on the make-up and, finally, being in character...or what you would call 'enactment'," explains the Mumbai-based cosplayer. She adds that the reasons for participating can vary — "it could be a love for the character, an interest in meeting new people from the same fandom or even just learning new skills."

Khan, who has been cosplaying since 2016, has now been part of national conventions and won numerous accolades for her complex costumes and realistic character portrayals. Some of her more popular cosplay themes include Olivier Mira Armstrong from Fullmetal Alchemist, Darth Cognus/Sith Lord from the Star Wars series, vengeful Spirit from Dota 2, Widowmaker (Huntress) from Overwatch and, most recently, Saber Athena from Pacific Rim Uprising (2018). For this feature, she slips into the villainous skin of Sarah Kerrigan from the video game StarCraftII. Excerpts from an interview with Sana Saha Khan….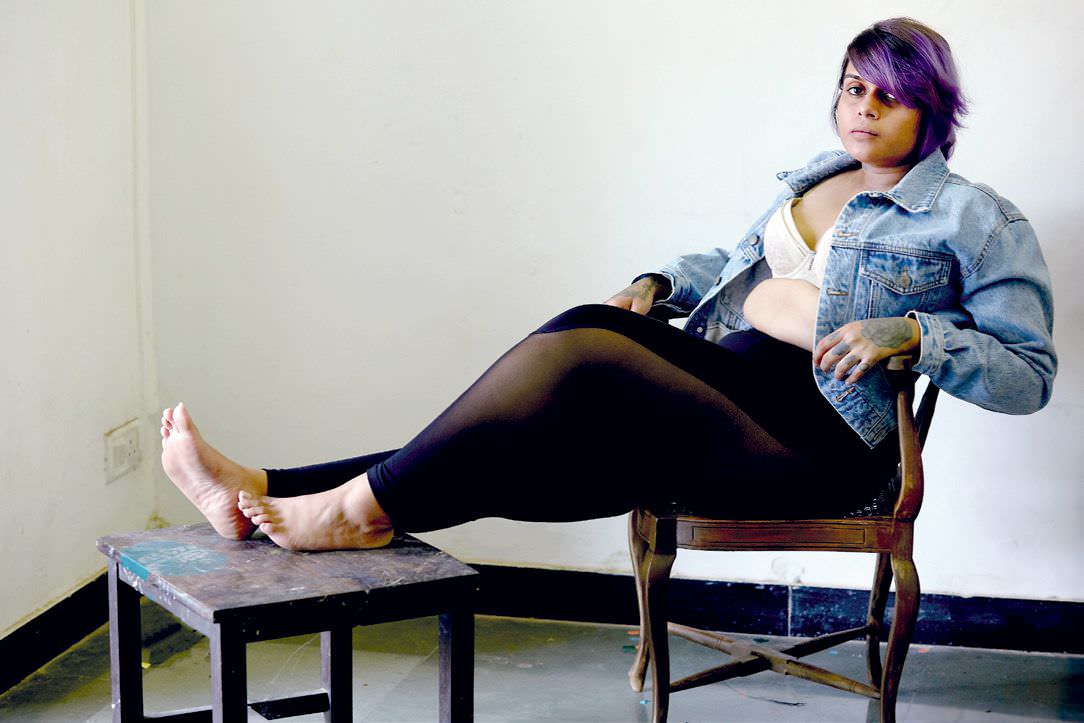 "I WAS INTRODUCED TO THE CONCEPT OF COSPLAY IN 2014, THROUGH SOCIAL MEDIA.
I attended my first event, Comic Con Mumbai, in 2015, and a year later, I tried cosplaying for the first time. It was then that I learned about different materials and techniques of making props through an old friend. I finally debuted at the World Cosplay Summit in 2016, where I cosplayed as Grell Sutcliff from the Japanese manga series Kuroshitsuji (Black Butler)."
"EVERYTHING STARTS WITH DECIDING ON A CHARACTER AND COSTUME THAT IS CHALLENGING YET FEASIBLE TO PULL OFF.
You can read up to 3 premium stories before you subscribe to Magzter GOLD
Log in, if you are already a subscriber
Get unlimited access to thousands of curated premium stories, newspapers and 5,000+ magazines
READ THE ENTIRE ISSUE
September 2018