WOMEN of INFLUENCE
Upscale Magazine|April 2020
A look at 12 powerful, inspiring women who are shaking up the business world in everything from technology to spirits
JACINTA HOWARD, NINA HEMPHILL REEDER, YVETTE CASLIN AND JUANITA RAMOS
We know that being a black woman in America is not for the weary. Success for black women comes with a unique set of challenges and obstacles. But in spite of this reality, black women continue to take charge, lead, innovate, cultivate and succeed in virtually every arena they choose to inhabit.
From stockbrokers to tech gurus, writers, theme park ride designers, entrepreneurs and more, we've compiled a list of powerful, inspiring black women who rock. These compelling women have made a difference in their respective industries, but perhaps even more importantly, they have served as an inspiration to other women looking to follow in the path they've paved on the road to success.
DR. MAYA ROCKEYMOORE CUMMINGS
Founder, Global Policy Solutions
Maya Rockeymoore Cummings, Ph.D., has always understood the importance of "giving your country your best." She is a consultant and former chair of the Maryland Democratic Party, and her experience as an entrepreneur, coupled with her policy work, has given her unique insight into addressing the challenges of our economy, small businesses and workforce. Previously, she worked on Capitol Hill for the Congressional Black Caucus and the House Ways and Means Committee and also served as chief of staff for former New York Congressman Charles Rangel.
"I wanted to work on Capitol Hill because I wanted to truly understand how government works [to] fulfill its promise to the American people," says Cummings, who is also the widow of congressman Elijah Cummings. "I quickly learned laws and policy are the levers that control—schools, healthcare, interest rates, a safe food supply, parks, water and the very air we breathe."
In 2005, she founded Global Policy Solutions, a political strategy firm that is dedicated to social change.
"I'm committed to shaping policy so that it protects and serves the most vulnerable in our communities and ensures they get their fair share." —Y.C.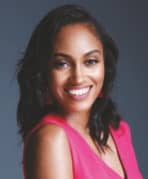 JEWEL BURKS
Head of Google for Startups, U.S.
When Jewel Burks was named the head of Google for Startups, U.S., it shook up the tech industry, and rightfully so. The newly created position is incredibly important to the future success of entrepreneurs, and it's meaningful that a black woman is the first person to hold the title.
"It's significant because it demonstrates a commitment to the mission of leveling the playing field for underrepresented startup founders," Burks explains. "Given that I have experienced what it's like to be a black woman founder and deeply understand the needs of these founders, it was an intentional decision to select someone with firsthand knowledge of the challenges black founders face and lean on my knowledge to create initiatives that would best serve this community."
Burks says she's particularly excited to see black women get recognition for being "incredible innovators." "Black women can lead technology companies, and it is time that the world recognized that," she says.
In her new role, Burks's primary goal is to help underserved founders move their business forward in three key ways: increased revenue, increased access to capital and increased ability to tell their stories, leveraging Google's products, people and brand. She says it's all about propping up the next wave of innovators.
"My most significant success is to be in a position to give back to the next generation of founders coming up behind me." — J.H.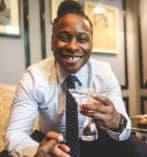 CHANEL TURNER
Founder, FOU-DRÉ Vodka
Operating in the male-dominated spirits industry has certainly presented its challenges, but it hasn't stopped Chanel Turner. In just under a decade, Turner has taken her FOU-DRÉ vodka company from a small East Coast-based start-up to an international brand with sales reaching to Japan and Singapore.
"As a young black woman in this industry, some of my toughest challenges have been obtaining distribution, getting brand placement and shelf placement. I've seen the males on my team walk into an establishment and get a 'yes' faster than I ever could," she says.
And knowing what it takes to open those doors and new markets for her brand, Turner was quick to reach back to help other black entrepreneurs. With the objective to create community, she created the annual Black Owned Wine & Spirits Festival, which is described as the largest gathering of minority-owned alcohol brands.
"It sends a message to our community, who spends the most money on alcohol consumption, that they can find just as good, if not even better-quality products being made by our own [and] that they can support and circulate the dollar into our communities." —N.H.R.
You can read up to 3 premium stories before you subscribe to Magzter GOLD
Log in, if you are already a subscriber
Get unlimited access to thousands of curated premium stories and 5,000+ magazines
READ THE ENTIRE ISSUE
April 2020