WHEN WHISKEY RULED THE WEST
True West|July - August 2020
FROM LEWIS AND CLARK UNTIL PROHIBITION, THE GOLDEN ELIXIR WAS AS GOOD AS GOLD.
Whiskey, bourbon and rye were readily available for sale along with the women in the hundreds of legal bordellos in America, including in New Orleans' infamous Storyville red-light district where the unnamed "Raleigh Rye Girl" was photographed circa 1912.
Whiskey's role in shaping the West, and its rise to prominence over rum or vodka, has its roots in the early days of the United States. Its story began with early colonists who learned to distill spirits from their new agricultural bounty of corn, wheat, barley, and rye. That continued with our founding fathers, which led to the Whiskey Rebellion. Whiskey also has strong ties to early explorers, mountain men, pioneers, the railroads, and more. It was sold as medicine, used to barter with, and fueled the temperance movement. Because whiskey's main ingredients were easily grown all over North America, the art of distilling spread as rapidly as settlers into newly settled regions. Whiskey was quick and easy to produce, and distilling grains into alcohol made them more valuable, more transportable and more easily stored for long periods. The popularity of whiskey grew, and as whiskey's popularity increased, so did its value as a trade good.
Whiskey on the Frontier
Early explorers Meriwether Lewis, William Clark, and Zebulon Pike took whiskey along with them on their expeditions. In addition to its being a standard Army ration, it was used as a reward for their men and for trading purposes. By the time Lewis and Clark set off on their expedition, the Indians along their planned route were already accustomed to the use of whiskey as a trade good and—in fact—demanded it. French Canadian traders had already established the whiskey negotiation as part of their regular commerce with the tribes they encountered. Major Thomas Biddle, who would be on the later Yellowstone Expedition up Missouri, wrote, "So violent is the attachment of the Indian for it [liquor] that he who gives most is sure to obtain furs, while should anyone attempt to trade without it, he is sure of losing ground with this antagonist. No bargain is ever made without it." Later, trappers like Jim Bridger, Kit Carson, James Beckwourth, and Jedediah Smith carried it with them as a trade good after they, too, learned that the Native peoples wouldn't trade with them if they didn't include whiskey in the bargaining process. Beckwourth recalled a trading rendezvous: "The absent parties began to arrive, one after the other, at the rendezvous. Shortly after, General Ashley and Mr. Sublet [Sublette] came in, accompanied with three hundred pack mules, well laden with goods and all things necessary for the mountaineers and the Indian trade. It may well be supposed that the arrival of such a vast amount of luxuries from the East did not pass off without a general celebration. Mirth, songs, dancing, shouting, trading, running, jumping, swinging, racing, target-shooting, yarns, frolic, with all sorts of extravagances that white men or Indians could invent, were freely indulged in. The unpacking of the medicine water contributed not a little to the heightening of our festivities."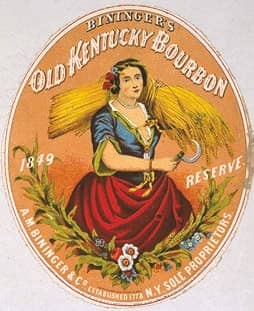 Abraham M. Bininger began selling bourbon and whiskey from his New York City store in 1778. In 1849, his heirs' Bininger's Old Kentucky Bourbon Reserve 1849 was the first bottled bourbon in the country.
– COURTESY LIBRARY OF CONGRESS –
You can read up to 3 premium stories before you subscribe to Magzter GOLD
Log in, if you are already a subscriber
Get unlimited access to thousands of curated premium stories and 5,000+ magazines
READ THE ENTIRE ISSUE
July - August 2020