Six Guns & Sluggers
HOW 150 YEARS AGO BASEBALL'S CINCINNATI RED STOCKINGS INVADED THE WEST BY RAIL AND SEEDED THE NATIONAL PASTIME ACROSS THE WESTERN FRONTIER.
Two sesquicentennial anniversaries in 2019 will commemorate landmark events in the history of the American West. When gold and silver spikes were gently tapped into place in a ceremonial laurelwood rail tie at Promontory Summit in Utah Territory to symbolize the completion of the Transcontinental Railroad on May 10, 1869, it opened the West as never before. Earlier in the year, the Red Stockings of Cincinnati became the first all-salaried, professional team in the fledgling sport of baseball. Undefeated as the year progressed, the Red Stockings rode these rails in mid-September to introduce professional ball beyond the Mississippi. The West offered opportunity and adventure, attracting people from around the world who flocked to the California gold rush of '49 and the Comstock silver lode in '59. Now, in 1869, these professionals came west to demonstrate their wealth of baseball riches to overmatched but eager ball clubs with a hankering to be part of the Red Stockings' historic season.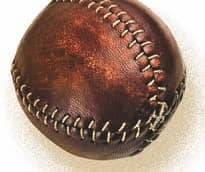 There was never a team like the 1869 Cincinnati Red Stockings. They attracted an array of astonishing baseball talent that registered the only undefeated season in professional baseball history. Their centerfielder/manager, Harry Wright was an astute baseball mind, inventing now well-accepted teamwork techniques, such as players calling for fly balls and backing each other up in the field, using substitute pitchers to "relieve" starting hurlers and repeatedly practicing the sport to achieve perfection. His brother, "Smiling George," had a 1,000-watt grin of pearly whites that matched the star power of his game. He was the first real superstar of the sport, a shortstop with tremendous range and fearsome hitting prowess. Bushy side-whiskered Asa Brainard was their unmatched pitcher, throwing an array of speedballs and spinners that baffled hitters. His nickname, "Ace," became synonymous with any team's star pitcher. With a solid cast of support, the Red Stockings were unbeatable as they took on the powers of organized baseball in the East. The game was very different than the version played today. Pitchers threw the ball underhand and there wasn't a glove to be found, leading to black-and-blue hands or sometimes broken fingers. But the sport captivated much of the country.
Baseball's First Western Team
You can read up to 3 premium stories before you subscribe to Magzter GOLD
Log in, if you are already a subscriber
Get unlimited access to thousands of curated premium stories, newspapers and 5,000+ magazines
READ THE ENTIRE ISSUE
December 2019