SHOTGUNS AT MIDNIGHT: VIRGIL EARP VS UNKNOWN ASSAILANTS
SUSPICION POINTS TO IKE CLANTON, JOHNNY RINGO, CURLY BILL BROCIUS, HANK SWILLING AND FRANK STILWELL TAKE YOUR PICK!
Three days past Christmas, in the chilly night air, Virgil Earp steps from the Oriental Saloon, hobbling slightly from a calf wound he received during the Fremont Street fight.
As midnight approaches, Virgil crosses Fifth toward the Golden Eagle Brewery. When his silhouette lights up the saloon windows, multiple shotguns roar from across the street. The spraying buckshot splinters the windows, awning post and east wall of the saloon. One load hits Virgil above the left hip, and another shatters his left arm above the elbow.
Three assailants are seen fleeing a building under construction on the southeast corner of the Fifth and Allen intersection. They head south on foot and disappear into the gully south of Toughnut Street.
Incredible as it may seem, Virgil keeps his feet and staggers back across the street to the Oriental. He reaches his brother Wyatt, who was investigating the explosions he had heard. Virgil collapses in his brother's arms.
Wyatt and others help Virgil to his room at the Cosmopolitan Hotel.
Two doctors are summoned.
Everyone fears the marshal has been mortally wounded.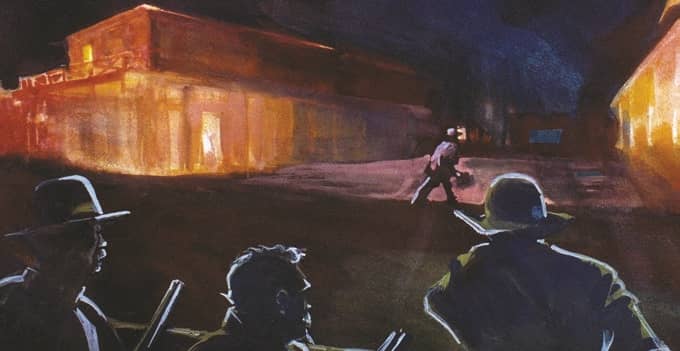 Were the Shooters Upstairs or on the Roof?
A persistent Tombstone tale renders Virgil's shooters as firing from a rooftop on the southeast corner (some versions add even more shooters on another roof). Most historians, however, believe the shooters were on the ground floor.
The confusion stems from a report that "five shots were fired in rapid succession by unknown men, who were standing in the old Palace saloon that is being rebuilt next door above Tasker & Pridham's store, on the southwest corner of the same street."
This paragraph from the Epitaph gives the false impression that the shooters were "above" Tasker & Pridham's store, but in fact, the Palace Saloon is east of the store, or in the vernacular of the times, "above."
Also, stray buckshot sprayed the upper walls and awning posts of the Golden Eagle Brewery, an impossible feat for anyone shooting down from a rooftop.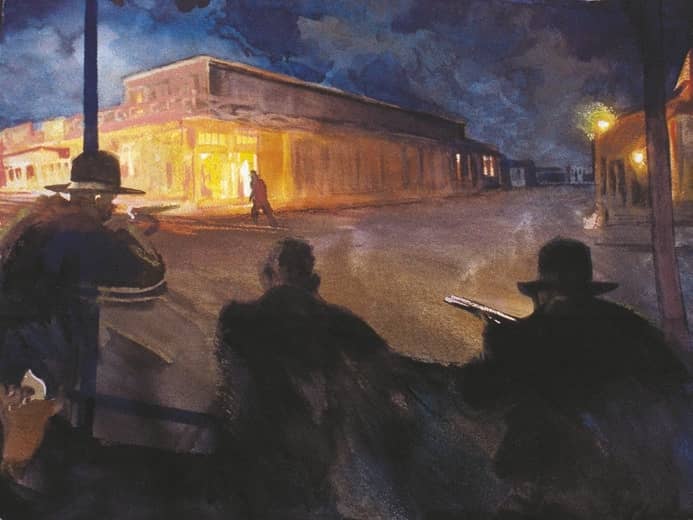 The newspaper even got the wrong corner (southwest, when it should be southeast), or perhaps its mangled syntax refers to something else.
Seeing Triple
Wyatt recalled to Stuart Lake in 1928 how confused Tombstonians became at the incredible physical likeness between the three brothers—Wyatt, Virgil and Morgan. When the first council of Tombstone wished to appoint Virgil Earp as town marshal, the appointed messenger walked up and handed the badge to Wyatt. On another occasion, E.B. Gage gave a saddle horse to Morgan in the belief that he was transferring ownership to Wyatt, who had sought to purchase the animal earlier.
Finally, the sporting crowd placed bets and to settle the argument, the three Earps were weighed and measured. According to Wyatt, "Boots off, there wasn't three pounds difference in our weights, and not one of us scaled above a hundred and fifty-eight. Virg was the heaviest, Morg a shade heavier than I. When you add that each of us had wavy, light-brown hair, blue eyes, and a mustache of the sweeping variety then in Western fashion, you may understand why our comings and goings often were reported inaccurately and why certain persons in Arizona ascribed supernatural qualities to the Earps."
You can read up to 3 premium stories before you subscribe to Magzter GOLD
Log in, if you are already a subscriber
Get unlimited access to thousands of curated premium stories, newspapers and 5,000+ magazines
READ THE ENTIRE ISSUE
October 2020