On the Bison Trail
True West|June 2020
The heritage traveler can discover the history and natural wonder of the great buffalo herds from Texas to Montana.
Artist George Catlin's remarkable tours of Western North America in the 1830s and 1840s resulted in an important portfolio of Great Plains tribal cultural history, including a series of paintings of bison hunts, including his 1832 Buffalo Hunt, Surround.
The great wild bison herds that once ranged from Canada to Texas had a significant impact on the people and landscape of the West. Their annual migrations churned the soil as they took advantage of natural grasslands. The native people of the region followed these herds as a source of food. They utilized every part of the animals, often referred to as buffalos, by processing hides for lodges, clothing and moccasins. They turned bison bones into tools and used the animals' sinew to make thread or binding for attaching tips to arrows to use in hunting or for protection.
When the Northern Boundary Survey worked its way from the Great Lakes to the Rocky Mountains from 1872 to 1874, bison were often encountered. In his report of February 14, 1877, Maj. William Twining, who led the survey team, wrote of the area known as Three Buttes or the Sweet Grass Hills of present Montana, saying they "are the center of the feeding-ground of the great northern herd of buffaloes." He added, "This herd, which ranges from the Missouri River north to the Saskatchewan, made its appearance, going south, about the last of August. The number of animals is beyond all estimation. Looking at the front of the herd from an elevation of 1,800 feet above the plains, I was unable to see the end in either direction."
Traveling on the fringes of the immense herd were "Sioux, Assiniboines, Gros Ventres of the prairie, and Blackfeet," Twining wrote.
Valentine T. McGillycuddy, who worked on the Northern Boundary Survey, later recalled, "Buffalo dotted the plains as far as the eye could see. Often we had to suspend astronomical observations at our stations located at 20-mile intervals because the vibrations from the drumming hoofs of herds nearby shook the instruments."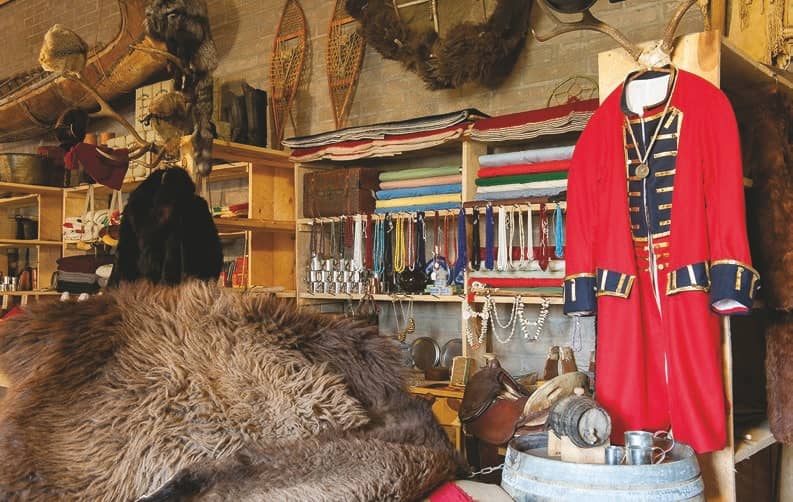 Montana's Historic Old Fort Benton is now a living history center of the fur and hide trade of the Upper Missouri River Valley. Constructed between 1846 and 1860, Fort Benton was one of the great trading posts on the Upper Missouri River. One bastion of the fort, built in adobe, similar to Fort Laramie, remains, while the remainder, including the trade store, has been reconstructed on the site along the north bank of the Missouri River.
Historic Herds of Montana
You can read up to 3 premium stories before you subscribe to Magzter GOLD
Log in, if you are already a subscriber
Get unlimited access to thousands of curated premium stories and 5,000+ magazines
READ THE ENTIRE ISSUE
June 2020