Locked and Loaded!
True West|July - August 2020
Pearl Hart and a posse of sharpshooting Western women shaped the West from the barroom to the courthouse.
In 1899, Pearl Hart and her boyfriend, Joe Boot, gained national attention for robbing the Globe to Florence, Arizona Territory, stagecoach. While jailed during her trial at the Pinal County Courthouse in Florence in November 1899, Hart wrote her life story and posed for a series of photographs dressed as a man with an unloaded rifle and pistol. The photos were featured in the October 1899 issue of Cosmopolitan magazine.
Sharpshooter. If that word immediately conjures the image of a man with a gun, think again. History is peppered with female sharpshooters, and a gun wasn't their only weapon of choice— some used their sharp tongue and wits to hit their marks; some used it all.
Among the most notorious was Pearl Hart, who never even pulled a trigger.
Under-five feet and a hundred pounds, this "Lady Bandit" ambushed her way into the history books in 1899: the only known female stagecoach robber pulling off one of the last stagecoach heists in America.
But it was her castrating tongue that captured the attention of the nation and made her a celebrity. Men hated what she had to say; women loved it!
Pearl Hart's celebrity began about 5 p.m. on May 29, 1899, in Arizona Territory. She was masquerading as a man in a gray shirt and dungarees with her long hair tucked under a dirty white sombrero and her feet in boots that were obviously too big. She and her boyfriend, Joe Boot, laid in wait in Cane Springs Canyon between Florence and Globe, waiting for Henry Bacon's stage with its three passengers. As she ordered them out of the stage, one of the men left his revolver lying on the seat. Henry never tried to draw the gun he carried.
The press used twisted logic—and erased one of the guns—to explain how four men could be so disarmed by such a slight woman: "They were so pop-eyed with amazement that no resistance was offered, even though the driver was armed."
Far more cutting was Pearl's take on the situation: "Really, I can't see why men carry revolvers, because they almost invariably give them up at the very time they were made to be used."
She and Joe made off with $431.20; Bacon's Colt .45; a .44 and a gold watch—minus the $1 "charitable contribution" they left each victim so the guys could pay for supper that night.
But while the robbery was slick, escaping eluded the couple, who got lost and were found just a mile or so from the holdup by Sheriff William C. Truman. They were jailed in Florence, where the sheriff was dismayed to find the men of the press were constant visitors, fascinated by this tiny, pretty 28-year-old bandit who provided such great copy.
Like her letter to prosecutors: "I shall not consent to be tried under a law which my sex had no voice in making."
Like the mocking poem she wrote to commemorate her crime:
While the birds were sweetly singing, and the men stood up in line,
And the silver softly ringing as it touched this palm of mine;
There we took away their money, but left them enough to eat,
And the men looked so funny as they vaulted to their seats.
Across the nation, women championed this example of "Western womanhood," with the popular Cosmopolitan magazine printing a massive story on her life and crime. The Arizona Star named her a "woman suffragette," which may have been only conjecture by the newspaper's co-owner, Josephine Brawley Hughes, leader of Arizona's Suffragette Association. Other Arizona papers, campaigning for statehood, which was still 13 years away, bellowed that this kind of adoration for lawlessness wasn't helping the cause.
Pearl's trial brought another black eye for Arizona—her jury voted 11 to 1 to acquit her! Judge Fletcher Doan berated the jury for ignoring Pearl's confession.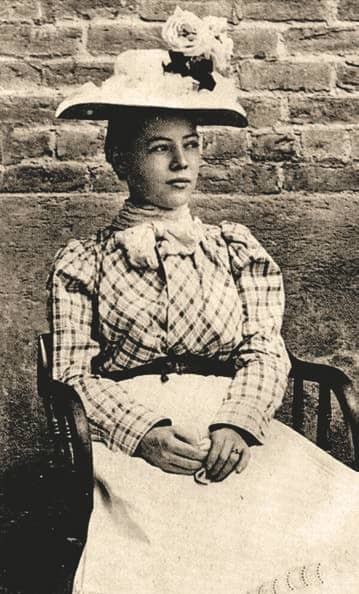 When Pearl was in the Florence jail during her November 1899 trial for stagecoach robbery, she posed not only as a masculine gun-toting bandit but as a feminine, fashionable, modest woman of her time, wearing a broad-brimmed hat topped with a flourish of fresh-flowers (above).
She was quickly retried for stealing Henry Bacon's $10 pistol, and this second jury found her guilty. The judge gave her five years in the Yuma Territorial Prison.
Joe Boot, meanwhile—hardly seen as a darling—was handily convicted of the stage robbery and got a 30-year sentence. The robbers arrived at the Yuma Territorial Prison together, and Pearl put another notch in her celebrity bonnet— she was the only female prisoner.
But, alas, neither of the robbers served their time. Joe simply put on his boots and walked away after serving less than two years and was never heard from again.
On December 15, 1902, Pearl was paroled by Territorial Governor A.O.
Bro code, released with a train ticket to St. Louis and, by some accounts, "pockets full of cash." It took 50 years to find out why, when the late governor's secretary finally told Arizona historian and newspaper columnist Bert Fireman that they had to get her out of town because she was pregnant. Arizona author Winn Brown reports, "Only three men had been allowed to visit without supervision—and one of them was the governor himself." If there ever were a baby, there is no record of it.
Pearl eventually returned to Arizona, married a Globe cowboy, and lived out her life quietly.
It took a lot to convict Pearl Hart, much to the consternation and shame of Arizona Territory. Pearl was so cute and loveable, the first jury acquitted her of the robbery, but a second jury finally convicted her and gave her five years in the Territorial Prison for stealing Henry Bacon's gun. She arrived in Yuma as the only female inmate. Her intake papers say she had $7 in her pocket, a foot size of 2 ½ and bad teeth. It noted she didn't drink but did use tobacco and morphine. She was prisoner Number 1559. She stayed until December 15, 1902, when she was suspiciously paroled.
You can read up to 3 premium stories before you subscribe to Magzter GOLD
Log in, if you are already a subscriber
Get unlimited access to thousands of curated premium stories and 5,000+ magazines
READ THE ENTIRE ISSUE
July - August 2020