Following the Tracks of the Kansas Pacific
Discover the beauty and history of the plains from Kansas City, Missouri, to Denver, Colorado.
The American West and American railroads are filled with myths and legends. Some of them have been debunked, or at least questioned—like William F. Cody's reputed buffalo-hunting contest against William Comstock near present-day Oakley, Kansas. Others are generally accepted, like the linking of the coasts by rail when the Central Pacific and Union Pacific met in Utah in 1869 to complete te America's first transcontinental railroad.
Often overlooked in both of those events is the role played by the Kansas Pacific Railway, which made a lot of Old West history.
The Race West
The KP had its origins in 1855, when the Leavenworth, Pawnee & Western Railroad was chartered. In 1862, President Abraham Lincoln's signing of the Pacific Railway Act left the LP&W eying transcontinental glory, and in 1863, the LP&W had a new name, the Union Pacific Railway, Eastern Division, though it had no connection with the UP that was layin ng tracks west from Omaha, Nebraska. When the Pacific Railway Act was revised in 1864, granting westbound construction of the transcontinental railroad to the first company to reach the 100th meridian, the race was on. Yes, the Union Pacific won the beefy contract, but the railroad that became the Kansas Pacific Railway in 1869 kept making history.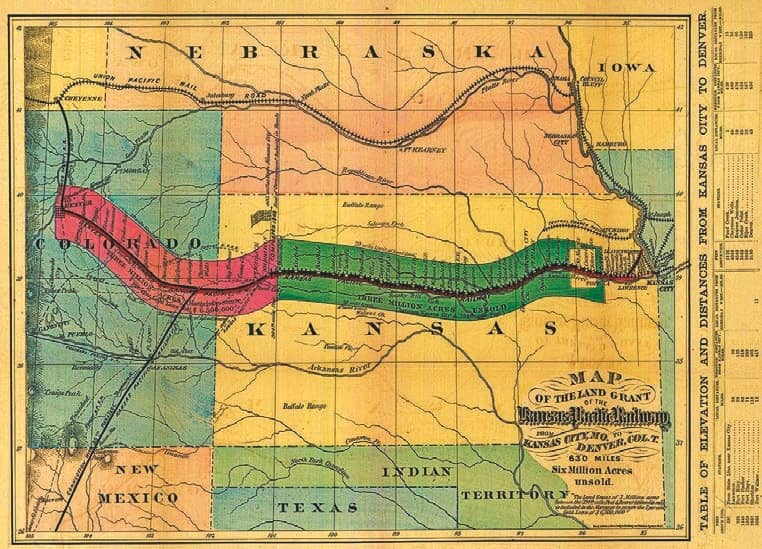 While the railroad's groundbreaking began in Wyandotte (now part of Kansas City, Kansas), the Missouri side of the city still honors its transportation history (Arabia Steamboat Museum, National Airline History Museum, 1914's Union Station). By November 1864, the rails had reached Lawrence, and that helped the city burned by William Quantrill's raiders in 1863 rise from the ashes to become the vibrant, historic city it is today (Watkins Museum of History).
In June 1866, the tracks hit Junction City (Geary County Historical Museum) and neighboring Fort Riley (U.S. Cavalry Museum, Custer House), the railroad's planned western terminus. But Denver wanted a railroad, too, and Coloradans' voices were heard in Washington, D.C., where President Andrew Johnson authorized a railroad line—funded primarily by German investors—to connect Denver.
You can read up to 3 premium stories before you subscribe to Magzter GOLD
Log in, if you are already a subscriber
Get unlimited access to thousands of curated premium stories, newspapers and 5,000+ magazines
READ THE ENTIRE ISSUE
October 2020