CLASSIC GUN FIGHTS
Villa vs. Calles: The Bloody Battle of Agua Prieta and the Death of the Cavalry Charge
Moving into position two miles east of Agua Prieta, Pancho Villa and a force of 6,000 soldiers spread out along a low ridge, shielding them from the fire of the border town defenders. At 1:37 p.m., a vigorous artillery shelling begins with Villa's big guns unleashing round after round on their objective. Several small buildings and a flour mill are hit and set afire. Under cover of the artillery barrage, Villa's infantry advances forward, which draws the fire of the Calles defenders, including their own heavy artillery.
Incredibly, as the Villista infantry troops advance toward a slaughterhouse they veer off to the border fence and beg a line of American spectators for water!
By 3:15 p.m. Villa's second wave of attackers advanced a quarter-mile and they also went to the fence and begged for water. The main attack came at 2 a.m., but even the darkness did not protect them as the Carranza defenders utilized searchlights to repel the invaders. By dawn, no attackers had breached the mine-strewn battlefield, or the town itself.
Another attack was attempted on the west side of Agua Prieta on the morning of November 2, but it too was repulsed. Villa and his troops stumbled on to Naco to reassemble, but some 1,400 of his troops deserted him. The battle was over and so was the cavalry charge.
The "Lion of the North" meets his match at Agua Prieta.
Based on the research of Greg Scott. Cindy Hayostek, Samuel K. Dolan, and John S.D. Eisenhower
The End of the Cavalry Charge
Pancho Villa was known for his cavalry charges "of unthinking machismo," usually unleashed at around midnight for full surprise effect. After the annihilation of his forces at the Battle of Celaya the previous April—by Obregon, by the way—Villa hedged his cavalry charges at Agua Prieta. Still, 200 Villista horses were killed and left on the battlefield, so some habits die hard.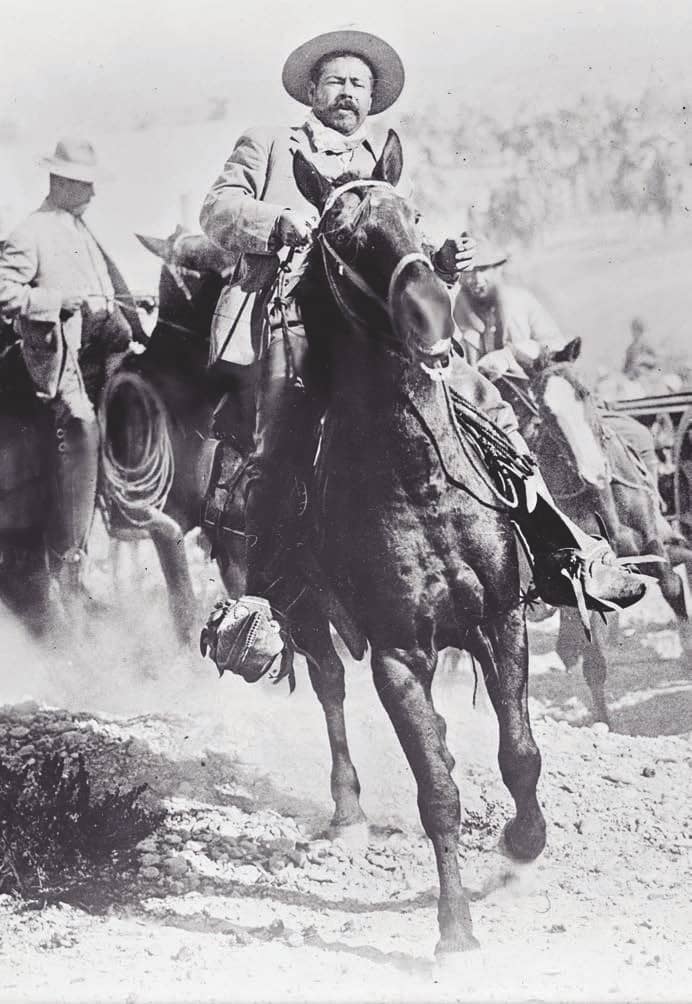 "Agua Prieta will be mine!"—Pancho Villa
No Stranger to Agua Prieta
In a bizarre prelude to the battle, back in 1914, both Gen. Álvaro Obregón and Gen. Pancho Villa visited the border town together, coming in on the train from El Paso (the same train that brings in the Carranza reinforcements). The two men were allies at that time and they brought their cars along on the train and unloaded them and went to dinners in their honor in Douglas and gave speeches in Agua Prieta. All that changed when Villa broke with Carranza and Obregón sided with Carranza.
But in October 19, 1915, the U.S. recognized the Constitutionalists as Mexico's government. This gave Carranza the legitimacy he needed and Villa was now on the outside looking in. He needed ammunition and he saw Agua Prieta as low-hanging fruit. He would be terribly mistaken at this notion.
All Roads Lead to Agua Prieta
His fortunes in decline, and in need of a win, Pancho Villa mounts an offensive to invade Sonora and capture what he believes to be the poorly defended outpost of Agua Prieta. He intends to then live off the land and take Hermosillo, defeat the rest of the state and then dictate terms to current Mexican president Venustiano Carranza, who is making his life so difficult. Villa leaves Casas Grandes, Chihuahua, with 40 cannons and about 6,000 men on October 18, 1915. His spies inform him there are only 1,200 troops at Agua Prieta and he should take it easily.
On October 22, Joseph D. Lillywhite, a Mormon settler from Colonia Morelos, rides 60 miles in record time to warn the troops at Agua Prieta that Villa is coming.
Reinforcements are brought in by train on the U.S. side of the border, including the 7th and 20th U.S. regiments from El Paso, Texas.
By October 29, 160 cannons and 26 machine guns arrive in Douglas, Arizona, and are carted across the border into Agua Prieta and placed in dugouts and trenches circling the outpost.
You can read up to 3 premium stories before you subscribe to Magzter GOLD
Log in, if you are already a subscriber
Get unlimited access to thousands of curated premium stories, newspapers and 5,000+ magazines
READ THE ENTIRE ISSUE
November 2020