BLACK HILLS GOLD
True West|April 2020
Explore South Dakota's sacred mountains and discover a bonanza of historic mining towns.
"GOLD!" proclaimed Dakota Territory's Bismarck Tribune on the front page of its August 12, 1874, edition. The newspaper was exuberant about the discovery of gold by Lt. Col. George Armstrong Custer's Black Hills expedition. It didn't matter that the federal government recognized that the Black Hills belonged to the Lakota people, the rush was on.
After crossing the Cheyenne River in western South Dakota, a traveler heading westward across the prairie will spy low, dark mountains rising in the distance appearing as a landlocked island. The Lakota people call them Paha Sapa, Hills Black. The hills form a rough oval stretching north to south approximately 110 miles and east to west approximately 70 miles. The rugged mountains' highest summit, Black Elk Peak, rises 7,244 feet and is one of the highest points east of the Rocky Mountains.
Black Hills geology is complex. The central granitic core is over two billion years old. Eighty million years ago an uplift began in the region. Imagine it as a massive boil that did not burst through the surface. Over millions of years the outer sedimentary layers eroded exposing the inner granitic core alongside twisted, compressed metamorphic layers, and more recent sedimentary rocks flanking the Black Hills' outer edges. Superhot subterranean fluids entered rock fissures depositing gold, silver and other metals as they cooled. The Black Hills is a rock hound's paradise.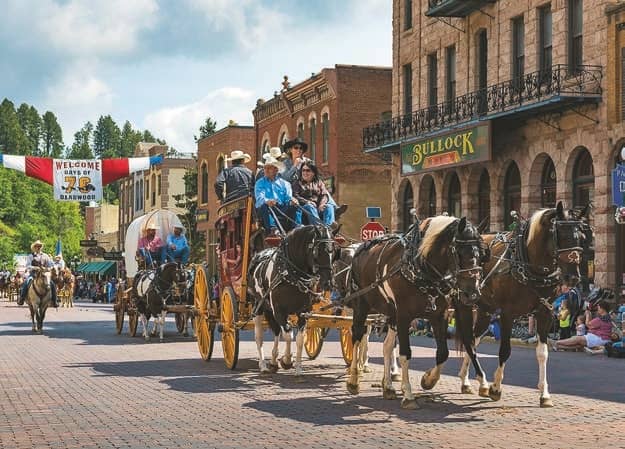 Gold camps mushroomed throughout the Black Hills as prospectors explored every nook and cranny and sifted the gravel in every stream looking for the metal they dreamed would make them rich. The area is pockmarked with adits, shafts, and tunnels. Trees were chopped down; overburden was piled high. Tailings ruined habitats, and some streams could no longer support life, as pollutants choked the life out of them. Through the efforts of the South Dakota Department of Environment and Natural Resources, the U.S. Forest Service, other state and federal agencies, and concerned citizens and organizations, many damaged areas have been reclaimed, and streams have been restored to support healthy trout populations.
The Black Hills National Forest covers over one million acres of the hills. Traveling backroads through the Black Hills or hiking or biking along the many trails, one is bound to occasionally see cabin ruins or mine workings. Let's explore the Black Hills area's mining towns.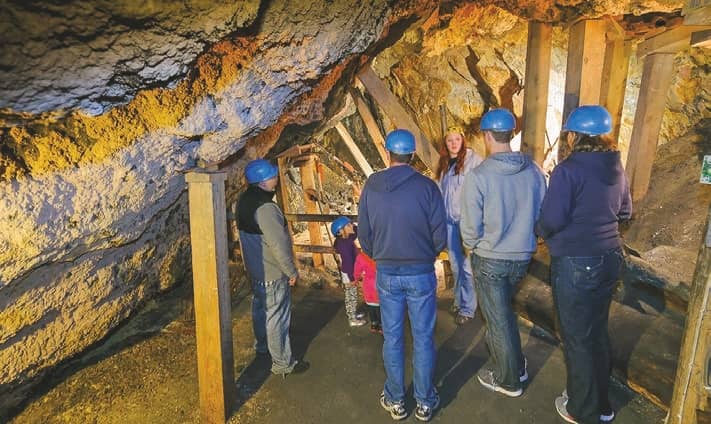 Gateway to the Black Hills
You can read up to 3 premium stories before you subscribe to Magzter GOLD
Log in, if you are already a subscriber
Get unlimited access to thousands of curated premium stories and 5,000+ magazines
READ THE ENTIRE ISSUE
April 2020