Another Bad Man Gone To Hell
THE LIFE AND TIMES OF A BORDER BANDIT
On the night of August 14, 1891, Toribio Pastrano, a 35-year-old Presidio County deputy sheriff strode into a Mexican fandango in search of an elusive outlaw named Antonio Carrasco. Pastrano reportedly had evidence that linked Carrasco with the murder of Texas Ranger Charles Fusselman in El Paso County the year before. Though other Texas lawmen had already attributed Fusselman's slaying to a gang of cutthroats who operated out of the swampy thickets along the Rio Grande near El Paso, Pastrano was determined to bring in Carrasco, all the same.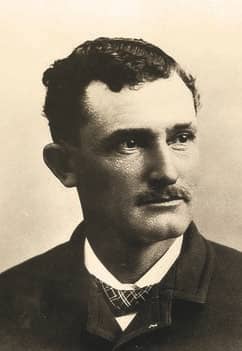 According to the Austin Weekly Statesman, as Pastrano made his way through the couples who waltzed to the "tinkling of guitars," he spotted his quarry at the far end of the room. If newspaper reports are to be believed, Carrasco would have been a hard man to miss in any crowd. "He was dressed from head to foot in snow-white duck and around his waist was a broad red sash, from which protruded the handle of a revolver," the Statesman reported.
As a man who lived most of his life on the dodge, Carrasco knew a lawman when he saw one and he eyed Pastrano carefully as the officer approached. He called out to him, "My friend, you are an officer, and wish to arrest me. Very well." Then, before Pastrano even had a chance to respond, Carrasco whipped out his six-shooter and shot the lawman through the head, just above the right eye, killing him instantly.
"Backing out of the room Carrasco, with a leveled revolver, defied any man to arrest him, and springing upon his horse plunged into the river," the Statesman reported. "He reached the opposite bank and disappeared."
Though seldom mentioned in the histories of borderlands outlaws written by American authors, Antonio Carrasco's life story reads like the fantasy of a Hollywood filmmaker, a blend of myth and deadly reality worthy of one of the corridos, or folk songs, that became so popular during the Mexican Revolution. As it is, separating fact from fiction in the story of Carrasco is no easy task and very little is known of his early life.
One of three brothers who would make names for themselves as West Texas outlaws, Carrasco came from a large family and was the son of Jose Faustino Carrasco Mercado and his wife Maria Tiburcia Cayetana Torres Baeza. According to legend, Carrasco's father was killed by the Rurales, President Porfirio Diaz's fearsome gray-jacketed enforcers. In 1891, a Confederate veteran named Frank Benairs claimed that while traveling south towards Central America after the Civil War, he and his servant heard stories of a teenaged Carrasco, who was already making a name for himself. Benairs later told friends in San Antonio that both of Carrasco's parents had been murdered by soldiers and a sister had been carried away. In Benairs' account, Carrasco appealed to the authorities for help in capturing the officer responsible but had been turned away. Carrasco had finally taken matters into his own hands. "Within the first year his enemy's father and mother were taken to the mountains," Benairs recalled, "tortured and their heads placed on stakes in the highway; his young sister was murdered and her body thrown into the street with a dagger pinning a letter to her breast; finally the suspected officer himself was captured, taken to the mountains, tortured into confession, and then slowly into death."
You can read up to 3 premium stories before you subscribe to Magzter GOLD
Log in, if you are already a subscriber
Get unlimited access to thousands of curated premium stories, newspapers and 5,000+ magazines
READ THE ENTIRE ISSUE
December 2019