EPIC DAY HIKE
Traverse, Northern Michigan's Magazine|April 2020
THE JORDAN VALLEY PATHWAY IN A DAY. HIKE ALONG AS EACH MILE IS CAPTURED IN PHOTOS AND WORDS THAT DON'T JUST INSTRUCT, THEY INSPIRE.
Heather Higham had an itch: She wanted to hike the entire Jordan Valley Pathway in one go. The i8-mile trail in the Jordan River Valley, located in the northeast corner of Antrim County, encompasses i8,000 acres of wildland. It winds its way through Mackinaw State Forest, intersects the North Country Trail and follows along the Jordan River, the first in Michigan to obtain the federal designation of Wild and Scenic River.
People often choose to hike portions of the trail from one of four different trailheads or to see the view from the main trailhead located at Deadman's Hill Overlook. Those who want to complete the entire trek usually stay overnight at Pinney Bridge State Forest Campground. But Heather, a Traverse City area photographer who knows the Pathway well, wanted to put it all together in one spectacular day.
Step into her adventure, then chart one of your own.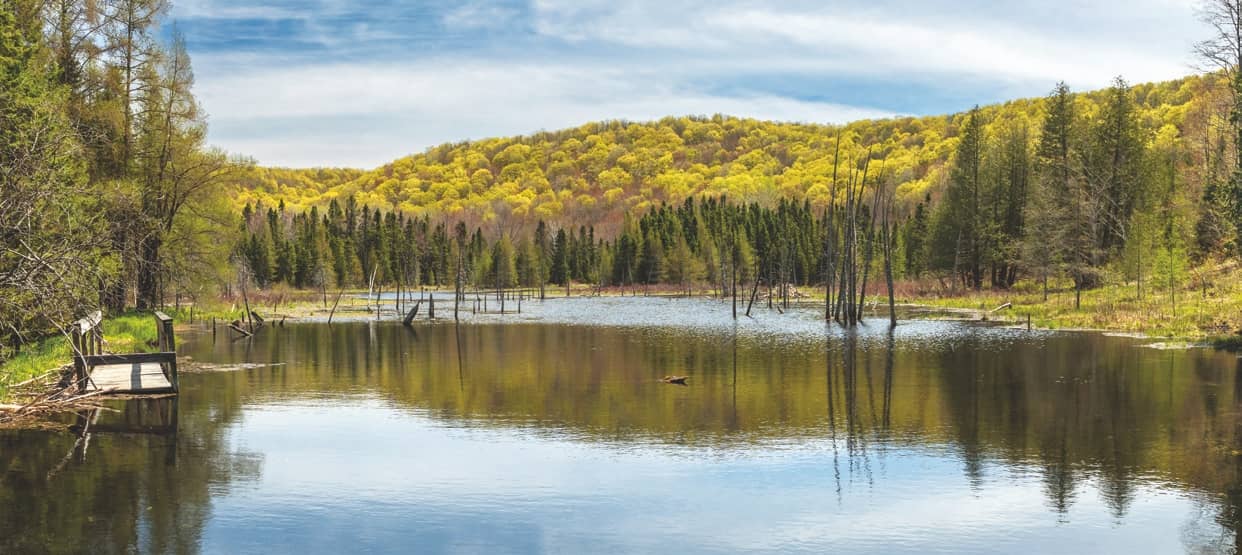 Mile 00: Landslide Lookout. I begin my 19-mile adventure with my pup, Petey, at this unconventional starting spot, thanks to other magical memories I've made here. (I watched a lake effect rainbow cascade into the fire-colored valley in October 2017.) Plus, the inspiring view is a perfect way to bookend a long hike.
Mile 01: Traipsing on the trail through trillium it's hard to imagine a more beautiful descent into the valley. I have to remind myself to look up! The canopy appears to be electrified as late morning light filters through newborn leaves.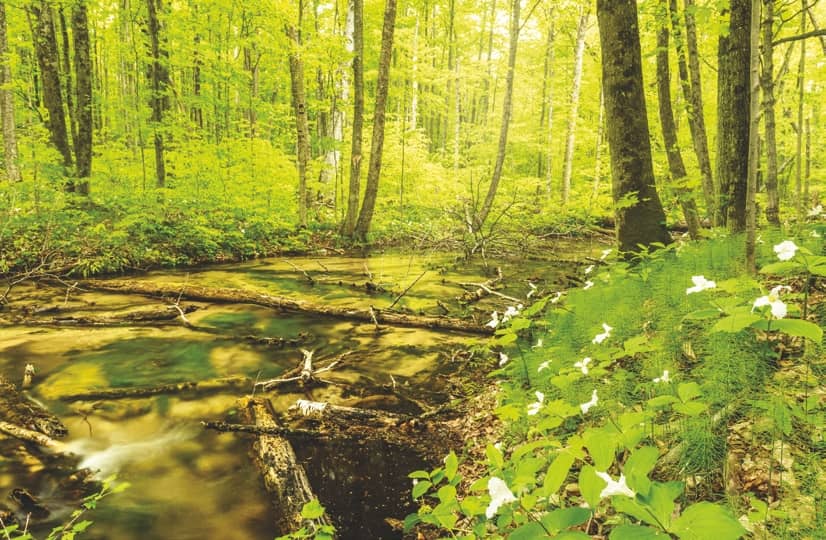 Mile 02: A light fog fills the valley around Section 13 Creek, giving the place an ethereal vibe. It seems like there should be mosquitoes, but the cooler temperatures seem to be keeping them in hibernation. Trillium along the bank pull me in for a closer look. It's funny the things you find when you aren't looking for them; a single morel catches my eye. Normally I'd bag it, but I don't think it will fare well after several hours of jostling alongside my camera in my pack.
Mile 2.5: Another Jordan River tributary flows through a sea of green ramps and new understory growth. I hesitate to get the camera out of the pack—it feels like I'm spending a lot of time photographing and I know I have a long way to go—but the scenery's siren call is too strong. The air is clearer here, rivaling the pristine water. Those marsh marigolds and the clear sandy bottom sing a sublime spring song. I stow the camera for a bit and march on.
You can read upto 3 premium stories before you subscribe to Magzter GOLD
Log-in, if you are already a subscriber
Get unlimited access to thousands of curated premium stories and 5,000+ magazines
READ THE ENTIRE ISSUE
April 2020