The Love Of A Father
The Singapore Women's Weekly
|
June 2019
As part of our tribute to fathers this month, we looked out for the less-conventional papa. They each have diff erent heart-warming, sometimes heart-wrenching, stories to tell, but one thing stays the same: The adoration they have for their children
THE IVF DAD
David Ngiam, 46, with his daughters, Sarah, six, and Hannah, two
Six years into his marriage, David and his wife Christine still had no child to call their own despite both being in optimal health. They turned to In-Vitro Fertilisation (IVF) in a bid to conceive but failed to produce a viable embryo. Ten years later, the couple tried again, and this time to success, happily welcoming daughter Sarah in 2013.
"I got married when I was 24 years old and Christine was 23 but it was only about 16 years into our marriage that we got our first child. We didn't want to have kids right away. We wanted to spend a few years as a couple first so we only started trying for a baby in our late 20s and realised it wasn't as easy as people said it would be," recalls David.
"Our first IVF cycle failed and it was very stressful for Christine. We thought that even if it was just the two of us in the end, we'd be okay. But at the persistence of my parents, we tried IVF again when I was 40, and we were blessed with Sarah. We are very, very lucky to have her."
Four years later, David and Christine struck gold again and got pregnant with a second baby. Conceived naturally, Hannah was born in 2017.
"The body works in mysterious ways," says David. "Hannah was totally unplanned for but it was really nice to know that Sarah would have a sister. After all the trouble we went to the first time around, we felt truly blessed."
Forty may be considered a tad old for being a first-time father, but David says it does come with other advantages. "The great thing about being a father later in life is that you've already done all the things you want to do as a young adult," he says. "It's all pretty stable for me right now so I can devote a lot more quality time to my two precious girls."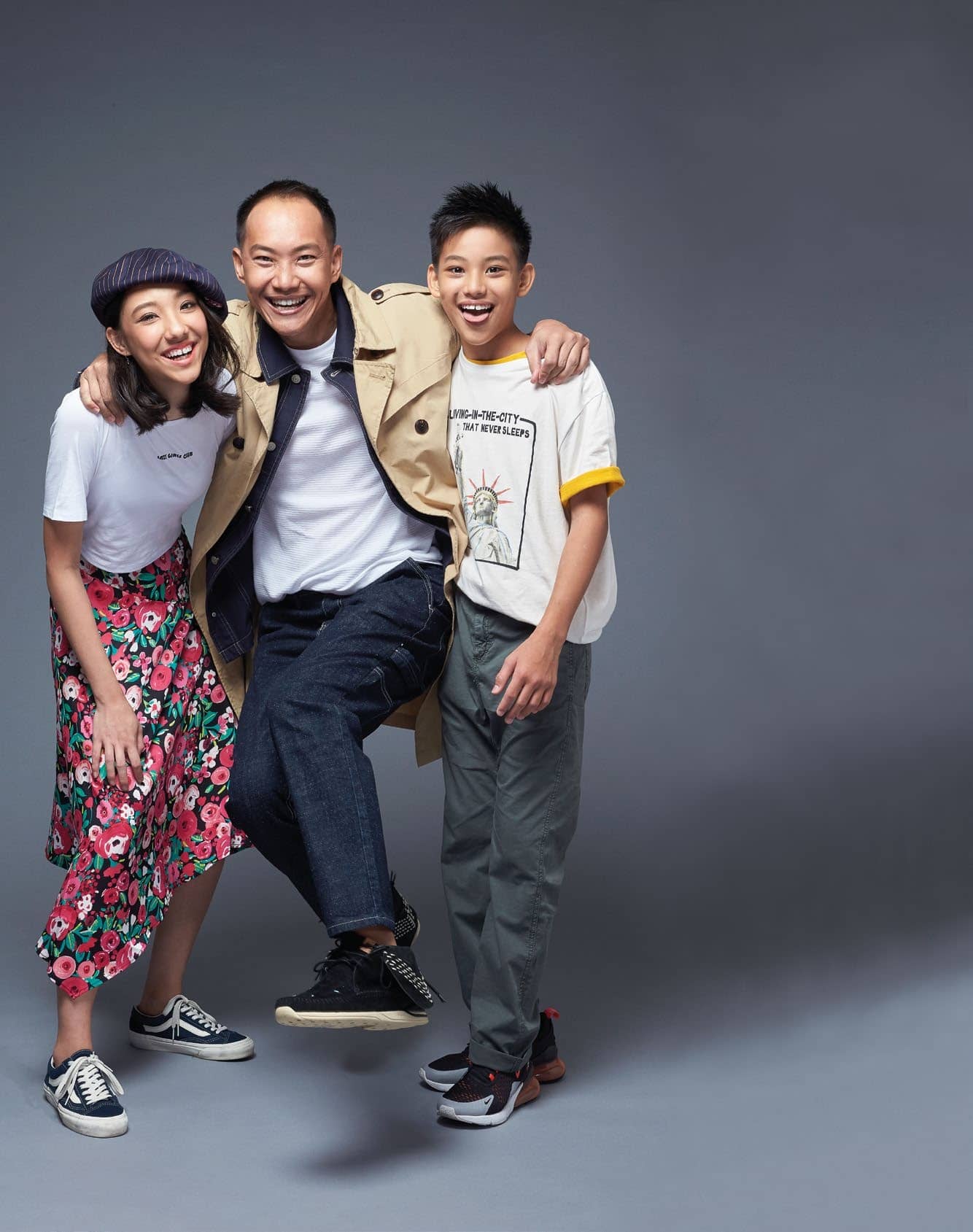 THE DIVORCED DAD
Wayne Toh, 44, with his children, Ethel, 17, and Elliot, 13
As a single dad of four kids when he and his wife divorced nine years ago, Wayne had to quickly learn how to be both a father and mother to his children growing up.
You can read up to 3 premium stories before you subscribe to Magzter GOLD
Log in, if you are already a subscriber
Get unlimited access to thousands of curated premium stories, newspapers and 5,000+ magazines
READ THE ENTIRE ISSUE
June 2019