The name 'Dishkiyaoon' is printed in large curvy letters at the entrance of Saloni Rupani's restaurant in Mumbai. Walk in, and you're greeted by eccentric décor elements that dot almost every corner of the quirky space. The idea to bring the 'outdoors in' hits the mark, with a powder blue telephone booth, a lone shuttered window on wheels, a tub, swing and handcart seats, and off beat wall and ceiling installations.

As we walk in, we notice a step that says 'Mind your head'. Instinctively, we look up at the ceiling that's over 12 feet high and realise, there's nothing around that poses even remote danger to our noggins. In the process, one of us does end up tripping on the step! Snickering as we glance around, we know we're in a place like no other.

The unconventional appeal of the restaurant doesn't begin and end with the décor. As we skim through the menu, we find items like Dhokla Bruschetta, Ragada Tacos, Kung Pao Idli, Vada Pav Salad, Quinoa Kulcha Slider and Croissant Baklava. We were as confused as you, until we found ourselves licking our fingers a couple of minutes later.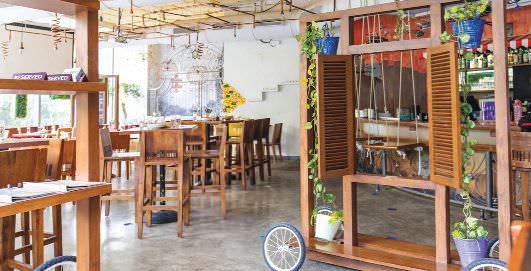 "We wanted to offer the city a unique dining experience, nothing run-of-the-mill. It's Indian comfort food with a twist, to match th