Beyond The Physical
The PEAK Singapore
|
October 2020
What makes a business digital-first? The creative minds behind three digital fashion and jewellery enterprises share what it's like to run in the virtual world.
REPUBLIQE
As seen on screen In a visually driven age of social media, a virtual outfit might earn you more Likes than a physical ensemble.
Forty British pounds (S$70) for a silk gown sounds like an absolute deal. But what if we told you it only existed as an image in the virtual world? In August, James Gaubert launched Republiqe, which he describes as "the world's first digital-only luxury fashion brand". Based in Singapore since 2018, the former digital marketer and fashion designer by training decided to combine his key interests when launching his business.
At the Republiqe website, people choose their clothing and upload images of themselves. The site's team digitally fits the clothing and accessories onto them and then sends the completed images – most likely destined for social media and, hopefully, lots of Likes – back to customers.
Gaubert shares: "Fashion is a challenging, congested market. How do you cut through all the clutter? You need to be doing something different. My company is built around three pillars: technology, creativity and sustainability. As much as possible, I want to challenge and disrupt the industry and consumer behaviour." He shares his thoughts on why virtual clothing will be more than a passing trend.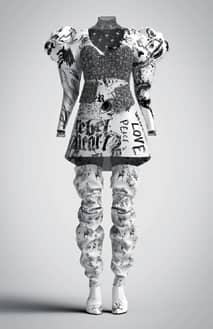 How exactly does virtual fashion design work?
Although we don't create a physical garment, my lead designer and I need to do everything in 2D first – as if we were creating a regular garment based on a drafted pattern – and then move on to making our tech packs or blueprints before passing them to the 3D production team.
Using CLO, a 3D fashion design platform, we fit garments on our avatars and rotate them to effectively see how they fall and flow from every angle. We use only digital fabrics of a certain quality. Digital design requires the same amount of attention to detail as physical design, from hardware such as buttons and metals to the stitching on garments and accessories.
Republiqe charges around $70 for a digital gown, and you're branding it as a luxury digital clothing label. How does a digital clothing brand fall into the luxury category?
The craftsmanship, the designs and the materials. We use only high-quality digital fabrics from CLO, the global standard for 3D design, and you can see the difference in the way an outfit looks, just like in real life. A high-quality silk or cashmere dress flows and drapes very differently from a polyester one.
Who is your target audience?
I thought our customers would be Gen Z, which is the 22 to 27 age group to me. But they are mostly between 18 and the mid-20s. It's interesting because I didn't think they would have the money to spend on something like this. But I've spoken to several of them and, as a demographic, they are born content creators and care about how they look on social media.
Does virtual clothing offer a unique way for fashion lovers to be environmentally responsible?
Younger customers want brands with a certain degree of social and environmental responsibility. Because of my background in fashion, I've been to many factories and warehouses, mostly in Asia.
I've seen huge amounts of fabric wastage. I was in a large factory in Vietnam, and there were four to five inches of fabric offcuts covering the floor. Today, because of fast fashion, some outfits are worn just once before they're headed for the landfill. We need a mindset change.
Are Republiqe's designs supposed to look lifelike or are they meant to look more obviously digital in a cyberpunk way?
It depends on the garment. We've sold a few jackets, for instance, to buyers who told us: "I can't believe it's not real". And then there's our bestseller: a pair of trousers made of pink digital PVC that is less realistic and a bit more out there.
What's next for your brand?
You can read up to 3 premium stories before you subscribe to Magzter GOLD
Log in, if you are already a subscriber
Get unlimited access to thousands of curated premium stories, newspapers and 5,000+ magazines
READ THE ENTIRE ISSUE
October 2020