Fantasy City
The PEAK Malaysia
|
June 2019
The USD25 billion enclave of hudson yards is a one-shot, supersized virtual city-state that is both part of and apart from the global metropolis that is new york.
On a day when the cold makes the skyline snap into focus as if you're seeing it through new lenses, Hudson Yards seems more virtual than real. Jagged and reflective, the five new towers have a high-definition clarity that the physical world mostly lacks. At a distance, the tallest looks like a high-browed robotic duck with a beak so generous you could almost land a helicopter on it. That's the outdoor observation deck, which juts out 65ft and comes to a point 1,100ft above the street. From here – or better yet, from the set of bleachers that allows you to peer over the glass railing – I can look down on the Empire State Building. I can behold the widescreen, high-res view of a New York more orderly and wondrous than the one most of us live in. The space won't open for another year, but I can already see the over-the-top weddings in the party room upstairs, where guests can dance far, far above the stink and mess below. An adventurous few will be able to take a dedicated elevator even further up to the pointed peak, don a harness, climb out on a catwalk in the open air, and howl into the wind.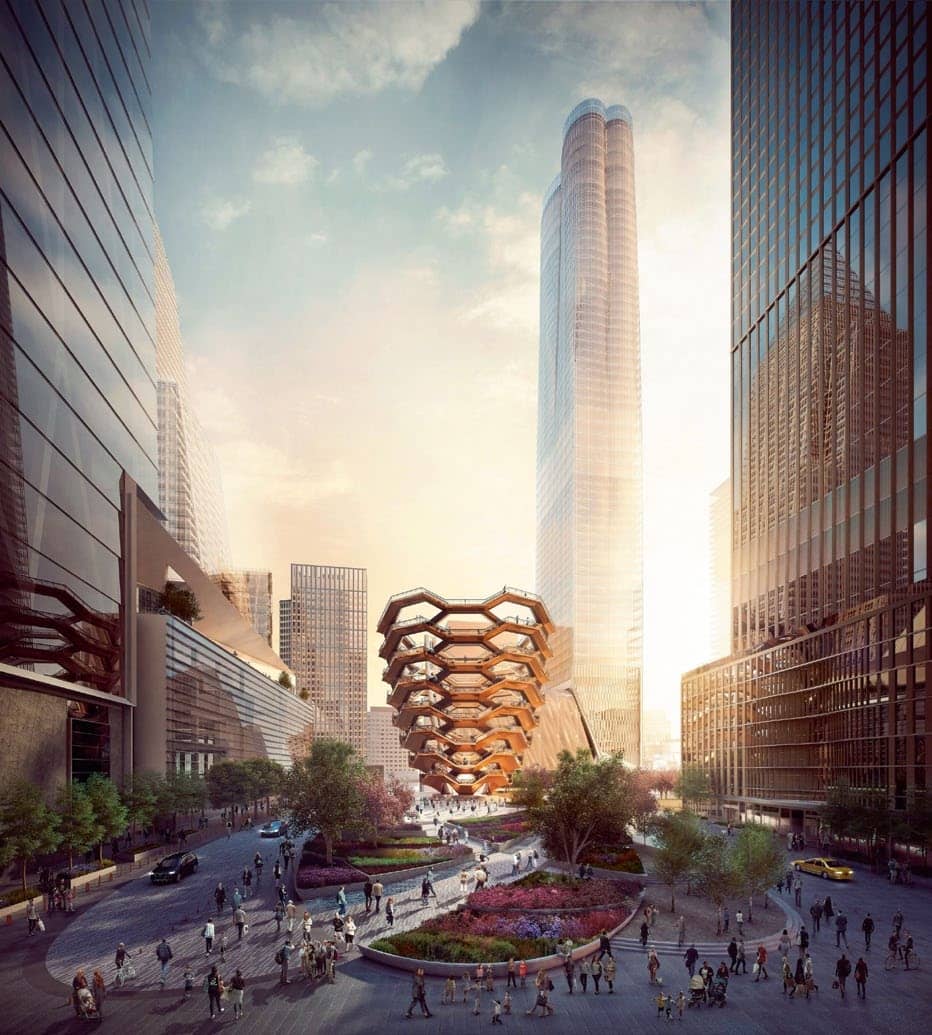 In March, after 12 years of planning and six of construction, the Related Companies (which is actually just one mammoth realestate company) opened the gates to its new USD25 billion enclave, an agglomeration of super-tall office towers full of lawyers and hedge-funders, airborne eight-figure apartments, a 720,000 sq ft shopping zone, and a gaggle of star-chef restaurants. When the rest of it is finished – when the remaining rectangle of exposed rail yards between 11th and 12th Avenues is covered by a deck and more residential towers – the whole 28ac shebang will be bigger than the United Nations, the World Trade Center or Rockefeller Center, and physically vaster, more populous, and more expensive than any private development in the country. Besides being big, Hudson Yards represents something fundamentally new to New York. It's a one-shot, supersized virtual city-state, plugged into a global metropolis but crafted to the specifications of a single boss: Related's chairman, Stephen Ross.
Each time I approach, I feel a volatile mix of wonder and dejection roil in my chest. New York can absorb even this, I tell myself. Offices will hum with necessary invention, the plaza will teem and the towers will settle into the accommodating skyline. The complex redeems an area that, until recently, most New Yorkers barely knew existed, a great pit full of resting trains opened to the sky. There will be jobs, yoga wear, art shows, tapas, even some affordable apartments. New York isn't done building towers, and unlike the skinny plutocratvilles going up on 57th Street, new office buildings are a necessity, one where tens of thousands of New Yorkers will spend their days (and some will work through the night). Who's to cavil when the money flows? The asset-management team BlackRock signed up to spend USD1.25 billion in rent over 20 years. The retail complex will have at least six places where you can spend five figures on a wristwatch (Patek Philippe, Rolex, Cartier, Watches of Switzerland, Piaget, Tiffany). The 101st-floor party space, surely to be among the priciest available, will be the place to host the most ostentatious vodka launch in town. They've paved a parking lot and put up a high-rise paradise.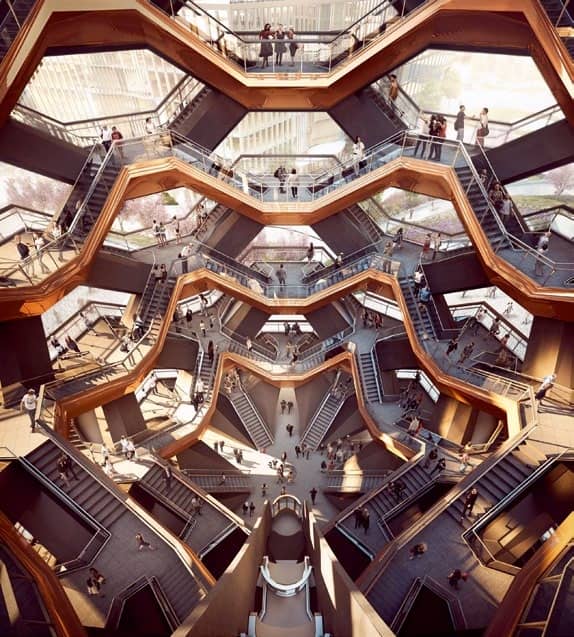 We've been headed here for a long time, as the city has become more moneyed and the only retail stores that seem sustainable are those of luxury labels. A crowd of gifted architects worked hard to figure out how gargantuan buildings and cliffs of glass could form a place – a stretch of city where human beings feel like they belong. Kohn Pedersen Fox designed 10 and 30 Hudson Yards, the faceted, shingled glass skyscrapers flanking their shopping mall, with interiors by Elkus Manfredi. Diller Scofidio + Renfro and the Rockwell Group designed the tubular apartment building at 15 Hudson Yards and its conjoined performance venue, the Shed. Two more towers, 55 by KPF with Kevin Roche John Dinkeloo & Associates, and 35, an office-hotel-residential combo by David Childs and Skidmore, Owings & Merrill, loom over the plaza by Nelson Byrd Woltz and a bucket-shaped latticelike objet by Thomas Heatherwick that is, for now, called the Vessel. Separately, these architects – most of them, anyway – came up with sensitive and sophisticated designs. Together, they created the opposite of their intention. Instead of an organic extension of the midtown fabric, they produced a corporate city-state, branded from sidewalk to spire.
You can read up to 3 premium stories before you subscribe to Magzter GOLD
Log in, if you are already a subscriber
Get unlimited access to thousands of curated premium stories, newspapers and 5,000+ magazines
READ THE ENTIRE ISSUE
June 2019