Twenty cars for 2020
Welcome to the long list, but this one is your guide for a full year, the story to cut and keep aside for all the hot pieces of metal coming your way this year.
Excited for 2020? If you aren't in the month of January, the famous month of resolutions, then I've got just the story for you. As far as new year resolutions go, buying your dream car is a great one to keep. And choices are seldom limited, with the year 2020 being no exception. In fact, this year will see a wider variety of interesting cars and SUVs coming our way with the advent of desirable electric vehicles in every major car manufacturer's stable. There are plenty of loud and shouty internal combustion engine cars in there too, so here's our top twenty heaven on wheels list that we think you should look forward to, in alphabetical order of course. You can pick your favourites.
1. Aston Martin DBX
This one's huge, not just in size but also in terms of what it means for Aston Martin. Their first SUV that's hoping to be a runaway success and fund a modern line of supercars Aston has planned to immediately succeed it. A lot rests on the DBX's shoulders then and Aston knows that, which is why no stone has been left unturned. Arguably the best design among SUVs by luxury brands in recent years, the DBX retains classic British styling cues, and packs a major punch under the hood with the AMG derived 4-litre engine. It's hugely capable off-road and is also designed to excel at touring, which means a comfortable adjustable suspension, a luxurious cabin and a creamy wave of torque. Number geeks will love this – 542bhp/700Nm and a 0-100kmph sprint in just 4.3 seconds, for a 2.25 tonne SUV. First deliveries begin in the USA in the second quarter of 2020, and we are sure Indian dealers already have itchy hands to land as many as they can in India.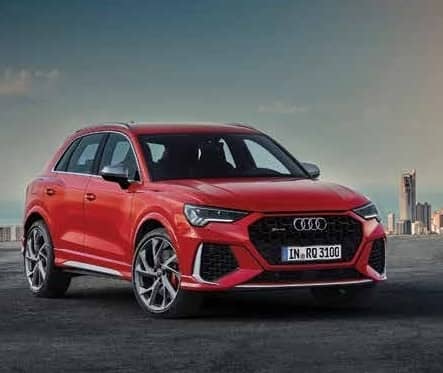 2. Audi Q3 and RS Q3
The new generation Q3 is set to take on the BMW X1 and GLA this year. A lot more grown up now with the latest update of Audi's virtual cockpit, high quality materials in the cabin and possibly the option of 2-litre TFSI and TDI engines. The previous generation Q3 was an excellent entry level luxury SUV and with good space and features, proved to be the more likeable of entry-luxury SUVs in India. The new Q3 will be backed up by the highly desirable RS Q3, a first for this space to take on the likes of the GLA 45 AMG. Packing in an angry 2.5 litre TFSI motor that was awarded the engine of the year award, the RS Q3 punches 400 horsepower and 480Nm of twist through its wide and sticky tyres. One-part SUV, one-part sports car, just the way we Indians like it.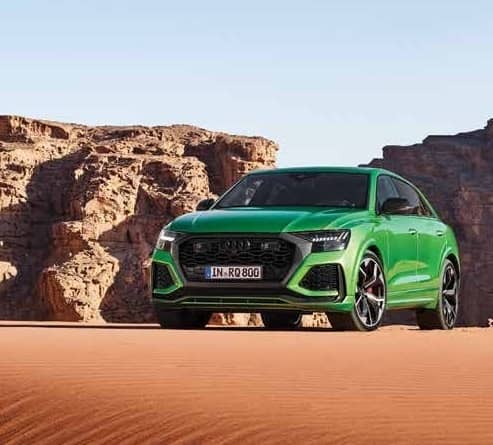 3. Audi Q8 and RS Q8
The car industry is getting into the space race. Well, not sending vehicles in orbit, but going one up on size and luxury. So, when the big and burly Merc GLS felt just perfect and a notch above the BMW X5 and Audi Q7, BMW got the X7 to beat the Merc. How could Audi stay behind? However, the Q8 comes with a twist. It doesn't dwarf the Q7; it instead makes it sportier, and seats only 5 instead of 7. New engines are on offer and there's also the crazy RS Q8 to bring the violence in you. Packing 591bhp and 800Nm, AWD and all wheel steering, the RS Q8 might just mask its size and performance unlike any other SUV this side of a Lamborghini Urus.
4. Audi RS6 Avant
This one is special, as the last RS6 Avant that came to India was literally 'love on wheels.' You can't but love the estate for its beautiful proportions, convenience and, when in the mood, total nuttery. It's the proverbial wolf in sheep's clothing but if you have a keen eye, you will notice wide and wafer-thin tyres shod on it, and an exhaust burble that sings to Satan. The new one is easier to drive, with more suspension tech, and it even sends vibration feedback through the throttle pedal when you stray off your lane or exceed speed limits.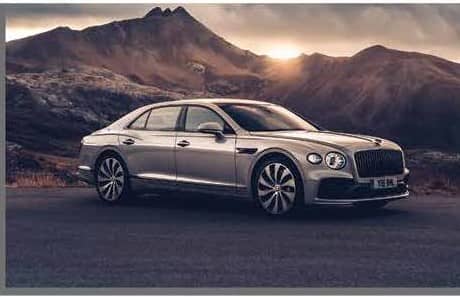 5. Bentley Flying Spur
You can read upto 3 premium stories before you subscribe to Magzter GOLD
Log-in, if you are already a subscriber
Get unlimited access to thousands of curated premium stories and 5,000+ magazines
READ THE ENTIRE ISSUE
Volume 6 Issue 2