Cooks Grove- Exploring The Geography Of Food
The Guide Istanbul|November/December 2019
ŞEMSA DENIZSEL HAD THE COURAGE TO DO THE ONE THING THAT MILLIONS OF ISTANBULITES PERVERSELY DREAM OF ON A REGULAR BASIS: SHE QUIT THE CITY COLD TURKEY. TODAY, MANAGING TIME AT HER OWN PACE, SHE DEDICATES IT TO ENSURING THAT ON THE GLOBAL GASTRONOMY MAP, NORTHERN AEGEAN CUISINE GETS THE RECOGNITION IT DESERVES
It's in Şemsa Denizsel's DNA to exceed expectations. After 18 years in Kantin, which as she nonchalantly puts it, started as a place where she "wanted to cook the way she wanted to eat, but it turned out better than expected," a new path unfolded in front of her. Celebrated Istanbul chef and owner of a restaurant that irreversibly changed the city's gastro dynamics, settled in the area she's known for four decades to realize her dream, or three dreams to be exact: to put Northern Aegean geography on the gastronomic map, to raise a new generation of food enthusiasts through an apprentice program, and to live in an olive grove overlooking the sea.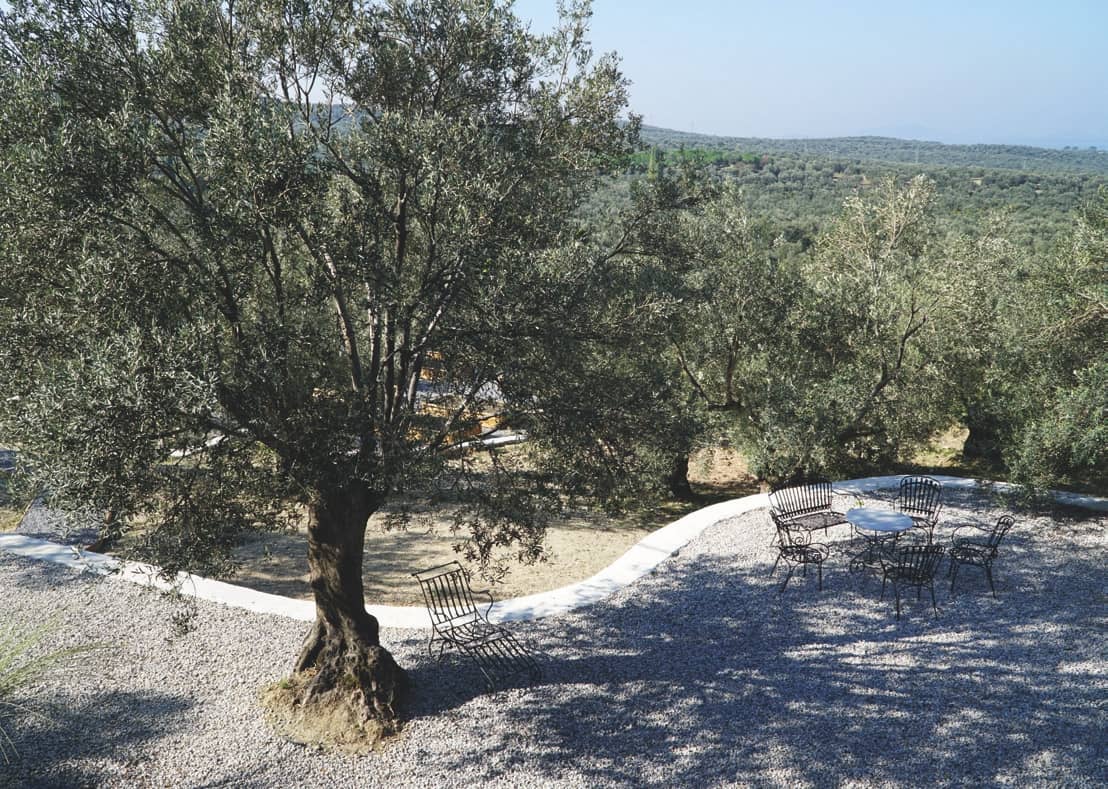 Master planner at the core, in 2014 Denizsel did something completely unexpected. As she recalled having dinner at Ayna restaurant in Cunda, one of her favorite places in the area, she heard of an olive grove for sale. After seeing it the next day against the sun setting over the Aegean Sea, she immediately knew it was going to be the base for her next step. Within two days, she put the Cooks Grove plan into motion. "Overnight, I had the entire idea ready in my head," she told The Guide Istanbul. When we visited her there in October, she was welcoming participants of the Local Delicacies program at sunset as well. Call it a well-thought-out marketing strategy or a lucky coincidence, but the first impression left everyone in awe, just as it had a few years earlier for Denizsel herself.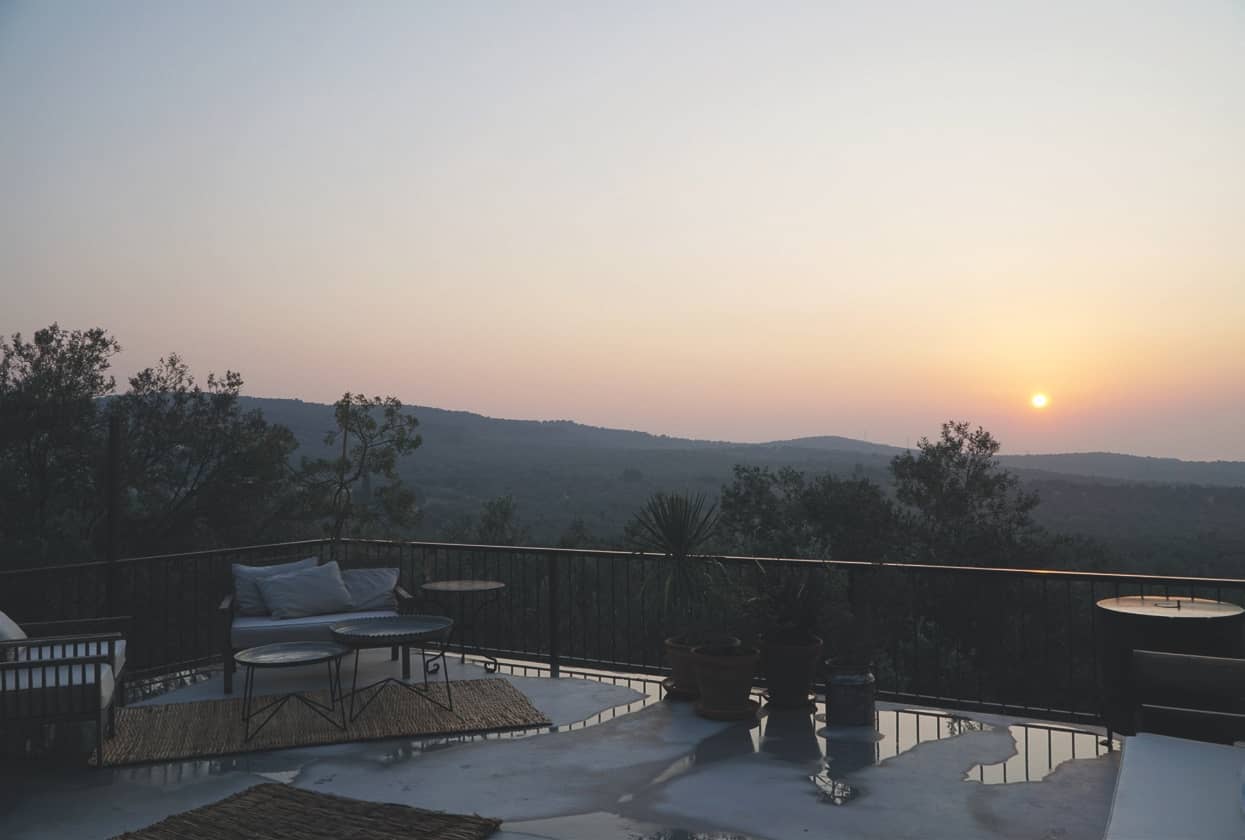 OLIVE CULTURE
Although Denizsel closed Kantin in April 2018 and moved on with her life without looking back, it doesn't mean she has crossed offthe past with a thick line. On the contrary, the entire space at Cooks Grove is dotted with her personal memories: of her family (she points at the copper pans hanging above the fireplace, which belonged to her mother), the restaurant (after all, pretty much the entire kitchen equipment comes from Kantin), and the city (Ara Güler's iconic shot of Istanbul hangs by the entrance). Seventh generation Istanbulite, Denizsel has been first and foremost cooking Istanbul food, and the city—living there or not—is an inseparable part of her identity. Zeytinyağlı [a cooking style that combines sautéing vegetables in olive oil and then braising them in their own juices until the liquid is reduced to almost zero] is a traditional Istanbul way of cooking. Olive oil might be coming from the Aegean region, where every dish is cooked with it, but the method originally comes from Istanbul," she explains. This intricate relationship between elements has become an integral part of her cooking style over the years.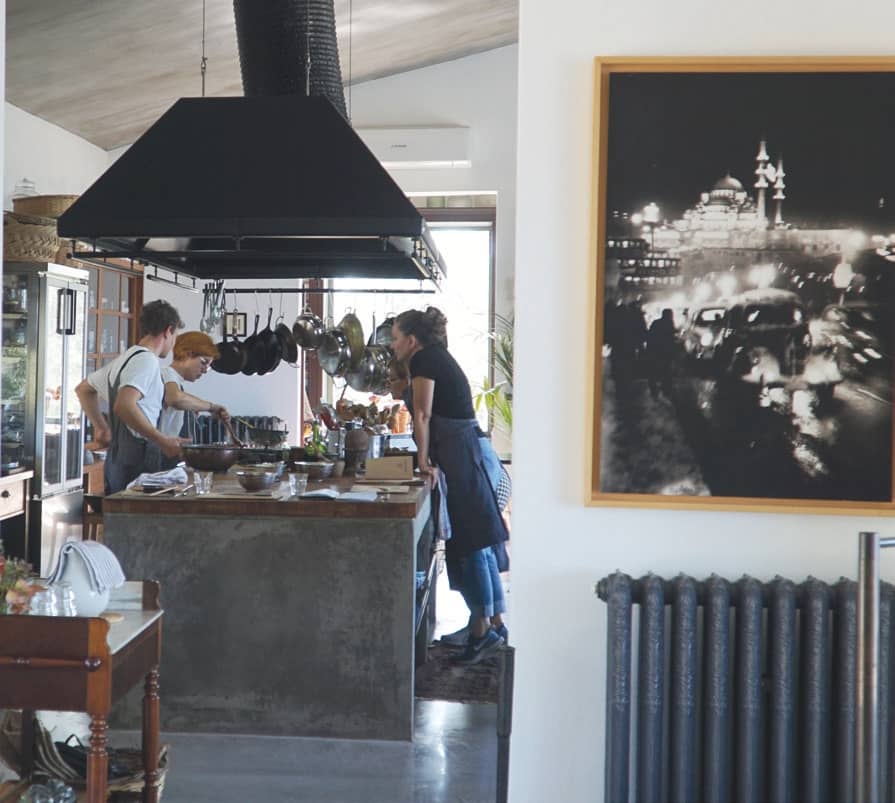 Olives play an important part of Cooks Grove's programs, just like they do in the everyday lives of the residents of the area. "Ayvalık has a rich culture due to its history," Denizsel said about what makes this particular location in the Aegean different. "It used to be a busy Greek harbor town with special autonomy from the Ottoman Empire, which developed agriculture centered around olives, which were exported for many centuries. Food developed alongside local culture." Although Denizsel has gotten to know the region very well over the years, she admits that an olive tree is a miraculous source of learning on a daily basis, and Cooks Grove students have the unique opportunity to explore all aspects of the local olive culture, from cultivation and production, to everyday use.
You can read up to 3 premium stories before you subscribe to Magzter GOLD
Log in, if you are already a subscriber
Get unlimited access to thousands of curated premium stories and 5,000+ magazines
READ THE ENTIRE ISSUE
November/December 2019