The Athletic Life: Jason Walker
The Good Life|December 2019
Jason Walker: A different kind of athlete in a different kind of bike sport of Cyclocross
Question: Jason, we heard you moved to Wenatchee from Reno. What brought you to our area?
Answer: Multifactorial decision. Honestly, the impetus was the vaccination laws and schedule in Nevada.
Kerri and I aren't anti-vax, but we definitely don't agree with the currently recommended vaccination schedule. We started looking at states with vaccination laws that allowed flexibility.
Washington was the top choice since I grew up in the state and had most of my family living here, Kerri's were in Portland, and I could be close to work.
We considered Spokane but Wenatchee won out due to proximity to Seattle (to pop over for work), access to the outdoors and the climate.
Question: What do you do for work, do you have kids or dogs? Tell us a bit about yourself.
Answer: I work at Microsoft, playing with spreadsheets and data; I've been there 22 years. I have two kids — Louden who is about to turn 10, Lander who is 8 and a little dog named Pepper (we think she's two or so). And I'm married to Kerri, who owns a business locally.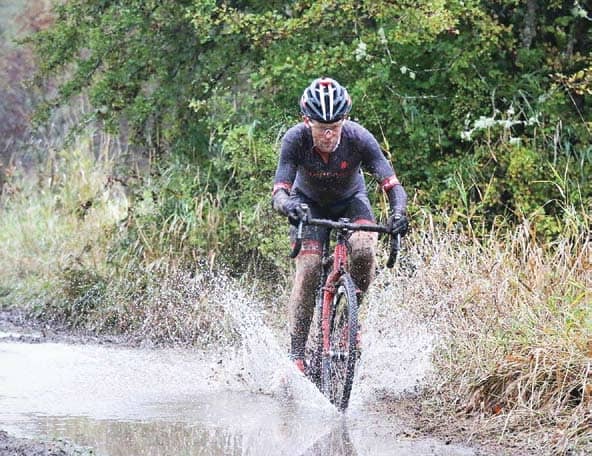 Question: What do you enjoy about Cyclocross? We heard you got sixth in the nation for a Cyclocross competition this last year.
Answer: It was probably one of the best all-around races I've been a part of, all things considered, and not necessarily because of my finish.
Cyclocross is very dynamic, I think that's what I like most about it.
For those who've never seen it, it's basically a road bike with skinny mountain bike tires and you race on a course normally less than two miles over grass, pavement, dirt, sand and various barriers for between 45-60 minutes. It gets really fun when it rains or snows.
Beyond needing to be physically fit, you also need to be able to get on and off your bike effectively, be able to run and understand the conditions of the course for proper tire and pressure selection.
You can read upto 3 premium stories before you subscribe to Magzter GOLD
Log-in, if you are already a subscriber
Get unlimited access to thousands of curated premium stories and 5,000+ magazines
READ THE ENTIRE ISSUE
December 2019