Mothers, daughters, mountains and dirt
The Good Life
|
October 2020
We stepped onto a trail, one after the other, until all seven of us stood on that flat dusty ribbon.
And we danced!
Each with our signature moves, made sillier under the hulking weight of our packs. The dance was short-lived; we knew to conserve energy. This was day three with more elevation and mileage than our map (and map reader — me) led us to believe.
Despite the brevity of our shimmies, it was a joyful moment. A small triumph.
We — three moms and four daughters — had just negotiated our way through four-plus hours of bushwhacking. And yes, we did it on purpose.
We knew where we wanted to go, a trail hidden in deep woods, sometimes hugging the Middle Fork of the Pasayten River, and 1,400 feet lower than our starting point on a ridgeline trail.
After the first off-trail steps, there was no looking back.
I had done my share of cross-country travel, developing a modicum of comfort with terrain features and map, using them to guide my directional instincts.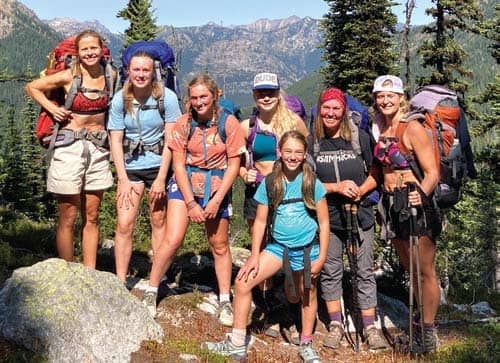 But the rest of the group had less experience. I wanted to shower confidence on moms Allison Gunter and Teara Dillon, teens Teyva, Taye and my daughter Alice, and Taye's younger sister Eve about our chosen course.
However, three and a half hours in, as the number of downed logs multiplied and Taye received three swift wasp stings, the unspoken doubts had grown.
The whole trip, four days, ebbed and flowed in this way.
We began as a giddy carload driving past Mazama on a long dirt road to the Slate Peak trailhead.
The car ride passed quickly with catch up; although we live within three miles of one another, we hadn't done a trip together for seven years, as our lives and those of our children diverged, though only a stone's throw apart.
You can read up to 3 premium stories before you subscribe to Magzter GOLD
Log in, if you are already a subscriber
Get unlimited access to thousands of curated premium stories, newspapers and 5,000+ magazines
READ THE ENTIRE ISSUE
October 2020