Kicked!
The Good Life
|
August 2020
A perfect day for a horseback ride explodes into a backcountry emergency
(On April 29, 2020, I suffered not one, but four, traumatic injuries on what was supposed to be an easy trail ride on my horse. I was slam-dunked into a twilight world of double quarantine during hospitalization and rehabilitation that made a laughable inconvenience of the previous eight weeks of Covid-19s' "sheltering in place." This article is part one of that long and ongoing adventure.)
The Ride.
It was a perfect morning for horseback riding in the Methow: cool, quiet, with light cloud cover and no rain forecast. My friend Carolyn Bronson and I trailered up to Elbow Coulee Road, midway between Twisp and Winthrop, to take a well-defined route leading to the south end of the Sun Mountain trail system.
Carolyn rode her Quarter Horse gelding, Prince, and I rode, as I had for 18 years, my sturdy little half-Arab mare, Stella.
As we had before on dozens of rides, we readied the horses in friendly silence, checking cinches and saddlebags.
I generally ride with longtime friends on familiar trails, with no racing or jumping, only occasionally bushwacking or trying tricky terrain.
We joke that a good ride is one with no adventures, more like an extended scenic hike to the imagined soundtrack of How The West Was Won.
We travel light for our short rides, with just a few essentials. That day, as always, I wore a helmet and carried a cell phone but also packed, among a few other trail-wise items, a Stihl folding hand saw for cutting branches that sometimes fell across the trail.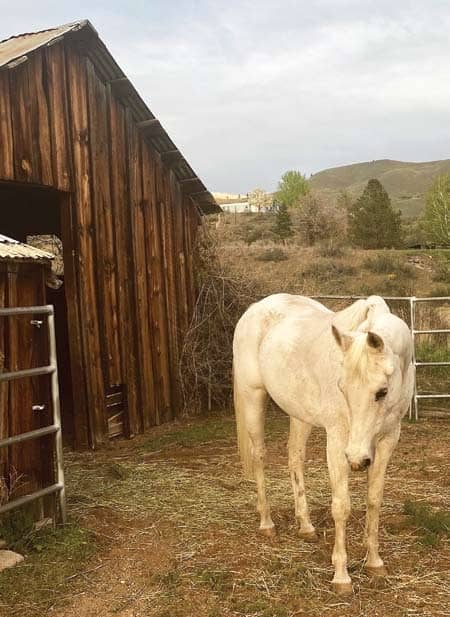 Strong winds earlier that week presented us with a little downed timber, all small enough to step over or easy to bypass.
Twenty minutes up the trail, however, we were blocked by a fallen fir tree with no detours to the side and some vertical limbs that could be easily leveled. I fetched my saw and within five minutes cut off the few small branches while Carolyn held the horses.
You can read up to 3 premium stories before you subscribe to Magzter GOLD
Log in, if you are already a subscriber
Get unlimited access to thousands of curated premium stories, newspapers and 5,000+ magazines
READ THE ENTIRE ISSUE
August 2020