A Love to be Proud of
Tatler Philippines
|
August 2020
Tim Yap and Javi Martinez are an emblem of today's modern couple, one that remains optimistic about what it means to live and love in the 21st century
Love is universal. But while many know this as true, gay relationships have been cast in the shadows and kept from the public eye. In the 21st century, you'd think that people would be more forthcoming about sexuality — but that's not necessarily the case. Despite the inspiring stories that have been told and retold, the act of coming out can still be shrouded in fear, apprehension and dread. Here is one story, however, that celebrates love and inclusivity, a bright beacon of hope for those still hesitant.
Tim Yap and Javi Martinez have been married for nearly three years now. While many of their friends champion their relationship, their union wasn't without its challenges, some of which began with the discovery of who they are.
In 2020, being gay is still a crime in many countries; and so, while sexuality is a universal experience, it is still generally considered as taboo. Martinez understands this all too well. Spain, where he grew up, was still quite conservative in the late Nineties. The gradual discovery of his own sexuality came to him at a time he describes as colourful. "I was doing theatre and ended up meeting all these different kids from different cities. I started to understand that what I felt wasn't different, that there were more people like me," he says. He recounts the day he came out to his mother. He was 16 then. As they were strolling around the Plaza de Toros, his mother turned to him and asked him if he liked men. "I don't know why she asked that, where it came from. I was so young. I was thinking: 'Do I just tell her yes to avoid hiding things for longer?' I mean she's asking me, it's a great opportunity. So I told her: 'Yes.'"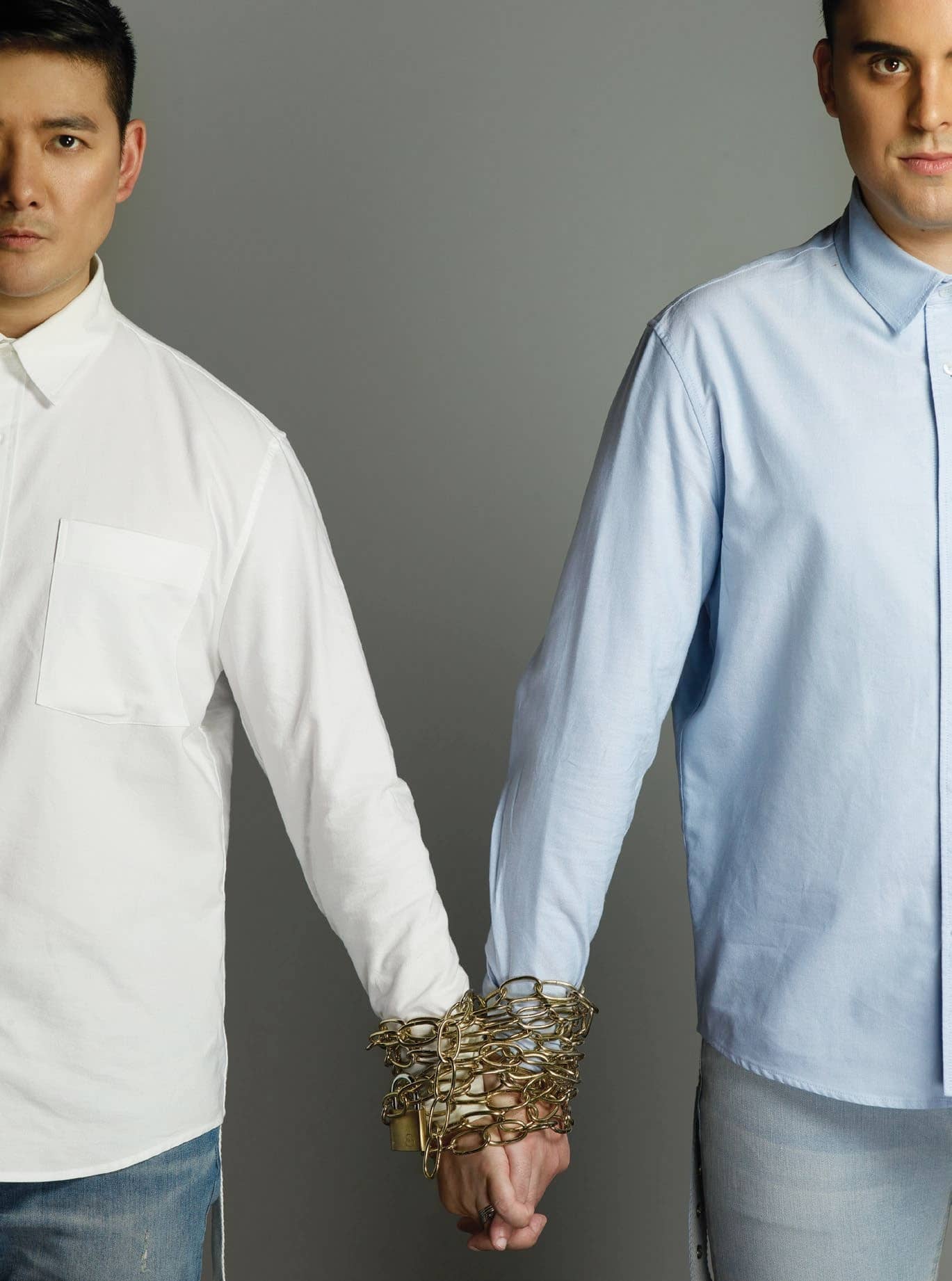 Yap, on the other hand, has a different story. The Manila multi-hyphenate admits to never having given much thought about his sexuality as a child. "My sexuality was never an issue for me. I never looked for love based on being gay or straight. People loved me because I was productive, and I was of service to others." Only when he was 16, as he was discovering the Manila nightlife, did he begin to think about it. He reminisces about his college girlfriend and admits that beautiful as she was, he had been in love with her for all the wrong reasons.
Yap, who has been open about his mother's apprehension towards his wedding to Martinez, says that he himself didn't have a hard time coming out—but his mother did. Martinez's mum too, cried when she first found out, although Martinez's father took it better. "My mum was crying in her room and I remember my dad coming into mine. He simply spoke to me saying: 'I knew it, I'm your dad.'" While both families were absent in the couple's Manhattan wedding, both grooms have expressed gratitude to their families for being supportive.
You can read up to 3 premium stories before you subscribe to Magzter GOLD
Log in, if you are already a subscriber
Get unlimited access to thousands of curated premium stories, newspapers and 5,000+ magazines
READ THE ENTIRE ISSUE
August 2020