Catching Light
Tatler Hong Kong
|
July 2020
With India emerging as the next fashion frontier, budding designers like 2020 LVMH Prize nominees Supriya Lele and Priya Ahluwalia are proud to showcase the country's values through a modern, global lens
Dusty pink stone façades lining the Narmada River in Madhya Pradesh, central India, glowed warmly against the first rays of sunrise. Longboats in a rainbow of hues dotted the water, some gliding serenely behind a young Indian model dressed in sheer, colour-blocked layers with an asymmetrical neckline and ruching, like a shadow of a modern sari. The dress was by Supriya Lele, who debuted at London Fashion Week last fall.
Lele, a British-Indian designer who was born and raised in the town of Ipswich in Suffolk, travelled to her ancestral town in India last December in what began as a creative journey with photographer and friend Jamie Hawkesworth. They wanted to shoot her latest collection—a vibrant amalgam of modern minimalism and Indian codes—against this scenic backdrop, but the trip soon became a deeply emotional one as well. "We visited this holy river where my father's ashes were scattered and it was so moving to see my work and interpretation of my heritage, which has previously only been shown in Europe, resonate and retain the same narrative there," says Lele. "In a way this river became a metaphor of sorts—it was like a homecoming."
Lele is a 2020 LVMH Prize finalist, one of two Indian designers in one of the most diverse classes in the seven-year history of the prize. The other is Nigerian-Indian menswear designer Priya Ahluwalia. Their nominations speak to greater recent global interest in the subcontinent's fashion talents, in no small part thanks to India's booming apparel market. McKinsey's 2019 State of Fashion Report highlighted India's rapid ascent, predicting that the market will be worth US$59.3 billion by 2022 and that its economic growth will soon outpace that of China, Brazil and Mexico. In the last year, this has led more than 300 international brands, including Uniqlo, which opened its first India store last October in New Delhi, to flock to feed on its fertile ground. Embroidery exports are also up 500 per cent from two decades ago, fuelled by demand from European fashion houses with a penchant for its rich history of textiles and plethora of craftsmen. Growing interest has also magnified the spotlight on design talents like Lele, revealing not only their skills but also their respect for craft and sustainability, something that has long been a part of India's heritage.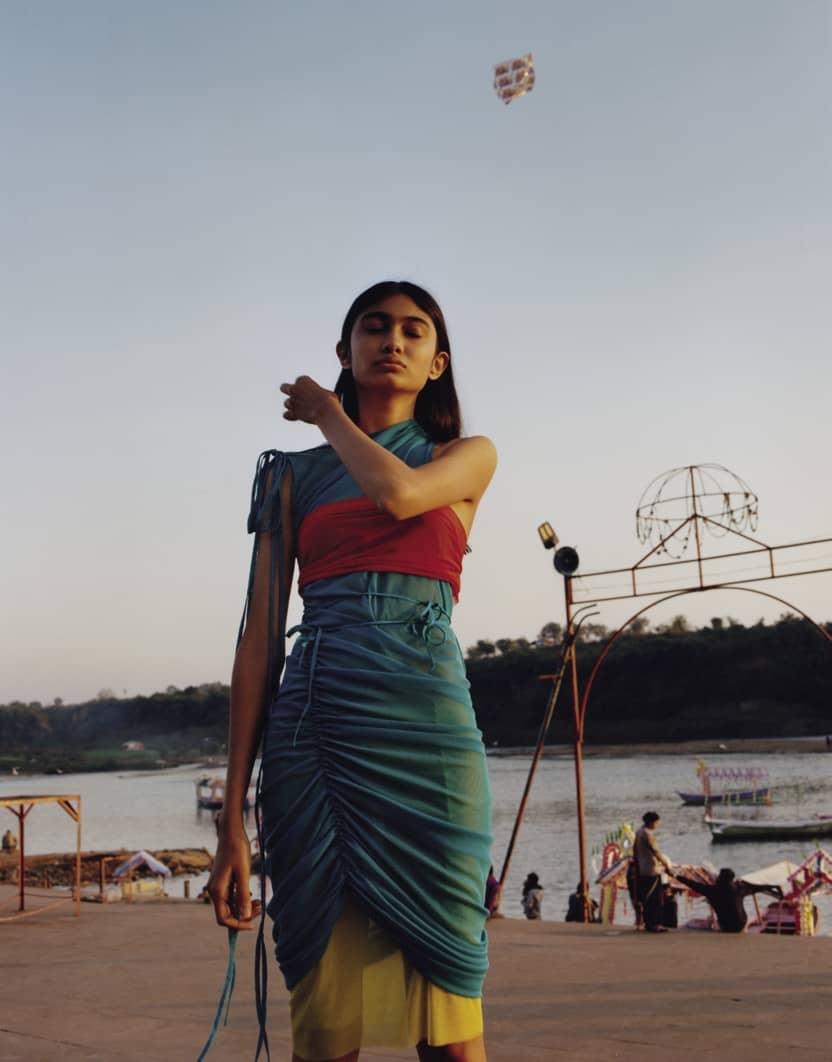 Lele remembers buying her first saris with her mother. "You'd go to the fabric shop with your mother and sister and friends, and you sit down and sip tea while the tailor brings out roll upon colourful roll for you to look at," she says. "It's a long, beautiful, intergenerational process to make this dress that is meant to be passed down." Lele aspires for her designs to have a similar thread of timelessness.
Anaita Shroff Adajania, celebrity stylist, costume designer and fashion director of Vogue India, similarly sees the unique value in India's heritage. "We'd wrap our clothes in muslin cloth and spices so that moths don't eat them, as they're passed on for generations and generations. Our clothes have always held our stories."
You can read up to 3 premium stories before you subscribe to Magzter GOLD
Log in, if you are already a subscriber
Get unlimited access to thousands of curated premium stories, newspapers and 5,000+ magazines
READ THE ENTIRE ISSUE
July 2020