Into The Wild
Does tech make it easier to survive in the great outdoors? T3 takes to the open spaces of Dartmoor to find out…
Survival is easy. Turn on the tap for clean water, hit the 'increase' button on your smart heating app, order dinner from your phone. But strip away the phone, the food delivery, even the home itself, and things are considerably less rosy. We recently went to one of the UK's real wildernesses, Dartmoor, in single figure temperatures to find out how to survive in the outdoors for real.
Handily, we had some of the latest and best outdoors tech, and professional help in the form of dynamic duo Will Batho and Tom Powell, two adventure guides for Beyonk, the online adventure marketplace. Would this combination be enough to beat the elements?
FIND YOUR WAY
We begin with some scene-setting advice from Will, putting our remote location into a survival context. Based on his military training as a helicopter pilot, the main elements of survival are PLAN: Protection (including fire and shelter), Location (make yourself seen), Acquisition (acquire food and water), Navigation (safest and most direct route to safety/habitation). "The key is to combine these according to the challenge you find yourself in," says Will, "so in a desert, for example, water may become your first priority." Today, navigation is our starting point. It's a transferable skill, whether you're trekking back to civilisation from a wrecked plane or traipsing around the lakes, but relying entirely on tech is not ideal. Indeed, our Casio Pro Trek F30 has excellent GPS smarts coupled with a clear mapping layout, but battery life is just over a single day in full 'smart' mode, which would leave you potentially lost in a real survival situation.
However, while learning how to use a map and compass is an essential outdoor skill, it is one that requires practice. We begin by planning a short route on a 1:25,000 OS map, a journey that follows the River Dart downstream for a few kilometres, paying attention to contour lines (those orange squiggles) and the number of squares we're navigating across.
"Every 1cm on the map is equal to 250m on the ground, and terrain plays a big part in how long it takes to walk that distance, so don't get too carried away when planning a route," says Will. "Good map reading and compass work are a skill that takes time and effort to master, so start off practising somewhere very accessible at first, increasing the difficulty of the terrain as you gain proficiency."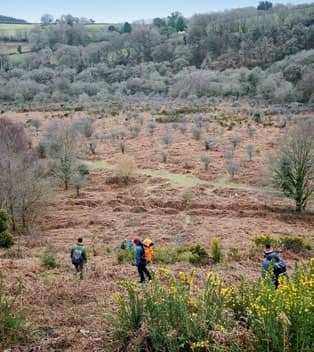 You can read up to 3 premium stories before you subscribe to Magzter GOLD
Log in, if you are already a subscriber
Get unlimited access to thousands of curated premium stories, newspapers and 5,000+ magazines
READ THE ENTIRE ISSUE
June 2019