Vineyards At Your Doorstep
Sommelier India
|
January/February/March 2018
To withstand the march of concrete, many cities are embracing the concept of urban vineyards. Carol Wright reports on this exciting development
Paris, London, New York… these are not names readily associated with wine tours. However, urban vineyards are being rejuvenated or created – some of them sponsored by city councils to preserve green city lungs, stem relentless building development and provide educational and social benefits that counterbalance the disadvantages of pollution and poor soil.
AUSTRIA
Vienna is the doyenne of cities with vineyards, dating back to the 12th century when each district of the city worked its own vineyards. In 2015 a new law was passed, listing the city's vineyards as a heritage site and stipulating that they had to be used for vine growing to prevent them being built over. An imperial edict of 1784 allowing growers to serve food with their wine led to the spread of heurigen or wine taverns that still flourish today.
The Mayer am Pfarrplatz tavern counted Beethoven among its customers and now shows off its old wine cellars on guided tours and wine tastings. Others like Wiltschko and Peter Gobel's taverns have sleek modern lines, the latter with its original heurigen lounge overlooking the vineyards. As well as a wine train going through its vineyards, Hotel Rathaus Wein & Design, a wine-themed hotel, has each room dedicated to a different Austrian wine, with appropriately stocked mini bars and a wine lounge.
Vienna has 630 wine producers and 700ha of urban vineyards creating 2.4 million litres of fresh and fruity wine annually. White grapes dominate – Gruner Veltliner, Riesling, Chardonnay, Sauvignon Blanc and Gelber Muskateller. More red grapes are being grown now, especially Zweigelt and St Laurent along with Merlot, Pinot Noir and Syrah. Undergoing a renaissance is Winer Geminschter Satz, the "field blend" – a mix made from up to 20 grape varieties grown, harvested, fermented and blended together, creating a multi-layered complex wine which received DOC status in 2013.
Producers like Fritz Wieninger have gone over to biodynamic cultivation and around 30% of Viennese wine is organic. A group of winemakers have formed the WienWein (wienwein.at) to define new quality standards and publicise their wines. In 2009 they planted a vineyard in front of the Schonbrunn Palace where vines had been grown since the mid-18th century.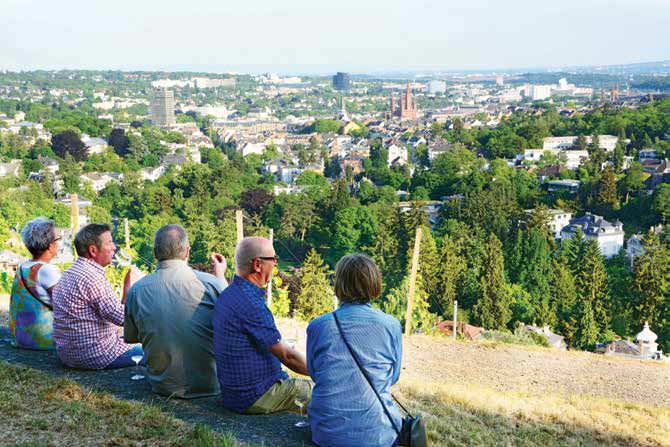 GERMANY
Another city with extensive historic vineyards and taverns is Wiesbaden in Germany. In the city centre, the Neroberg vineyard on the eponymous 245-metre-high hill produces Kloster Eberbach Wiesbadener Neroberg Riesling. The vineyard was looked after by the city till 2005 when it was taken over by the Hessian State Wine Estates. The vineyard is designated a cultural monument and is a protected listed site. Guided vineyard tours can be booked through wiesbaden-marketing.de.
You can read up to 3 premium stories before you subscribe to Magzter GOLD
Log in, if you are already a subscriber
Get unlimited access to thousands of curated premium stories, newspapers and 5,000+ magazines
READ THE ENTIRE ISSUE
January/February/March 2018