The road to excellence can be arduous, but it's always a rewarding journey when the goal is worthwhile. The recipients of this year's Singapore Tatler Awards know this only too well, as they talk about the hurdles and turning points in their lives and careers that have paved the way to their current success.
Chong Seow Wei, Hong Xinyi and Terence Lim
Grace And Kevin Wong
SINGAPORE TATLER SOCIETY COUPLE OF THE YEAR 2019
Having first met on the dance floor some 20 years ago, this gregarious couple connected over their passion for dance and dated for nearly five years before tying the knot in 2005. "His dance lead and gentlemanly manners caught my eye," Grace said of Kevin. "We are two dancers destined to be a couple." And who can forget the sultry dance number they performed during Grace's 60th birthday celebration last year? Their rapport and mutual understanding can be felt as they gracefully glided over the dance floor to the rapturous applause from the audience.
FORMULA FOR A SUCCESSFUL MARRIAGE
Grace Wong (GW): Honesty and trust—these values are fundamental to any partnership. Without them, no partnership can last. It's the same for a marriage too.
POINTS OF ATTRACTION
GW: His caring nature, and his commitment and responsibility towards the family Kevin Wong (KW): How she cares and loves both sides of our families.
PERFECT MATCH
GW: I love themed parties, and I love blue and white. Since we had the honour of being the Society Couple of the Year and with chinoiserie being the theme of the ball, I felt it would be meaningful for both Kevin and I to wear something similar—in my favourite shades of white and blue, of course. Obviously, Kevin resisted initially but being a good sport, he relented and happily went along with it later.
ADVICE FOR YOUNG COUPLES
KW: Be kind and truthful to one another, and have fun.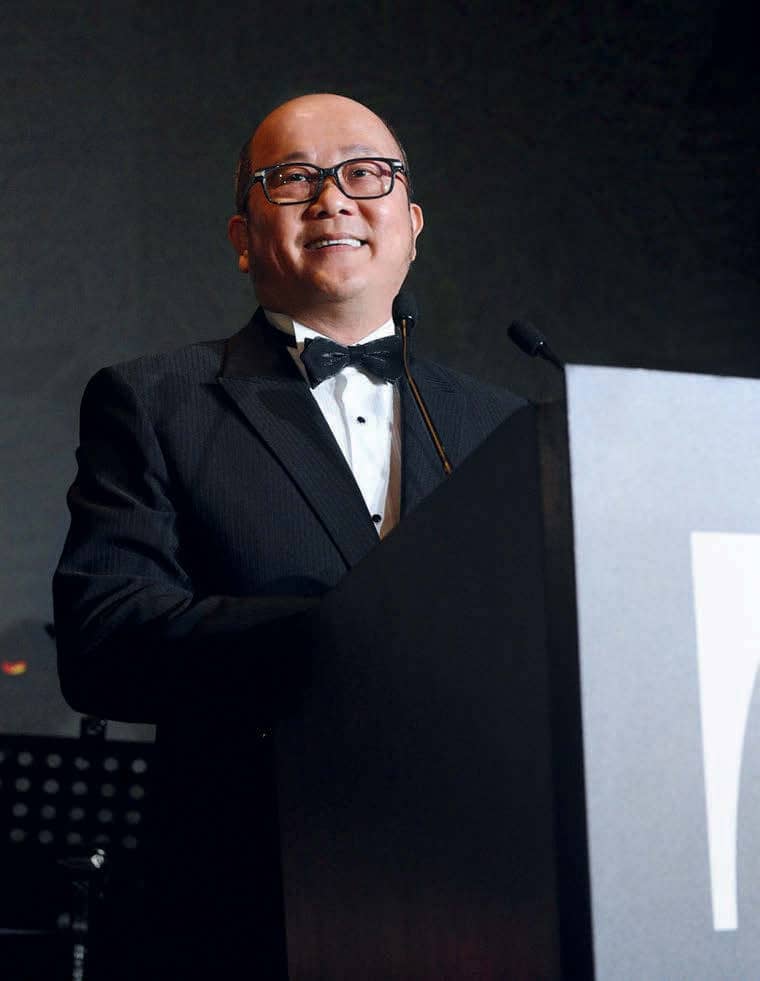 Ron Sim
SINGAPORE TATLER DIAMOND AWARD 2019
The founder, executive chairman and CEO of V3 Group, which has brands such as Osim (best known for its high-tech massage chairs) under its umbrella, has turned his company into a leading force in Asia's lifestyle and wellness industry. This business leader is also active in the fields of public service and philanthropy. In 2018, the V3 Group donated $3m to the Singapore Management University, to set up the V3 Group Professorship in Family Entrepreneurship, with Sim expressing his hope that this would help spearhead meaningful research and programmes to contribute to the growth and sustainability of family businesses.
EXPLORE NEW WORLDS
I believe that continually assessing risks and opportunities is essential for every businessman. We must never stay stagnant or be complacent. In making decisions, leaders need to be courageous, open to ideas and willing to venture beyond their comfort zones. When Osim was set up in 1979, one of the challenges I faced was establishing a unique proposition for scaling the business. To deepen our foothold in the health and wellness industry, I took a calculated risk and partnered a group of Japanese engineers to develop a series of massage chairs that mimicked the sensation of a genuine shiatsu massage. This was the start of Osim's well-established brand proposition, which still holds true today.
RELENTLESS INNOVATION
As a leader in the lifestyle and wellness space, we are even more driven to stay ahead of the curve, and more importantly, to continue to lead through innovative products that are technologically superior, designed with customers in mind, safe and of high quality.
VENTURING INTO FINTECH V3
Group recently announced the formation of V3 Fintech, a business unit that will expand the company's interests in innovative financial offerings. V3 Fintech aims to develop data-driven financial solutions to support enterprises and people by identifying and addressing gaps in the financial services sector. It will develop innovative solutions to encourage responsible financial behaviour among businesses, families and individuals. In doing so, we hope to contribute to Singapore's role as a leading regional hub for innovative financial services.
Continue Reading with Magzter GOLD
Log-in, if you are already a subscriber
Get unlimited access to thousands of curated premium stories and 5,000+ magazines
READ THE ENTIRE ISSUE
December 2019