The World Of Bespoke
Just about every motor car that leaves Goodwood, RollsRoyce Motor Cars' home in England, is Bespoke. 2017 was one of the most significant years for Bespoke in the 114-year history of the brand. A look at some of the most outstanding creations from the last 12 months…
Very few automobile manufacturers have explored and mastered the world of customisation, or rather bespoke, like Rolls-Royce Motor Cars has. The Rolls-Royce Motor Cars Bespoke department includes an immensely talented and skilled collective of designers, engineers and craftspeople, who bring the marque's discerning and influential patrons' most ambitious and personal visions to reality. Today, almost every motor car that leaves the Home of Rolls-Royce in Goodwood, England, is Bespoke. 2017 was the year that Rolls-Royce elevated Bespoke to unprecedented new levels, resulting in one of the most significant years for Bespoke in the 114-year history of the brand.
A snapshot of some of the finest examples of Bespoke design and craftsmanship to be completed by the luxury house over the past 12 months
'Sweptail'
Rolls-Royce 'Sweptail', the realisation of one customer's coach built dream. Premiered in 2017, 'Sweptail' is a compelling representation of true luxury, taking Bespoke coach build personalisation to new heights. The result of a collaboration between patron and artisan, 'Sweptail's' bold design embraces the marque's heritage as the world's leading coachbuilder whilst reaffirming its pinnacle position in Bespoke personalisation. This automotive equivalent of Haute Couture draws on the lineage of 1920s and 1930s Rolls-Royce motor cars. The client's vision was for a coach built two seater coupé featuring a large panoramic glass roof. The result is a contemporary masterpiece.
The grille, milled from solid aluminium, presents a distinct formality. The side profile of 'Sweptail' defines its stately character, whilst the rear taper of the motor car pays homage to the world of racing yachts, shaping a completely new perception of a dramatic Rolls-Royce coupé. The elegant and characterising rear culminates in the registration number 08, milled from ingots of aluminium and hand polished to a mirror finish.
'Sweptail' is a personal, Bespoke, motor car like no other.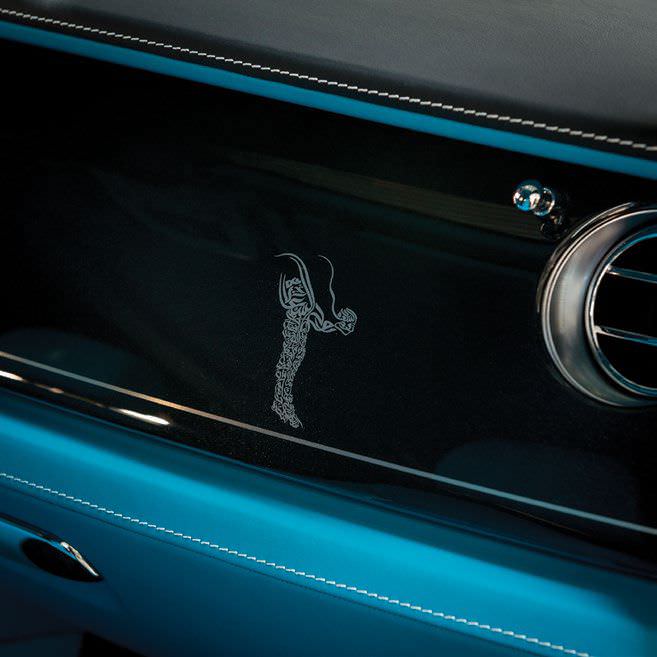 New Phantom and 'The Gallery' – An Art Gallery on Wheels
You can read up to 3 premium stories before you subscribe to Magzter GOLD
Log in, if you are already a subscriber
Get unlimited access to thousands of curated premium stories, newspapers and 5,000+ magazines
READ THE ENTIRE ISSUE
February 2018