Art from the Heart
SA Country Life
|
June 2020
Watching blacksmiths at the forge, painters at the easel, cabinet makers at the chisel, and wandering the woods with a famous calligrapher in small, bespoke gatherings is what the Prince Albert Open Studios project is all about
Everything about Kashief Booley, the Blacksmith of Prince Albert in the Western Cape Karoo, says Old School. And watching him work in the Striking Metal smithy on a rise overlooking the village, with the majestic Swartberg range sweeping across the Prince Albert Valley and westwards all along the Klein Karoo, is to segue back a few centuries.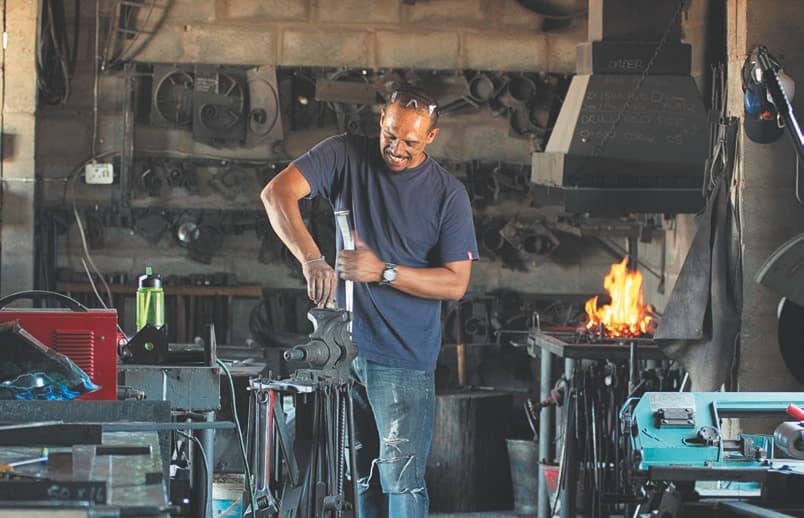 There's a flaming forge, rows of handmade tools, hulking anvil, hissing water bucket and the all-important hammer. But then there are signs of the times – T-shirt and blue-denim jeans with the Bruce Springsteen cut, gas burners and angle grinders.
When I was a kid, it was, of course, all about being a cowboy one day when I grew up. Maybe a fireman. Now I'm a ballie, and all I really want to be is the village blacksmith. This guy. In this place.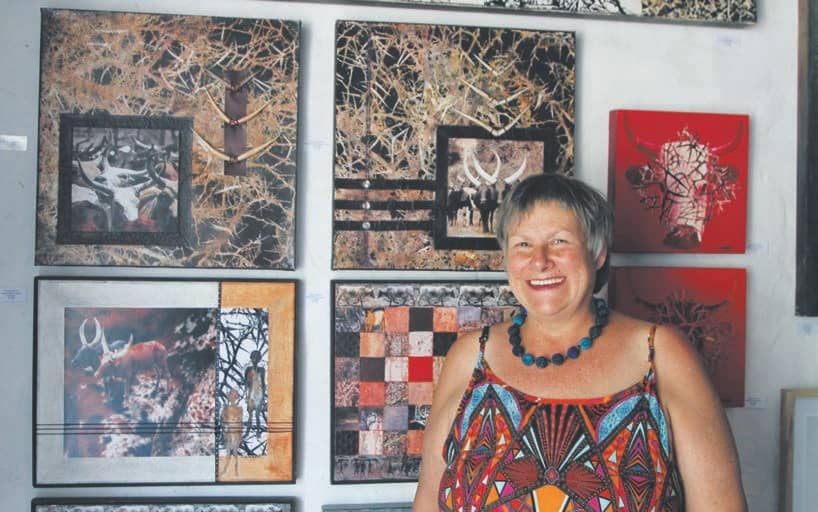 The relatively well-heeled citizenry of Prince Albert and distant Cape Town fancy their custom-made goods, so there's always a commission available for Kashief – a beautiful hand-forged set of hooks, door knockers, gates, balustrades, tables, stools and decor items of whimsy that look perfect somewhere in the cottage. He'll tell you, "When that forge is lit, I go into another place." It's a place where an ancient craft meets a modern creative mind and together they make something special.
Kashief is one of more than 30 Prince Albert artists on the local Open Studios Route. They work in many media and sell across the world. There must be something magical in the mountain water that flows into the village, because the creative capital of this place is astounding.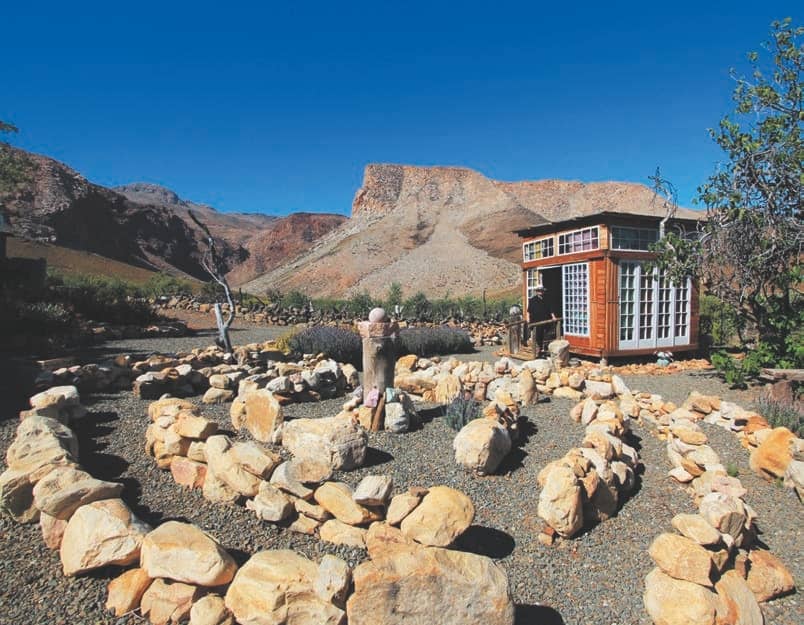 An old friend of ours, author-artist Sue Hoppe, moved to Prince Albert relatively recently with her husband Max. They bought the first building you find (coming from the Swartberg Pass side of life) on the left, which used to be a restaurant before it partially burned down. They put some serious sweat equity into renovating the place, upcycling and recycling wherever possible, turning it into a wondrous dwelling.
Part of the Hoppe spread is Sue's studio, which bears the name of their company, El Gecko. It's a former wagon house full of her mixed-media works, exuberant pieces that would go very well with something striking by, say, Mr Booley up the hill.
Sue and Max did considerable Karoo road time in compiling The Climax Collection and Travels (Troubles) with Koos, two popular armchair reads that heralded a number of other publications via El Gecko Publishing. But now they are well-rooted in Prince Albert, and Sue in particular is one of the key supporters of the Open Studios concept. And so, on a succession of days, while Max launches a vicious attack on spiky, alien, invasive plants in the backyard, Sue guides my wife Jules and me around Prince Albert to meet some of the artists on the route.
You can read up to 3 premium stories before you subscribe to Magzter GOLD
Log in, if you are already a subscriber
Get unlimited access to thousands of curated premium stories, newspapers and 5,000+ magazines
READ THE ENTIRE ISSUE
June 2020