The Smart, Quiet, Bizarre Future Of The Luxury Car
Robb Report Singapore
|
February 2020
Artificial intelligence and fast, cheap algorithmic design are about to transform the automobile – and it will only get weirder from there.
For as long as anyone could remember, a car was a car was a car. And then, one day, it wasn't. Which is to say the notion of an automobile going back 100 years – a multi-box design on four tyres, with a wheel and pedals, aimed by people and powered by orderly little explosions – has been upended by a maelstrom of globalisation, technological revolution, environmental reckoning and a wholesale assault on the ownership model. Such extreme disruption has unleashed a rapid evolution of the automotive species, with strange creatures now roaming the roads: Rolls-Royce SUVs and silent, battery-powered Croatian hypercars; Cybertrucks and fin-shaped hatchbacks with gull wings and brains big enough to take the wheel for a spell.
Take the luxury car. Not long ago the term meant something fairly specific: a large, imperious saloon with a respectably immoderate petrol-burning engine and a leathered and carpeted backseat with ample space for raising a family. Now it's as formless and atomised as the rest of the sprawling luxury universe. Tesla's austere, vegan-friendly robots are the must-have choice for the Silicon Valley set even as six-figure SUVs proliferate like 2,270kg bunnies in the exurbs. Meanwhile, a younger generation of buyers appreciates zero-emissions vehicles but would really rather the automobile had the good sense to go away entirely.
Yet there are signs the automotive industry is finally coalescing around an idea of what a car will be in the future – and down that road lies an interesting potential detour: the luxury car, instead of simply representing a pricier version of whatever the car du jour is, branches off into something else entirely. For the first time, a difference not just of degree but of kind, transformed by three interconnected forces: artificial intelligence (AI), the rise of niche manufacturing and increasing rarity.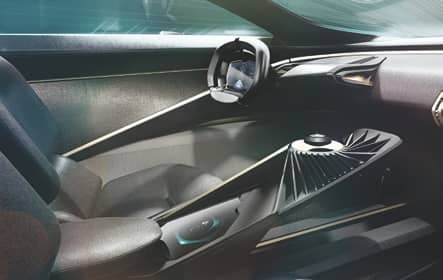 Artificial Intelligence
Two major technological revolutions are shaping the car of the future: electrification and autonomy.
Electric vehicles (EVs) will eventually win out not simply because of an increased focus on sustainability, or because Tesla made them sexy, but because they provide undeniable benefits for an industry that's become overwhelmingly consolidated, inextricably globalised and massively regulated – and because EVs ultimately pair better with self-driving technology.
Wide-scale EV adoption not only alleviates regulatory headaches over what's being spewed from the tailpipe – EVs have no spew and no tailpipes – but the cars are also simpler to manufacture and suited to the type of modular architecture now favoured by the world's largest automakers, in which a few platforms underpin a wide variety of vehicles. (The Volkswagen Group, which owns 12 brands across seven countries, produces more than 30 models on its MQB platform alone, from sports cars to minivans.) Plus, the world's largest car market, China, is pushing a blistering rate of battery-powered EV adoption – more than a million electric and hybrid-electric cars sold in 2018 – with Europe, the third-largest market, attempting to keep pace. Regardless of whether the US intends to continue its retrograde love affair with fossil fuels, an increasingly climate-minded global market will ensure the automobile's plugged-in future.
As for self-driving technology, it's anyone's guess when it becomes a widespread consumer reality; it's not just a question of technological capability but a complex matrix involving legislation, infrastructure and liability. Meanwhile, everyone from Samsung to Softbank is spending astonishing amounts of money to ensure a front-row seat whenever the show starts.
"Without a doubt, on our road map is to have privately owned vehicles enabled with our technology," says Adam Frost, chief automotive programmes and partnerships officer at Waymo, formerly the Google Self-Driving Car Project, now its own entity within Google's parent company, Alphabet. "And our partners are obviously very interested in that. We're in discussions with them around, 'What is that product?'"
But the day when you can Netflix in your Level 4 autonomous ride is years, if not decades, away. For now, companies like Waymo, Cruise and Argo AI have partnered with (or been bought by) automakers to develop fleets of L4-equipped taxis that operate within the confines of certain test cities.
Waymo runs autonomous Chrysler Pacifica minivans in parts of Phoenix, while Argo has AIequipped Fords operating in Palo Alto, Detroit and Pittsburgh. These vehicles rely on information from onboard hardware such as cameras, sensors, radar and a laser-based system called LIDAR, plus incredibly detailed 3D maps.
You can read up to 3 premium stories before you subscribe to Magzter GOLD
Log in, if you are already a subscriber
Get unlimited access to thousands of curated premium stories, newspapers and 5,000+ magazines
READ THE ENTIRE ISSUE
February 2020