Simple Pleasures
Robb Report Singapore
|
September 2020
Rolls-Royce is rewriting the rulebook on what luxury and opulence means.
It's almost odd the way Rolls-Royce skirts around certain words.
You could talk to anyone at the British automaker about how the Cullinan is an SUV, or how the act of owning a Rolls-Royce starts with a purchase, or even how its customers are, well, customers, and you can see in their eyes the briefest hint of a twinge.
That twinge may emanate from how they're trying to wrestle with the delicate balancing act of correcting you without seeming as though they're correcting you. This is, after all, a brand for which an adamant refusal to refuse is the firmament on which all its values are built upon.
The Cullinan isn't an SUV, it's an all-terrain, high-sided vehicle. The first step toward having a Rolls-Royce parked in your garage begins with commissioning, and its customers, as befitting someone commissioning a work of fine art, are referred to as 'patrons'. And when it refers to the direction in which the carmaker is heading, it's in the direction of "post-opulence".
You see, while all the terms I mentioned in the first place are technically correct, they don't quite capture the essence of what Rolls-Royce is trying to convey – to say nothing of how tawdry and base they are. And you should know by now that a Rolls-Royce is the polar opposite of tawdry and base.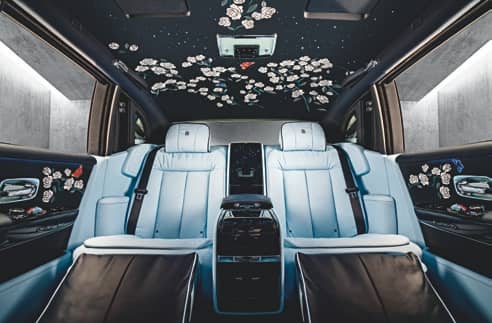 At any rate, now that we're all caught up on the proper terminology, we can move on to talk about what post-opulence means to Rolls-Royce. On the surface, it could mean the move toward minimalism – a trend partially sparked by the carmaker's demographic that has been getting younger over the years.
According to Alex Innes, Rolls-Royce's head of coachbuild design, this move toward 'less is more' began several years ago and has gained even more traction in the last few months, owing to coronavirus-induced lockdowns.
You can read up to 3 premium stories before you subscribe to Magzter GOLD
Log in, if you are already a subscriber
Get unlimited access to thousands of curated premium stories, newspapers and 5,000+ magazines
READ THE ENTIRE ISSUE
September 2020