Ultimate Enduro Style Knee Pad Shootout
Every legit mountain biker own a good quality set of knee pads. But of course, us riders come in all different shapes and sizes and we ride all different kinds of trails in all different kinds of climates. Therefore, it's impossible to try and claim that 'xyz' is the best knee pad on the market. What we can do though, is try to help you find the type of knee pad that is likely to be perfect for you and where you tend to ride. And that is exactly why we've put this article together. In our opinion these are the 5 best enduro knee pads currently on the market in 2020.
We decided to judge each set of pads in 5 categories; the overall amount of protection coverage that each pad o ers, their 'tech' and quality of construction, how comfortable each pad is to wear, their 'slip/slide' factor whilst you're riding or when you hit the ground, and finally we'll focus on each pad's overall performance and value for money. Now, a couple of quick notes before we get started: we were hoping to also include Sam Hill's recently announced signature knee pad from SEVEN however they hadn't arrived in Oz at the time we went to print. That said, we'll be grabbing a set soon and we'll include them in the online version of this article next month so keep an eye on our website. Oh, and why have we included 2 sets of Fox? Honestly we couldn't decide which set to include because both of those pads are quite different and both of them are favourites amongst our [R]evo editorial test team, and seeing as though the point of this article is to give you as much insight into the best pads we've ridden recently we figured we'd do just that. Right, let's get into the shoot out!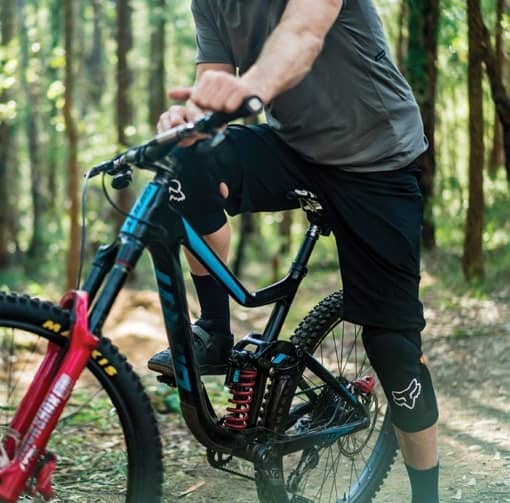 FOX 'Launch D30' | $129.95
PROTECTION COVERAGE
This pad is a little shorter than others, it's a slide-on pad which provides a lot of patella impact protection along with some side impact protection. However, the pad did not provide a great deal of upper shin protection. The overall coverage of the pad is really good and there is plenty of ventilation with this pad which probably also makes it perfectly suited for people who ride in warmer climates. 8/ 10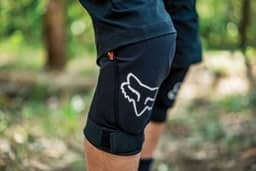 CONSTRUCTION
From a company like Fox, you expect quality and that is exactly what these pads deliver. They look cool, fit well with your leg and they are super comfortable to wear. They also have the D30 insert protection which is a type of polyurethane energy absorbing material. In basic terms, D30 is a material that remains flexible yet instantly becomes rock hard under impact miraculously absorbing all of the shock and energy. 10/10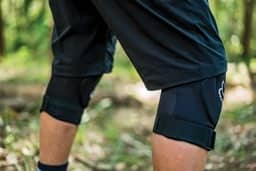 COMFORT
In terms of comfort these pads were awesome, they were super flexible for a bulkier pad yet still gave the rider a decent, range of movement. You obviously still feel like you're wearing pads however the lack of restriction whilst pedalling with these pads was a real bonus for a more aggressive style pad. 9/10
SLIP/SLIDE
With an upper and lower Velcro strap it was easy to adjust the tension of these pads. Along with the fact that they are a little shorter help the pad sits over your calf muscle which resulted in a pad that didn't need to slip around. Once fitted they pretty much stayed where they were. 9/10
OVERALL & VALUE FOR MONEY
Overall, this pad is really well designed. If you are more of an aggressive gravity rider, the type of person who rides enduro or DH this pad may appeal to you as it will give you heaps of protection, yet they are still flexible and breathable enough to pedal in. Value for money, even at full retail (we've seen plenty of stores offering sweet discounts on these guys) they're hard to beat for sure. 9/10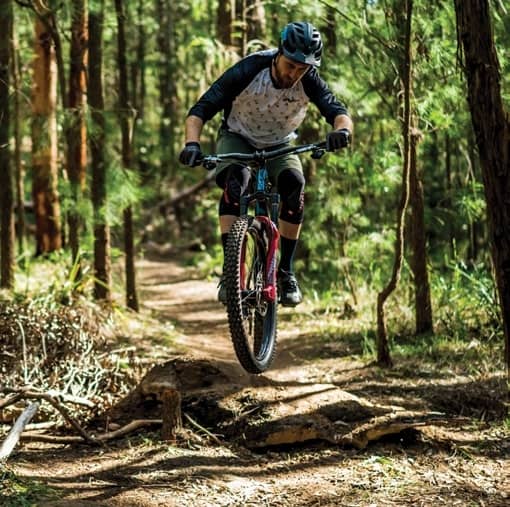 Troy Lee Designs 'Stage' | $189.95
PROTECTION COVERAGE
You can read up to 3 premium stories before you subscribe to Magzter GOLD
Log in, if you are already a subscriber
Get unlimited access to thousands of curated premium stories, newspapers and 5,000+ magazines
READ THE ENTIRE ISSUE
Issue 58