Surviving The Last Ever Trans-Provence
MTB's Gnarliest Week-long Race Mavic Trans Provence 2019 Race Report
LET ME START THIS TALE BY CONFESSING ONE THING UPFRONT: I HATE CAMPING! IT F*KING SUCKS... ESPECIALLY AFTER 11 HOURS ON THE BIKE. THERE IS ZERO STOKE FOR ME HAVING TO GET INTO A WET TENT ON A DOWNSLOPE WHERE YOU WAKE UP IN THE MORNING JAMMED IN THE END FEELING AND LOOKING LIKE A USED GEL WRAPPER THAT YOU LEFT IN YOUR RIDING SHORT POCKET AND PUT THROUGH THE WASH. This being the case, what would possess me to indulge in the mission of fl ying from NZ to Europe, with ensuing oversize baggage arguments and jet lag to offer myself as a sacrifice to French switchbacks, abovementioned tent arrangement and hell gnar? Simple – The best week on a bike ever. AKA, the Mavic Trans Provence 6 day Enduro race.
After an unexpected absence in 2018, the Mavic Trans Provence was back for 2019, but with a twist announced from organizer and Blind Racing Czar Ash Smith: This was to be the final TP ever!!! That horror piece of news meant a fl ood of fever from the TP alumni as everyone scrambled to get a golden ticket to the final edition of what is widely considered to be not only the originator of this style of multi day Enduro racing, but also the pinnacle of the genre. While I had done it once before in 2015, there was NO way I was going to miss this Grand Finale of insane riding experiences.
Indeed, when I refl ected back on the 2015 vintage, I don't recall the actual racing aspect as much as my brain drinks in the overall experience – The Vistas, the camaRADerie, The locations, the French cokes, the amazing trails, the laughs, diving into the Med, the endless supply of fistings (the good variety)… I can't even tell you which was my best stage result that week, which for a dude that maintains a spreadsheet on that shit says a lot right?
I was lucky enough to snag one of the golden tickets to Ash's mythical French Singletrack playground, along with my main riding buddy, Jeff Carter, AKA 'The Creator'. After an excellent build up week in Aosta with Jeff and the Aosta Valley Freeride crew (a whole other story), it was time to blast across Italy and into the Maritime Alps to begin the pilgrimage to Menton on the French coast.
Arriving at Camp Zero in Les Thuiles, it was clear from the outset that this was going to be a special week. It was more a massive reunion of Trans Provence and general MTB frothers than the feeling of arriving at a race. In a way that's a good way to think of TP; the adventure can consistently overshadow the racing. It was during the first briefing that Ash dropped what felt like a bombshell based on the reaction around the room when he announced that of the 24 trails that were to be raced that week 22.5 of them were brand new, never touched, never seen. A rather sizable piece of information indeed and it set off a frothing chain reaction whilst at the same time the realisation was sinking in that this would indeed be Blind AF racing.
The French Gnar factory had been working 24/7 shifts in preparation for us, and I think we all knew that with Ash taking a year off to perfect his masterpiece swan song, we had some serious raw and wild action waiting for us out there in them Mountains.
With 308km's and effectively descending to the deepest part of the Mariana Trench twice (Mt Everest comparisons don't cut it here, but that's about 22,723m of DH love), this odyssey wasn't going to shred itself, so it was time to kneepad up and get to the Mediterranean.
DAY 1
Les Thuiles to Villars-Colmars: 51.48km, 1794m up, 3,313m down Instinctively you know the first day of a mega week-long race is always going to be challenging, but even though you're expecting it, when you're 4 minutes into the first massive stage and it smacks you in the face how slow you feel, it's still a surprise.
Day 1 felt like it was designed to spend the first 3 quarters tearing down our riding egos with 3 stages that pretty much everyone described as 'Janky AF', which is putting it diplomatically!
With the first stage being the second longest of the week at 6.67kms and dropping 650m, the scene was being set for a real mission. From the stage 1 exposure and physicality we moved on to wrestling with heat, super tight French switchbacks and sniper rocks on the most awkward of days. It was one of those days where the mindset fl uctuated from feeling like a Gnar King, to "Bike for sale", sometimes within the same kilometre of janky trail.
It wasn't until we got to the Stage 4 'Megatanker' stage, which pleased the 24 of us on the new Santa Cruz Megatowers (yes, 24 out of 88 racers!) that it really opened up into some high-speed insanity. The froth-o-meter was exploding by the time we rolled back into camp.
On the racing front Marco 'Randy' Osborne took the day, getting his title defence off to a good start against Romain Paulhan. Steve Peat dominated the M40 category (Surprise!) and Tracey Moseley comfortably took control of the women's race coming out of semi retirement. In my own personal mates battle, I gave up 50 seconds to Jeff, which I was quietly OK with given the usual gap back on home turf.
DAY 2
Villars-Colmars to Valberg: 48.46km's, 1,585m up, 3,761m down
After the puzzling of Day 1, the game changed completely on Day 2. This was a day of DAYS. This was the Keanu Reeves of days (assuming you think he's a rad mofo)... This was the kind of day you own a Mountain Bike for... This was the kind of day you always hope to have on a bike, but rarely do.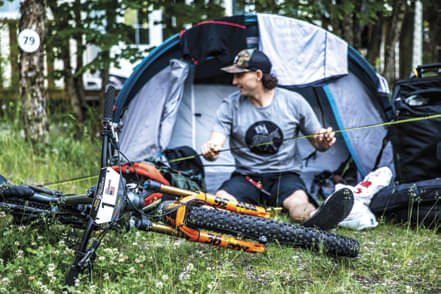 4 absolute banger stages, all under the 4km mark which had the whole field absolutely pumped, possibly because we were also heading into the hallowed 'Grey earth' zones.
Kicked off with a 1,000m liaison descent off the top of Col des Champs that most Enduro racers would love to have as their actual race stage, we knew we were in for a special day.
You can read up to 3 premium stories before you subscribe to Magzter GOLD
Log in, if you are already a subscriber
Get unlimited access to thousands of curated premium stories, newspapers and 5,000+ magazines
READ THE ENTIRE ISSUE
Issue 55