Lyrik Ultimate RC2 Fork X Super Deluxe Coil RCT
The Ultimate Test Of Rockshox's Ultimate Offerings
With a 10 day trip of a lifetime to the Mecca of MTB (Whistler) rapidly approaching, one of our tech editors 'Missionary Man' decided it could be the perfect opportunity to make some component modifications in the search for potentially unlocking even more performance from one of his favourite test bikes to date. Elsewhere inside this very magazine you'll see that we've reviewed the Focus Sam (carbon) and whilst the Missionary Man found himself totally won over by the bike's handling in its 'stock' spec, he couldn't help but get the feeling that the Sam's impressive frame design left it sitting with a few tricks still hidden up its sleeve. And so with the mega mountain trails of British Columbia calling his name Missionary decided to give the bike an extra 10mm of travel up front to 180mm via a set of Rockshox's brand new top of the line Lyrik 'Ultimate' RC2 forks. And then to throw even more petrol onto the fire he went ahead and swapped the bike's stock air shock for a coil sprung RockShox Super Deluxe Ultimate shock (again, the brand new just recently released top of the line joby from RockShox). So, with an increase in travel up front and slightly more relaxed geo as a result, plus a more supple rear end thanks to the coil, in theory his Focus Sam had the potential to handle like a mini DH bike. The only question then was, well how did it bloody ride!?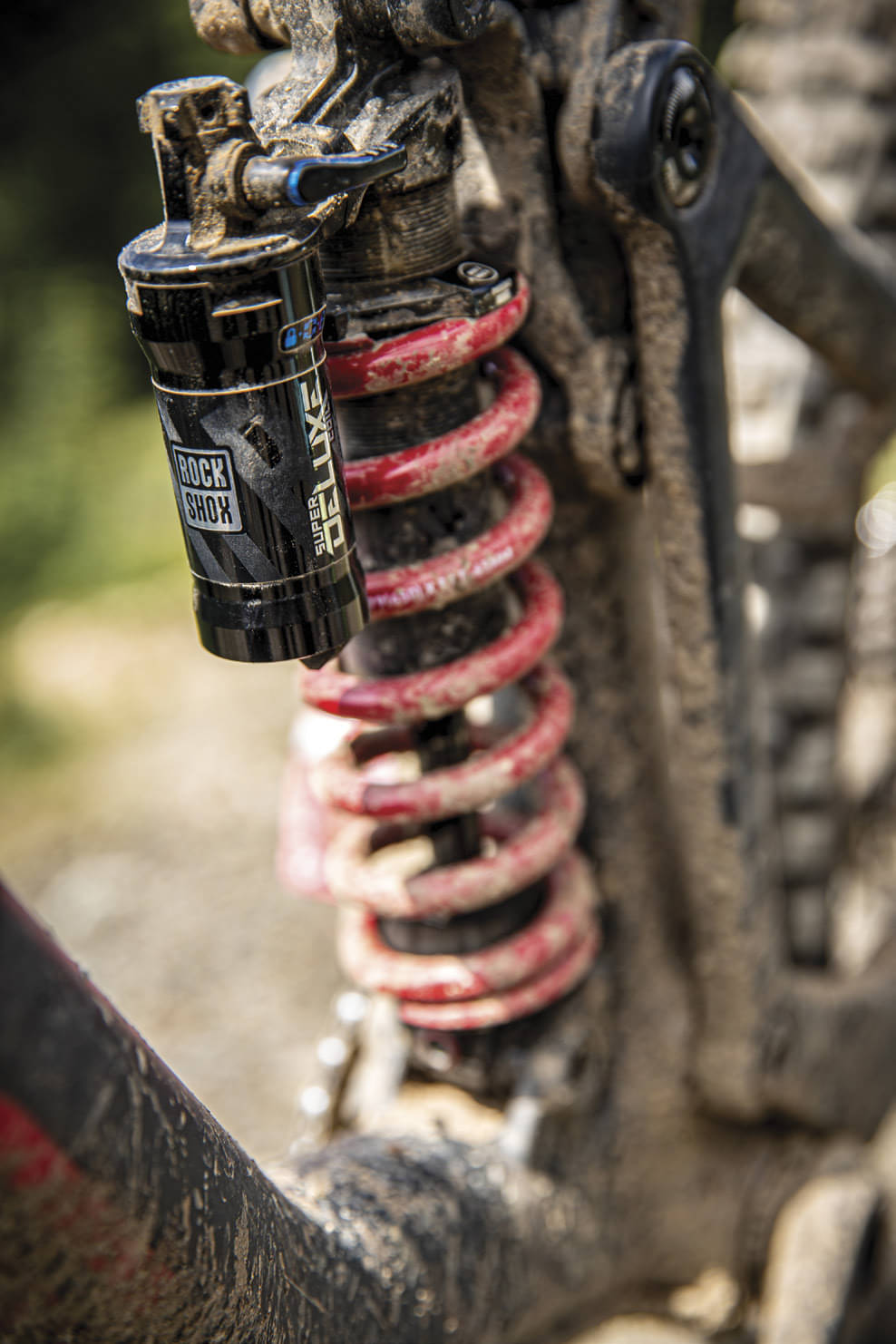 Lyrik 'Ultimate' that's a bold claim, what makes it special?
Sure, the new Lyrik Ultimate looks pretty much the same as the regular Lyrik fork but don't be fooled as those clever folk over at RockShox HQ spared no expense on 'supping up' their top of the range enduro offering. It could be best described as a fork that provides noticeably more mid travel support along with being a smoother more progressive fork. This is no doubt partly attributed to the improved lighter high-speed compression tunability of the fork along with some changes to the forks internals which have been refined to provide a stiffer fork with reduced friction even under side impacts.

You can read up to 3 premium stories before you subscribe to Magzter GOLD
Log in, if you are already a subscriber
Get unlimited access to thousands of curated premium stories, newspapers and 5,000+ magazines
READ THE ENTIRE ISSUE
Issue 55