Liv X Stu Launch Women's Specific Mechanics Course
"Providing This Course Was Important To Us On So Many Levels. Despite An Increasing Number Of Women Finding Joy In Riding Bikes, There's A Disproportionate Number Of Women Compared To Men That Are Working With Bikes. This Initiative Has Given The Participants A Huge Boost In Knowledge And Skills, And By Being More Visible In The Workshop And The Sales Floor, They Are Role Models To Other Women And Young Girls To Also See Bikes As A Viable Career Path. Here At Liv, We Do More Than Manufacture Bikes For Women. We're About Making Cycling More Approachable And Appealing. Creating A Course Like This Means More Women Working In Bike Shops, Female Consumers Feeling More Comfortable In Those Spaces, Andultimately The More The Sport Will Grow. Supporting Women Who Have Invested Their Livelyhoods In The Industry Helps Us And Our Retailers Retain Talented Staff." - Caitlyn Hargreaves, Australian Brand Manager For Liv Cycling
LIV CYCLING, THE COMPANY DEDICATED TO GETTING MORE WOMEN ON BIKES, RECENTLY TEAMED UP WITH SRAM TO CREATE A 4-DAY IN-DEPTH BIKE MECHANICS COURSE EXCLUSIVELY FOR WOMAN. UTILISING THE AUSTRALIAN STU (SRAM TECHNICAL UNIVERSITY) FACILITY IN MELBOURNE, THE COURSE WAS ATTENDED BY WOMEN FROM RIGHT ACROSS THE AUSSIE LIV DEALER NETWORK. THE INITIATIVE WAS SPARKED BY THE GROWING NUMBERS OF WOMEN RIDING BIKES, YET RELATIVELY LOW NUMBERS OF WOMEN WORKING WITH BIKES. SEIZING THIS OPPORTUNITY, LIV WANTED TO FURTHER SUPPORT FEMALE RIDERS BOTH ON AND OFF THE BIKE. IT ALL SOUNDED PRETTY DAMN COOL AND SO TO LEARN MORE [R]EVOLUTION SAT DOWN FOR A CHAT WITH THE TWO PEOPLE THAT WERE INSTRUMENTAL IN BRINGING THE CONCEPT TO LIFE; CAITLYN HARGREAVES, THE AUSTRALIAN BRAND MANAGER FOR LIV CYCLING AND LACHLAN MCKILLAP WHO HEADS UP THE AUSTRALIAN STU.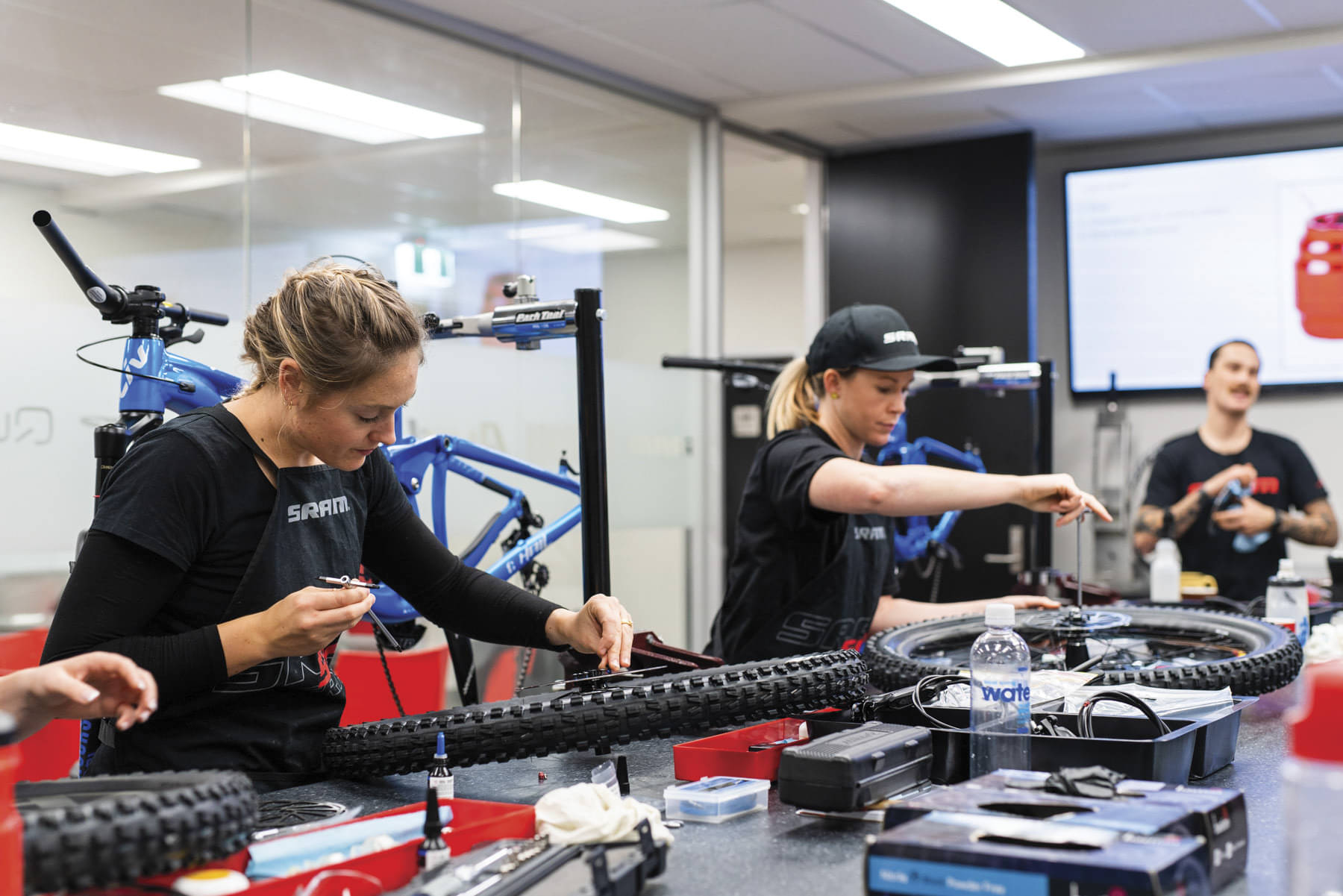 In a nut shell, what is STU and how does it operate down here in Oz? Lachy: STU is SRAM Technical University. The goal of the courses we run are to educate store-based mechanics on how SRAM and RockShox products, work, can be maintained and serviced correctly. Essentially giving the store the skills to increase workshop revenue and knowledge. For this LIV course it was to equip the participants with the knowledge to build a bike from the ground up and build it to a level that it could be ridden on the last day of the course. Each mechanic had a LIV Hail frame and the only thing we had pre-installed was a headset. Everything that went back on was installed properly and even the suspension rebuilt.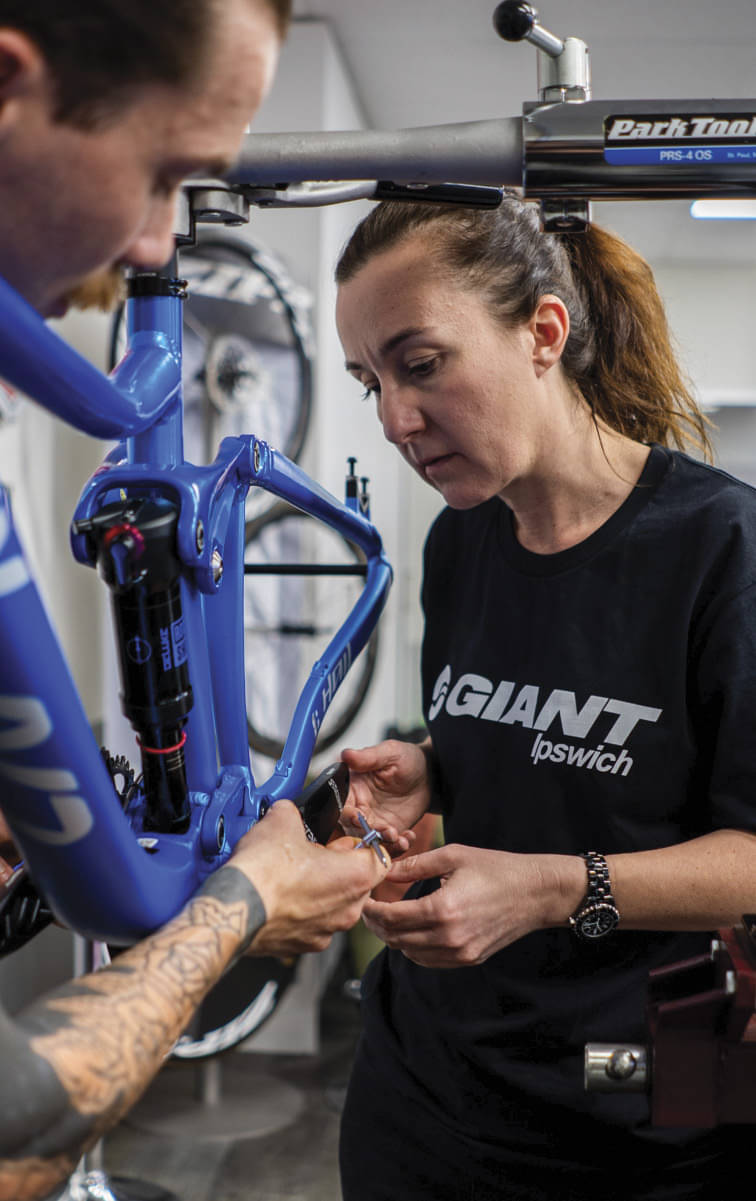 It's a pretty incredible facility that you've got down there with the classroom/ workshop and certainly the only one of its kind in Australia. How many years has the STU been operating over here? Lachy: Yeah, the facility is pretty amazing. The STU program has run globally for quite some time and for 5 years in Australia. We're currently midway through our 6th season of running courses and to date we've had just over 500 students through the doors down here. Hats off to Jimmy (my predecessor) and Dylan for setting it up – I feel what we have here is industry leading especially for Australia and makes the learning process that much better.
You can read up to 3 premium stories before you subscribe to Magzter GOLD
Log in, if you are already a subscriber
Get unlimited access to thousands of curated premium stories, newspapers and 5,000+ magazines
READ THE ENTIRE ISSUE
Issue 55