GT FURY PRO
THE FRAME DETAIL OF THE CARBON FURY IS MESMERISING. RUN US THROUGH SOME OF THE STANDOUT FRAME FEATURES IN YOUR MIND? ASIDE FROM THE GLARINGLY OBVIOUS (THE HIGH PIVOT AND IDLER SETUP) THERE ARE A FEW OTHER REALLY NEAT AND UNIQUE FEATURES THAT THE FURY HAS GOING ON. AS SIMPLE AS IT MAY SEEM, I WAS A BIG FAN OF THE SEMI HIDDEN CABLE ROUTING THAT IS RECESSED INTO THE TOP OF THE DOWNTUBE. THEY HAVE WISELY DESIGNED THE FRAME TO BE INTERCHANGEABLE BETWEEN 29 AND 27.5INCH WHEELS. THERE IS AN ADAPTER FOR THE HEADSET TO COMPENSATE IN FRONT END HEIGHT AS WELL AS HIGH AND LOW POSITION SETTINGS AND 2 CHAINSTAY POSITIONS. MOVING FORWARD THIS WILL SURELY BE SOMETHING THAT ALL BIKES HAVE BUT GT HAVE JUMPED IN THE DEEP END WITH IT AND FOR GOOD REASON.
What's the theory behind how that crazy looking idler pulley system works? I'll try and keep this short, I could go on about this for a week as this is certainly not new technology, but the basic theory is that by placing the main pivot above or near the top of the chainring and then adding the idler pulley above that to direct the chain above the main pivot, the suspension will have a rearward axle path, which has some very different characteristics compared to more conventional suspension designs.
How does the chainline work and feel when you're actually pedalling the Fury Pro out on a track? When you first hop on the bike for a pedal around in the driveway or where ever you'll likely be a little underwhelmed due to the noticible amount of pedal kickback through the stroke. It's just the nature of the beast with this frame design and it's also the main reason why we don't see this design used on shorter travel Enduro type bikes as often. However, the big advantage to the high pivot idler is its rearward axle path, this means that the rear wheel moves away from the middle of the bike as well as up, so it can get out of the way of obstacles more easily (like that rock that you didn't see). The advantages to these characteristics become exponentially apparent the faster you ride too, it's a snowball effect that invites you to push your own limits, because the bike can sure as hell continue to go faster.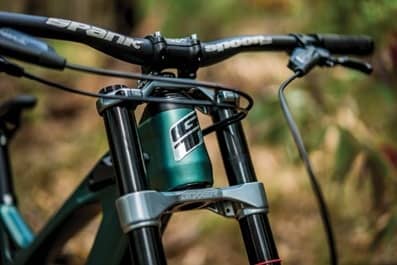 How does that neat little SRAM compact 7-speed drivetrain perform? The rearward axle path of this linkage system does mean that there is a fair amount of chain growth, so we were happy to see the GX DH Groupon on here because we know what it can handle. The few refinements that have been made over the years make these parts nearly unstoppable now, where do we even go from here for a DH specific drivetrain?
You can read up to 3 premium stories before you subscribe to Magzter GOLD
Log in, if you are already a subscriber
Get unlimited access to thousands of curated premium stories, newspapers and 5,000+ magazines
READ THE ENTIRE ISSUE
Issue 58