Focus Sam 9.9 Carbon VS. Focus Sam2 E-bike
Putting The Focus Thoroughbreds Head To Head
RIGHTO PUNK ROCKERS, YOU'RE IN FOR A TREAT SO LISTEN UP! A LITTLE WHILE AGO THE CREW FROM FOCUS BIKES CALLED THE [R]EVOLUTION MTB MAG OFFICE AND ASKED US IF WE WERE INTERESTED IN GRABBING THE KEYS TO TEST DRIVE THEIR ALL NEW, ULTRA-HYPED, ULTRA-SICK, ALL-MOUNTAIN 'SAM' ENDURO WEAPON FOR A REVIEW? OUR ANSWER WAS "HELL YES!" THEN THEY ASKED, "OKAY WELL WHICH VERSION WOULD YOU LIKE?" EH, I GUESS THEY COULD PICK-UP ON OUR CONFUSION THE VOICE AT THE OTHER END OF THE PHONE THEN WENT ON TO SAY, "…THE SAM (REGULAR) OR THE SAM2 (E-BIKE)?" SENSING AN OPPORTUNITY AND DREAMS COMING TRUE WE CHEEKILY REPLIED "BOTH!" TO BE HONEST WE NEVER THOUGHT THAT FOCUS WOULD ACTUALLY AGREE TO LET US GET OUR DIRTY LITTLE HANDS ON SUCH A FINE PAIR OF THOROUGHBREDS, WORTH A COMBINED TOTAL OF ABOUT 20K BUT HEY, AS IT TURNED OUT THEY WERE ALL FOR IT!
It has been a few months now since that chat but let us tell you at that time the stoke level was high as we sensed a real opportunity to do what may very well be a world exclusive for [R]evo and [E]vo, a head to head, back to back, all-out battle between Focus Bike's flagship Sam and Sam2 all mountain weapons. It's obvious we are not going to pick a clear winner from the 2 bikes, as comparing the characteristics of a naturally aspirated MTB sled versus an e-Bike is akin to comparing beer and wine (both are different but still pretty damn good). What we did discover is that both bikes share quite a lot in common besides their namesake. In this article we'd like to introduce you to each bike, chat about some of the unique design concepts of each machine and of course we will fill you in on how each bike performed on the trails.
MARKETING SPIEL ASIDE, WHAT MAKES THE SAM AND SAM2 PLATFORM STAND OUT FROM THE CROWD IN OUR OPINION? Quite simply put, the German based bicycle company Focus Bikes have earned themselves an awesome reputation for delivering high quality bikes with aesthetics that make them look every part as good as they ride. Here at the mag we've spent a ton of time riding their mid travel models which include; the 'Spine' and the 'Jam,' both of which left us singing the Focus brand praises. However quietly we were always frothing to get our hands on the supermodel of their lineup, the one and only bicycle called 'Sam.' This rig was designed to tackle and conquer the biggest and gnarliest trails, with its slack design and longer travel the 'Sam' certainly promises to pack a punch. Focus first introduced the 'Sam' in 2015, and whilst it had a positive market reputation it wasn't until Focus released the current design that the Sam exploded with popularity. The difference from the original model and the current version is the heavily revised frame design which features the brand's impressive F.O.L.D. suspension linkage. The F.O.L.D. linkage is a super clever piece of German engineering which delivers superb rear wheel traction and suspension performance through its entire range of movement, but we'll chat more about this design later. The next chapter in the 'Sam' story is that Focus released an e-Bike version of the Sam last year. By adding a battery and motor along with all the other e-Bike mod cons to the ever-popular 'Sam' platform we believe Focus bikes are onto a winner.
Their design team have managed to create an e-Bike version whilst keeping intact the unique frame design and aesthetically appealing geometry. At a glance both the Sam and Sam2 really do share a very similar silhouette. Our job prior to this article was pretty clear, we had to try and find out if the resemblance of the two bikes is matched by their handling out on the trails. Does the e-Bike version boast some of the performance and handling characteristics of its regular all-star brother? Well, lets find out……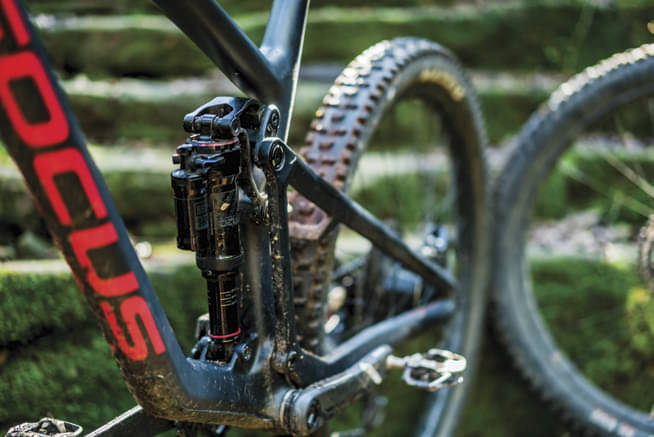 OKAY, OKAY, SO WHAT WERE THE FIRST IMPRESSIONS AS WE UNBOXED THE PAIR AND GOT THEM BUILT? So, what did we first think when we put this rig together? When we pulled these suckers out of the box they didn't disappoint. Considering the previous Focus Sam platform hadn't really changed a great deal in the last few years we were very keen to check out this new rig to see what had changed.
The new Sam has adopted what is referred to as the F.O.L.D. rear end which has been closely attributed to the Focus Jam model, of note the Sam's new front frame triangle and top tube looks really cool, the frame design looks super cool with nice angles and lines, the red on black colours in conjunction with great components had us smiling from the onset.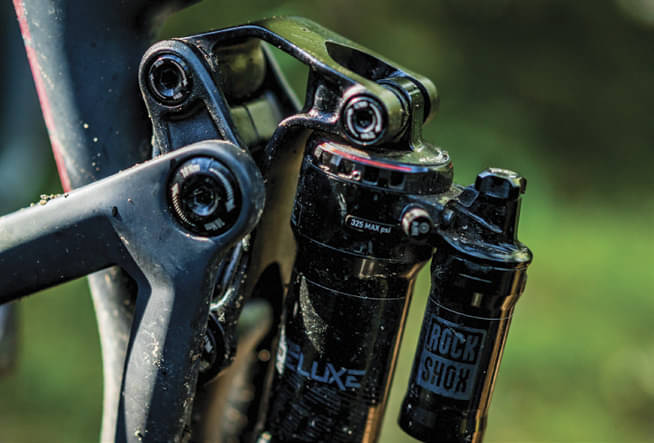 You can read up to 3 premium stories before you subscribe to Magzter GOLD
Log in, if you are already a subscriber
Get unlimited access to thousands of curated premium stories, newspapers and 5,000+ magazines
READ THE ENTIRE ISSUE
Issue 55