Mind Your Manners!
Reader's Digest US|December 2019 - January 2020
Need advice on the newest etiquette rules? We'd like to cordially offer you answers.
Are you unsure about what constitutes good manners these days? I don't blame you—the times, they are a bit fraught, no? If you're a man and you hold the door for a woman, will you be thanked or called patronizing? Will someone shut you down if you use a phrase that has suddenly become offensive? And don't get me started about when it's OK to use cell phones.
Good manners used to mean simple courtesy and being kind. Today it seems we are haunted by the fear of doing or saying the wrong thing, and for good reason. Given the power of the Internet, a faux pas can mean losing a friend—or your job.
Covering the ins and outs of civil behavior for the past 20-plus years, I have learned that, fortunately, good intentions never go out of style. Even better, science tells us that acts of kindness are contagious: If I treat you right, you're more likely to treat the next person better. And from there, the ripples flow.
1 THE DREADED OFFICE HOLIDAY PARTY
Q: Do I really have to go to my office holiday party? I hate pretending I'm friends with people I wouldn't invite to my own house. —Anonymous
A: Ugh. I used to hate office parties too. Forced frivolity. Frozen smiles. Too much eggnog. But now that I've mellowed with age, I try to "make every moment matter," as any minister or meditation teacher urges. So yes, go. You might even enjoy yourself.
The main rule is to keep it professional, which will guide you in many ways: when to arrive (on time); what to wear (festive but still appropriate); how much to drink (minimal); how to behave (engage with others, get away from your clique, don't look bored, don't flirt); and when to leave (don't be a hanger-on).
2 TO HOLD OR NOT TO HOLD—THE DOOR
Q: My husband always opens doors for women (he's 80). But the younger women cast him a look of pure contempt and brusquely rush past him without a thank-you. So sad. Why has such a basic kindness gone out of style? —Jo Garcia Macon, Georgia
A: Let me uncomplicate things: If I'm first to the door, I'm going to pull it open and let you go first, whether you're a man or a woman. A push door can be awkward, but I'll usually go through first (with my most charming "Allow me!") and then hold it for you. I give the same advice to my sister (and all women): First one there opens the door and holds it. No racing to be the door opener, no lingering in hopes of finding a knight in shining armor. How hard is that?
The one time to break the rule: If the person ahead of you needs assistance or is much older, step up and open the door. And for those of us on the receiving end of a door kindness, I hope we all say "Thank you" as we glide by.
As for your husband, what can I say? He's a charmer—and a keeper.
3 NOT ALL HANDICAPS ARE OBVIOUS
Q: I often hear people disparage those who use handicapped-only parking spots, as if they are cheating. My mother injured her neck in a car accident and has permanent damage in her feet, legs, knees, and hips that makes walking difficult. To a stranger she looks fine, but parking at a distance is a challenge. Does she need to carry a doctor's note to show busybodies? —Bonnie Elmore El Paso, Texas
A: No! It can't be said often enough: Not all disabilities are visible. I recently read about a college student who was undergoing radiation for cancer, entitling her to use the placard for handicapped parking. She returned to her car to find multiple notes that read "SHAME ON YOU" and "NOT REALLY HANDICAPPED JUST LAZY." She posted them on Twitter, adding, "Reminder that you have no idea what's going on in people's lives." If your mom has a disability that entitles her to a placard, she has a right to use it, no doctor's note required.
If you're a wannabe enforcer who suspects a fake, please leave the job to parking officials and go about your business without shaming anyone— which is my advice for most situations.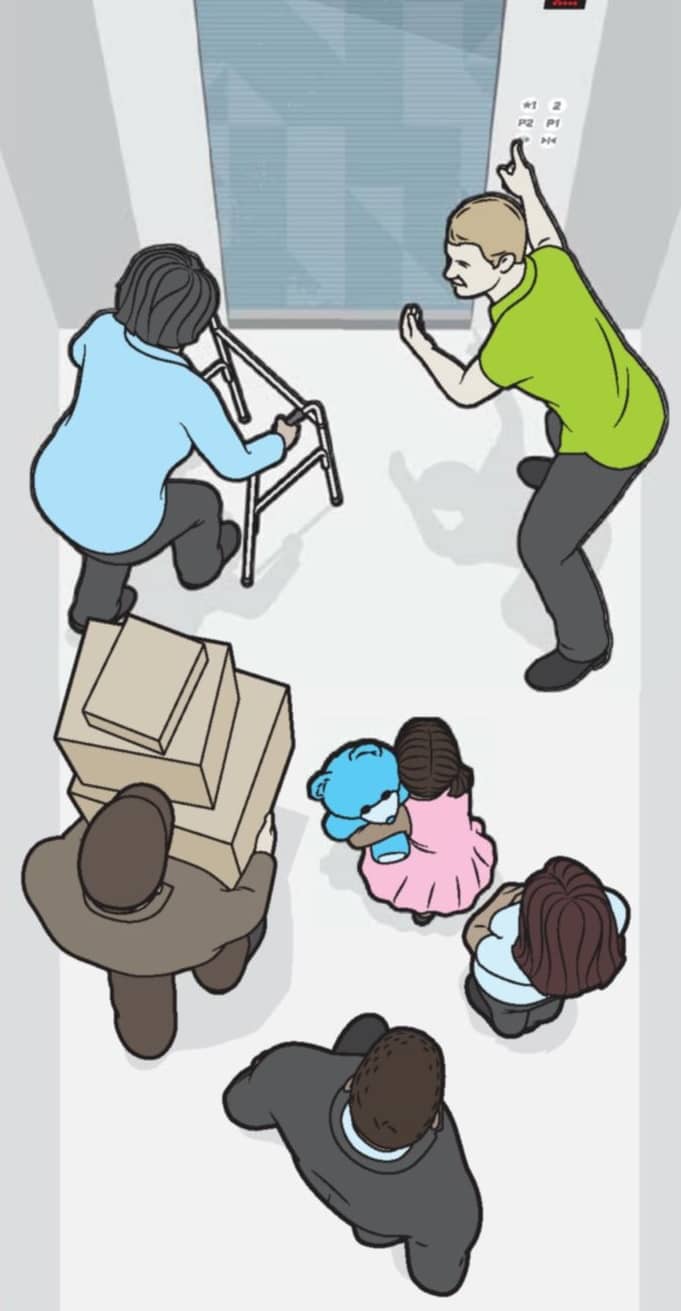 4 ELEVATOR ETIQUETTE
Q: What is the protocol on elevators? Do you exit and hold the doors for others, or just exit and leave? Do you let women get off first, even if they're in the back?
—Vicki Jones Fairview, Tennessee
You can read upto 3 premium stories before you subscribe to Magzter GOLD
Log-in, if you are already a subscriber
Get unlimited access to thousands of curated premium stories and 5,000+ magazines
READ THE ENTIRE ISSUE
December 2019 - January 2020