Heroes of the Virus
Reader's Digest US|July - August 2020
We're offering this story for free to read so that you can stay updated on the COVID-19 outbreak
As America continues to recover from the worst medical catastrophe of the past 100 years, one remarkable legacy will be the stories of the ordinary individuals who held us together
By Jeremy Greenfield, Caroline Fanning, and Kristen Warfield
One Hand Washes the Others
When public health officials started telling Americans that hand washing is one of the most powerful weapons against the spread of the coronavirus, Terence Lester wondered, What about the homeless? Lester had been homeless himself for a time as a teenager, and today he runs a nonprofit in Atlanta called Love Beyond Walls that helps raise money for and awareness of homeless people. He knows all too well that in the best of times they are lucky to find a public bathroom that will let them in to wash up occasionally, not to mention several times a day.
Lester's experience creating temporary shelters with his nonprofit led him to another idea: temporary handwashing stations, the kind you see at outdoor music festivals. He mentioned the idea to his friend Lecrae Moore, a Grammy-winning Christian rapper, who eagerly donated enough money to buy 15 of the $150 washing stations. They called their project Love Sinks In. "If leaders in this country are asking people to wash their hands, we also have to provide the tools to people living on the margins of society who are more prone to catch and spread the coronavirus," Lester says.
After its success in Atlanta, the group sent sinks to Birmingham, Alabama; Oakland, California; Columbus, Ohio; and Austin, Texas, where a partner organization installed the sinks in parks and other public spaces, thanks to a $13,000 grant from Google. (In addition to the startup funds, it costs about $500 a month to keep each sink stocked with soap and clean water.) One Atlanta hand-washer, Sam, made sure his gratitude didn't go unnoticed. He left a note on a sink that said, "Thank you all for not forgetting about us."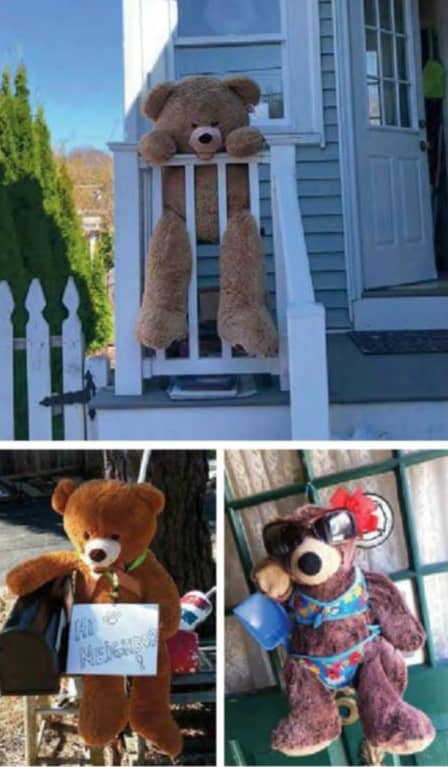 Teddy Bears to the Rescue
Some of the most dispiriting victims of the virus were the nation's schools. Education. Friendships. Recess. All put on hold, with parents filling in the gaps.
Math class in the kitchen was hard, but managing the downtime was perhaps harder as the weather turned warmer and children everywhere hungered for fresh air and adventure.
Enter the Teddy Bear Hunt. One day, bears seemed to be hiding everywhere: staring out of windows in Iowa, tucked onto porches in Maine, propped behind the steering wheels of parked cars in California. Some even turned up in New Zealand. Teddy bears can't walk on their own, of course. They got there with the help of people who hoped that spotting a furry friend or two would entertain the neighborhood children. It was a worldwide scavenger hunt.
No one really knows where it started, though the 1989 children's book We're Going on a Bear Hunt was clearly an inspiration. (As it happens, the book's author, Michael Rosen, suspected he had contracted COVID-19.) But to grateful parents, the real source didn't matter.
"To the parent (it's gotta be a parent) who came up with this idea, THANK YOU," one mom tweeted. "Explaining to a four-year-old why playdates aren't allowed anymore is heartbreaking, so 'going on a bear hunt' during our walks is the distraction we needed."
The Rent's on Me
Clay Young could see the clouds gathering in late February. That was when Young, who owns more than 30 restored historical buildings in Jonesboro, Arkansas, got a call from one of his tenants, a restaurateur. Could Young hold off cashing the next month's rent check for a while? Business was falling apart. Young quickly obliged, then wondered what would happen with the other five restaurants housed in his buildings. Even though he knew that he'd take a financial gut punch, Young called them all to say that April was going to be rent-free. "Pay your employees and take care of your family," he posted on Facebook. "We will get through this together!"
You can read up to 3 premium stories before you subscribe to Magzter GOLD
Log in, if you are already a subscriber
Get unlimited access to thousands of curated premium stories and 5,000+ magazines
READ THE ENTIRE ISSUE
July - August 2020