Sabika was a Muslim exchange student from Pakistan, Jaelyn was a homeschooled Christian. Somehow, they became inseparable- until the unthinkable happened
Only a few kids in the fourth-period girls' PE class noticed the new student. She had long black hair and mahogany eyes, and she sat by herself in the bleachers, staring curiously at the other girls in their shorts and T-shirts doing jumping jacks and push-ups. It was September 11, 2017, and after two weeks of cancellations caused by Hurricane Harvey, classes had resumed at Texas's Santa Fe High School, some 35 miles south of Houston.
Just one student approached. She had straw-blond hair and turquoise eyes, and she wore a blue T-shirt with a Bible verse, Matthew 4:19, printed on the front: "Follow Me, and I will make you fishers of men."
The girl with the blond hair smiled. "I'm Jaelyn," she said.
The girl with the black hair smiled back. "I'm Sabika."
Jaelyn told Sabika her full name was Jaelyn Cogburn. She was 15 years old, a freshman, and new to the school, so she didn't know many people. Sabika said her full name was Sabika Sheikh, and she was a foreign exchange student from Pakistan. She was 16, a junior. She didn't know anyone at all.
The bell rang, and Jaelyn and Sabika moved on to their other classes. At the end of the day, Jaelyn hurried out to the parking lot, where her mother, Joleen Cogburn, was waiting. "Mom," Jaelyn asked, "where's Pakistan?"
Despite its proximity to Houston, Santa Fe, with a population of 13,000, feels like a small town. Deeply conservative, the town attracted national attention in 2000 when school officials appealed all the way to the U.S. Supreme Court to defend their practice of conducting public prayers before football games. (They lost.)
Joleen and her husband, Jason Cogburn, live with their six children (three of whom are adopted) on three and a half acres in a comfortable two-story home. Every Sunday, the family attends Santa Fe Christian Church. Joleen has homeschooled all the children, following a Bible-based curriculum.
Jaelyn, the oldest birth child, was shy. Outside of her siblings and a couple of girls from her church youth group, she stayed mostly to herself. But that summer, she had surprised her parents, telling them that she wanted to go to Santa Fe High.
Joleen and Jason assumed that their daughter would have trouble adjusting to life at a public high school with 1,500 students. Instead, Jaelyn came home on that first day smiling and talking excitedly about meeting a girl from Pakistan. She googled Pakistan and read that almost all the country's 200 million residents are Muslim.
"You know, Mom," Jaelyn said, "I've never met a Muslim."
"Well, maybe God has put you together for a reason," Joleen said. "Who knows? Maybe the two of you will become friends."
That same night, at the home where Sabika was staying with her host family, a Pakistani-born Muslim couple, she called her parents, 8,500 miles away in Karachi. Sabika's mother, Farah Naz Sheikh, and her father, Abdul Aziz Sheikh, who goes by Aziz, had been up with their three other children since dawn—awakened, as they were every morning, by the call to prayer that warbled from loudspeakers attached to the nearby mosque.
Karachi, a sprawling port city on Pakistan's southern border with a population of some 15 million, is often called one of the world's least livable cities. The roads are choked with rickshaws, motorcycles sputtering clouds of exhaust, and wagons hitched to donkeys. Millions of residents dwell in slums without water or electricity. In 2002, Karachi made international headlines when Wall Street Journal reporter Daniel Pearl was abducted on a downtown street and later beheaded.
Still, Sabika loved Karachi. She loved piling into her father's green Toyota Corolla with her family for the 15-minute drive to the beach. She eagerly anticipated visits to the mall. And she looked forward to playing badminton on the roof of their apartment building with her sisters, Saniya and Soha, and her brother, Ali. With the aromas of spice-laden dinners wafting from neighbors' apartments, the children would play until the sun set, when the call to prayer sounded.
Sabika had not yet reached her first birthday when Al Qaeda attacked the United States on September 11, 2001. As a teenager, disturbed by the characterization of her country as a breeding ground for extremism, she told friends and family that she planned to join Pakistan's foreign service and become a diplomat. She wanted to show people that Pakistanis were not terrorists and that there was nothing to fear about their faith.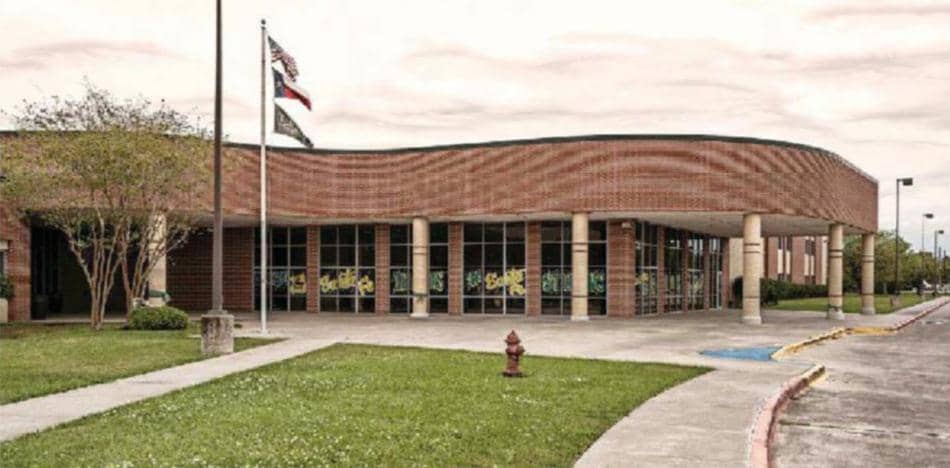 In the fall of 2016, Sabika's cousin Shaheera Jalil Albasit told her about a U.S. State Department program that provides funding for high school students from countries with large Muslim populations to study in the United States for a school year. Aziz and Farah feared that their daughter would be disparaged by anti-Muslim Americans, but they agreed to allow her to apply.
Sabika was one of roughly 900 students selected. She was ecstatic. When she received the news that she would be sent to Santa Fe, Texas, she and her parents went online and looked at photos of the town and the high school, a long, boxy redbrick building alongside Highway 6.
On the day she left, in August 2017, Aziz and Farah arranged for a sadaqah, a ritualistic sacrifice of a goat, to protect Sabika from harm. Then the family piled into the Corolla to take Sabika to the airport.
After their first-day meeting, Jaelyn and Sabika became fast friends. Every day during fourth period, they walked laps around the gym, with Jaelyn asking Sabika questions based on what she had read online. Was she really not allowed to eat pork because it's considered unclean? (Correct.) Would she allow her marriage to be arranged by her parents? (Most likely, though she would want to meet him first.) And did she truly believe that the Koran was the final word of God? (Of course, Sabika said.)
Jaelyn showed Sabika the Bible app on her phone, and Sabika pulled up her Koran app, along with a digital compass, which she relied on to face east toward Mecca for her prayers.
Continue Reading with Magzter GOLD
Log-in, if you are already a subscriber
Get unlimited access to thousands of curated premium stories and 5,000+ magazines
READ THE ENTIRE ISSUE
March 2020