Brian Cox: The Swearing Raconteur
Reader's Digest UK
|
Reader's Digest October 2020
The legend of stage and screen reveals his thoughts on political correctness, longevity and a scandalous moment with Princess Margaret
BRIAN COX IS BACK. Literally. The acclaimed actor has just flown over from the States and spent the last two weeks in London, "socially distancing myself", before taking a trip back to his native Scotland to visit his 90-year-old sister. She lives in a care home just a few minutes from his daughter Margaret's cottage on the River Tay, near Aberfeldy.
"I was supposed to try and get to see her in April but of course with the lockdown I never did."
Cox, who turned 74 in June, had COVID himself at the turn of the year, despite sheltering in his home in upstate New York, which he shares with his wife, actress Nicole Ansari. "I have the antibodies, which was a mystery to me," he says. "I would've said I was almost asymptomatic, but I wasn't. I had a bad sneezing fit in December. And my doctor said that's when I had it. It's clearly been around a lot longer than people have let on."
Thankfully, Cox has made a full recovery—though it's not been straightforward. "I've been living with two teenage boys in lockdown for the last five months. Not an easy experience!" He and Ansari's two sons, Orson and Torin, have been struggling like anyone else. "My youngest son. He's very tall. He's six foot three, and he's going through all kinds of hormonal shifts, as teenage boys go through and to do online learning… he misses the human contact."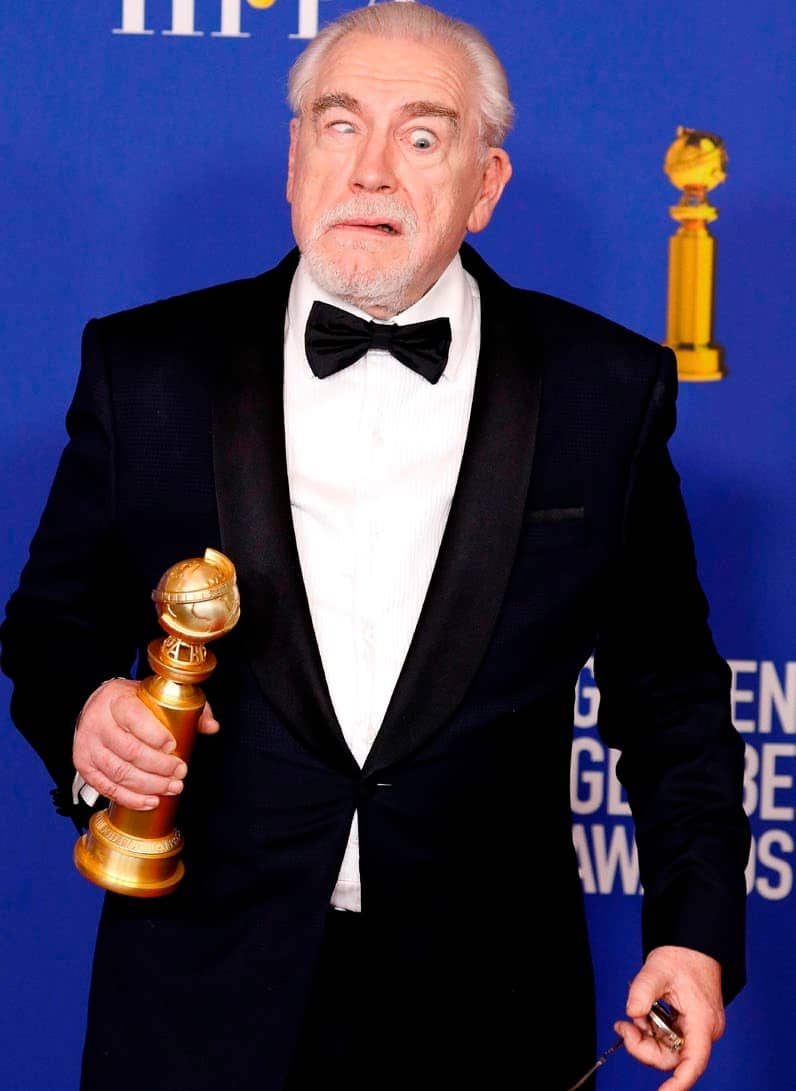 Brian Cox after winning a Golden Globe for his performance in Succession
Ironically, this has all coincided with a hugely fruitful period in Cox's working life. Next year he celebrates the 60th anniversary of a stage and screen career—he started in Dundee rep when he was 15—that has seen him do everything from King Lear at the RSC to the original Hannibal Lecter (spelled "Lecktor") in serial killer classic Manhunter. And he'll do so with one of the best roles of his life, his Golden Globe-winning turn as media mogul Logan Roy in HBO must-see drama Succession.
Like a toxic mix of Rupert Murdoch and Donald Trump, Cox's foul-mouthed Roy holds a nightmarish sway over his power-hungry family, each desperate to take control of his ailing media empire. "I love it. It's a great role," he beams, "and it's going on through so many shifts." Originally intended to be just one season—Roy has a stroke early doors—his continuation helped the show retain its venom. "By the time you get to 'boar on the floor', you have a glimpse of the demonic."
You can read up to 3 premium stories before you subscribe to Magzter GOLD
Log in, if you are already a subscriber
Get unlimited access to thousands of curated premium stories, newspapers and 5,000+ magazines
READ THE ENTIRE ISSUE
Reader's Digest October 2020